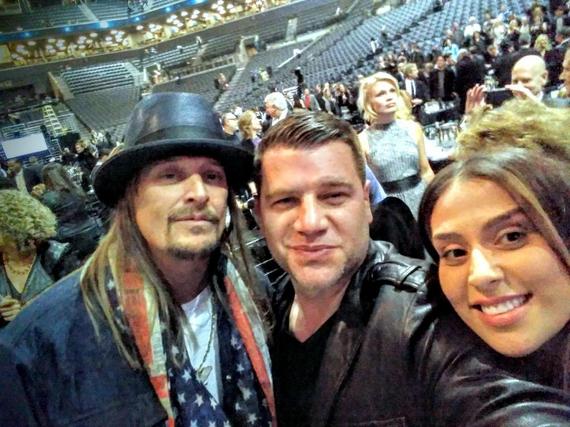 Like every other kid who grew up during the glory days of rock and roll. I played air guitar + dreamed of being on the cover of the Rolling Stone. And if I couldn't do that, I wanted to hang out with people who did. I wanted to be with the band.
Well ladies and gentleman, last Friday night this guy got his wish, along with my party pal Z100 DJ Shelley Rome. I owe it all to HBO + this guy I met at a party, who knew another guy whose cousin knew a girl who knew a publicist named Dara Schopp at Alison Brod PR, that got us through the velvet curtain at the 2016 Rock & Roll Hall Of Fame Induction Ceremony in Brooklyn, N.Y.
This years inductees included Cheap Trick, Steve Miller, Chicago, Deep Purple + N.W.A.
The event was basically incredibly talented senior citizens, and a few dope gangsta gangstas who waited a long long time to be recognized, along with another guy who clearly didn't feel he was recognized enough.
There was an opening tribute to David Bowie by The Roots, David Byrne, + Kimbra performing Bowies hit Fame. Sheryl Crow + Grace Potter performed an unexpected tribute to Eagles band leader Glenn Frey singing New Kid In Town in perfect harmony.
"Every hard rock band in the last 40 years, including mine, traces its lineage directly back to Black Sabbath, Led Zeppelin and Deep Purple" said Metallica's Lars Ulrich during his speech inducting Deep Purple. Lars was appropriately wearing a deep purple colored velvet blazer
The Black Keys gave a speech inducting Steve Miller, then rocker took to the stage and performed The Joker, Fly Like an Eagle, + Rock'n Me.
During the obligatory press room Q & A Steve Miller first serenaded everyone, then expressed his displeasure towards the Rock Hall "When they told me I was inducted, they said, 'You have two tickets - one for your wife and one for yourself. Want another one? It's $10,000 - sorry that's the way it goes. What about my band? What about their wives? They make this so unpleasant."
Miller blasted the publicist trying to cut him off: "No, we're not going to wrap this up--I'm going to wrap you up." Enter wahh + foot stomp here. Note: Steve Miller's band wasn't being inducted this year, Steve Miller was.
$10,000 a ticket for $15 bottles of wine, assorted cheeses, macaroons + chocolate covered strawberries, along with a gift-bag containing a CD with music by all of the inductees, and a keepsake Rock Hall Inductee picture booklet? That seems pretty reasonable.
As Dr. Dre and Ice Cube gave their N.W.A acceptance they clarified the Rock vs Rap debate "Rock and roll is not an instrument, It's not even a style of music, It's a spirit. That's what connects us all." They were the only inductees who didn't perform, didn't answer questions at the Q & A + peaced out early. #StraightOuttaCompton
Kid Rocks induction speech for Cheap Trick was a real highlight of the night addressing the issue of drugs in America "If you do drugs, kids, there's a good chance you're going to ruin your life. But there's also a pretty good fuc**** chance you'll end up in a band + be rich + bang hot chicks.''
As we stood among the throngs of pony tails, tuxedos + leathers jackets, taking in Chicago's horned up jam, Deep Purple tearing it up, + Cheap Tricks killer performance of Surrender, I Want You To Want Me + Dream Police, we spotted -- Tom Hanks having a bromance with Michael J. Fox, Michael Douglas looking a bit more like Kirk sans Catherine Zeta Jones, John Varvatos rocking a bad-ass bedazzled blazer up out of his seat singing along to every song.
Even pretend rocker Bobby Cannavale who stars in the HBO series Vinyl was there. All of these magical moments and riffs were captured on film by legendary NYC photogs Kevin Mazur + Jamie McCarthy.
In Rock & Roll Hall Of Fame style, the evening came to a close with a final all-star jam. Cheap Trick, Chicago, Steven Van Zandt, Deep Purple, Sheryl Crow, Steve Miller, Rob Thomas, and David Coverdale all came together to perform a cover of Fats Domino's "Ain't That A Shame."
On our way out, and as the roadies were packing things up, we spotted Kid Rock walking around wearing an American flag scarf, drinking a bottle of wine, yes, right out of the bottle, like the true rock star that he is, and he's also OK with selfies. #KidRockForPresident
HBO's polished up version airs on April 30th.
Calling all HuffPost superfans!
Sign up for membership to become a founding member and help shape HuffPost's next chapter