What does it mean to be an "All-Star"? Some would say it means you are the best in your profession, others would remark that it means you have achieved things others cannot, and the urban dictionary describes it as "something that is better than awesome".
Last week, my husband earned the title of "All-Star" for the third time in his career. Glen is the closer for the Minnesota Twins and a darn good one at that. Let me be the first to tell you that our road to being "something that is better than awesome" was not always a smooth one and so we don't take the title for granted.
That being said, it is always a little bittersweet to be named an All-Star. This may come as a surprise and may leave you wondering, "Why wouldn't it thrill you"? We interrupt this family to bring you the baseball season, a season that lasts from February into October each year. During that nine-month stretch, my husband gets a whooping 18 days off so the "All-Star break" is a bit of coveted time for families because it is three consecutive days off that you get to be together, which is a rarity.
I am by no means complaining but I just want to explain the reality of the situation from this side. We are so proud of Glen and can't wait to watch him kick ass in the All-Star game, but I would be lying if I said I was happy to give up our off days with my husband to do it. Regardless of my moment of disappointment, I knew I had to express how proud I was of Glen so I did something that is so unlike me that it shocked him to his core. The night after they announced his third All-Star bid, I surprised him in the parking lot at Target Field with his dream car, a 2015 Porsche 911 Carrera 4S. The look on his face made the outlandish purchase worth it, he deserved it and I wanted him to know that I know how special he truly is.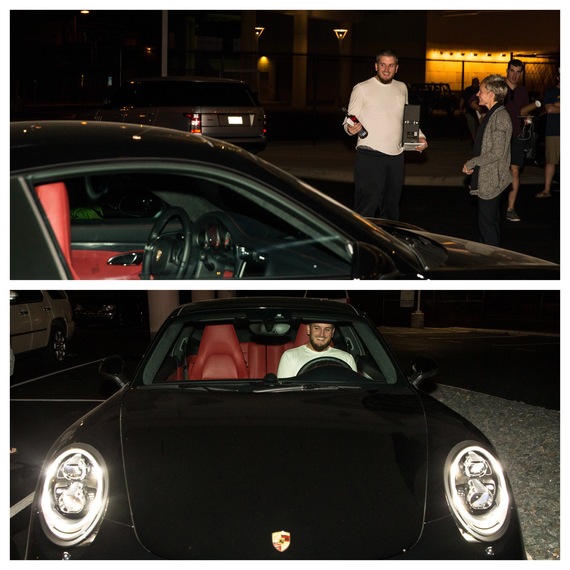 So with a new plan for our All-Star break about to take shape, I had less than a week to figure out how to get our family to Cincinnati, make sure our extended family had hotels, make sure we had enough tickets for everyone, and make sure we have to appropriate clothing for all events (sounds fun huh?). So, while our oldest, Addie, practiced her wave for the parade I got to work (with the help of Glen's agent) becoming a one-woman kayak.com.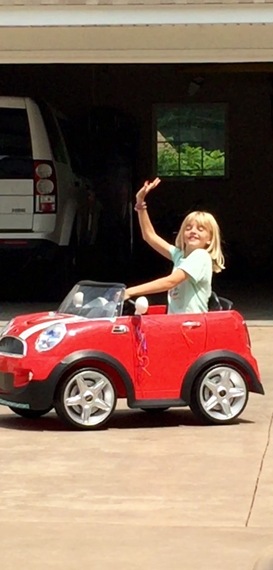 We have been so blessed the last two years with the All-Star cities, the first being in NYC (talk about big time), and last year being right here in our home state of Minnesota. Going into this year, we knew that nothing would ever be able to top what took place last year for Glen, but again, I would be lying if I said I was excited to go to Cincinnati (no offense Ohio-an's). I have never been to Cincinnati and while it was not on my "must-see" list, I am trying to keep an open mind because Minnesota is also considered "fly over country" and I happen to be pretty fond of this place.
Trying to just get us to Cincinnati has been a situation in and of itself. The flights are few and far between, not to mention they are crazy expensive. In the end, mainly due to flight costs and lack of flying times, we ended up chartering a private jet, a first for us and one that I am nerdily excited for.
I am sure some of you had this preconceived notion that all professional athletes and their families only fly private and while that may be true for some, that is simply not the case for us. Honestly, most of the time my kids and I fly coach (gasp!). This is one of those things that I never thought I would get to do and so I can't help but feel like a kid on Christmas morning as I pack to get on my very own plane.
So after a week of mad, chaotic and stressful planning, we are soon going to be on our way to the 86th annual MLB All-Star game. Once we get there things go fast and furious, one thing to the next and before you know it the whole thing is over and you are flying home to resume your everyday baseball life. I am going to try to run out a little anxiety on the streets on Cincinnati before the chaos ensues. The runner in me needs the release, and the tourist in me wants to see the sights.
Stay tuned as I let you know how things progress daily behind the scenes of the MLB All-Star game in good old Cincinnati.

Calling all HuffPost superfans!
Sign up for membership to become a founding member and help shape HuffPost's next chapter