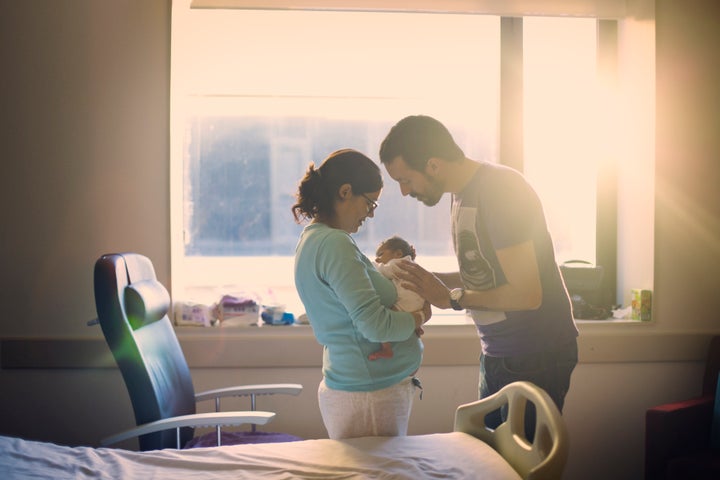 Placing a child up for adoption is undoubtedly a difficult decision, to say the least. One New York City-based nonprofit organization and adoption agency has created a program that aids biological parents who are considering adoption by finding volunteers to temporarily care for their newborns.
Adam Cotumaccio, the president of Spence-Chapin, told The Huffington Post about the program. "We don't push a woman either way," Cotumaccio said. "We counsel that woman for days or weeks and really talk about the program before she moves forward." He added that 65 percent of biological parents choose to parent by the end of the program.
While the biological parents receive free counseling from assigned social workers, Spence-Chapin assigns volunteers to provide 24/7 care for the newborn baby in their own homes after undergoing stringent background checks. Parents, who remain the legal guardians during the program, can visit or decide to parent their baby at any point.
Ann Lapin, a New York mother of three, has been a volunteer with Spence-Chapin since 2011 and has since cared for a total of 19 babies in her own home.
"Interacting with a newborn is a remarkably rewarding experience," Lapin told HuffPost. "It's such a special experience to be able to be involved in this program."
Volunteers are supplied with and reimbursed for all costs associated with the baby's needs while in their care, including clothing, diapers, formula and transportation costs. The program is funded entirely by donations, Cotumaccio told HuffPost.
Lapin went through a series of steps to qualify for the interim care provider program. As part of the organization's vetting process for volunteers, she and her husband both had their fingerprints taken and were interviewed, given background checks and had to provide references, among other clearances. She told HuffPost that she attends quarterly trainings at the agency.
Volunteers in the interim program do not become permanent adoptive parents. It's a temporary arrangement that typically lasts between two to four weeks, Cotumaccio told HuffPost.
"Our hope is that the biological parents have time to find clarity," Lapin said.
Cotumaccio described the interim program as a "safe haven" for new moms who may be "in crisis" while making a decision on adoption. Katie Foley, a spokesperson for Spence-Chapin, told HuffPost about some of the obstacles the program has faced.
"It can be a challenge to identify volunteers for this program, as he or she needs a generous heart to temporarily care for a newborn, and have the time and flexibility to be part of our program."
The program is not above scrutiny, though. Adam Pertman, the president of the National Center on Adoption and Permanency and author of Adoption Nation, told HuffPost that he believes Spence-Chapin's interim care program is fairly unique among adoption agencies.
"I don't think it's necessarily widely held; I'm not making a judgment," Pertman said. "This is either innovative or controversial depending on how well it works."
Pertman added that he has known Spence-Chapin to have "a very good reputation" in adoption and believes their existing efforts to counsel birth parents during the process is "critical."
As for the program's benefits, Pertman said he doesn't know enough information about it yet.
"I assume that Spence has some evidence that this is positive," he said. "And whether it's something that should be duplicated or amended -- I don't think as a field we know enough about it yet."
Visit Spence-Chapin for more information here and reach out to your local adoption agencies for more information.