Just like every cocktail party peopled with artists, we ask the inevitable question "What are you working on right now? What are you making?" The artist answers:
Christopher Haun
Artist
La Jolla, CA

I have been working on "Way Back Home: Invocation of Warrior Spirits," a deeply personal project that I began last year while on a sabbatical in Macon, Georgia. In the attic of my childhood home I came across a collection of personal memorabilia from my adolescence, and an assortment of items from my elders' service in the military. The box I found of my stuff was books and drawings: users manuals for the role-playing game Dungeons & Dragons and studies for characters that I created. My father's boxes had transparencies, photos and drawings from his two tours with the NAVY Seabees in Vietnam. When I found my grandfather's briefcase that contained classified documents, personal effects, and photographs from service as a lifer in the NAVY, I realized he was not only a jet-fighter test pilot but also worked at the Pentagon developing secret weapons during the cold war. I found a photo of him from '69 with his arm around former secretary of state Robert McNamara, both of them sporting matching brass war pendants.
The idea of the project developed from an impulse to associate my childhood obsession with role-playing war-game characters with the gamers who are now creating characters for role-playing war-games online, and the mysteries surrounding my elders war games during their military service. The eye-opener discovery of family treasure led me to question the relationship between generations of men; what is said and unsaid, and what principles and morals are passed on. I wanted to explore connections between America's pervasive culture of violence, my forefathers' seemingly fantastic military roles, and the fantasy fighting characters that I created and personified during my youth.
The work in this project consists mostly of digital prints and paintings, with a small number of sculptures. The paintings are in oil and enamel with collaged prints of gems, skulls, vessels and weapons. The prints on vellum are from screen shots of images from a popular action role-playing game called Skyrim, and internet pix of the hand-to-hand weapons that were issued to my forefathers in wartime. The prints and drawings are studies for sculptures, imaginary weapons based on real weapons that my elders carried. They're made of oil and enamel on poplar and pine and are personalized with replicas of wartime family heirlooms.
Three pieces from this project were included in Celebrity Skin, a group show curated by Raul Zamudio, at White Box Contemporary, in San Diego, last summer. On exhibit was a couple of "Soul Gem" paintings and a sculpture, "Survival Knife (Hairy Pooter vs. Lord Moldywart)."
Alan Wayne
Monochromatic Painter
Los Angeles California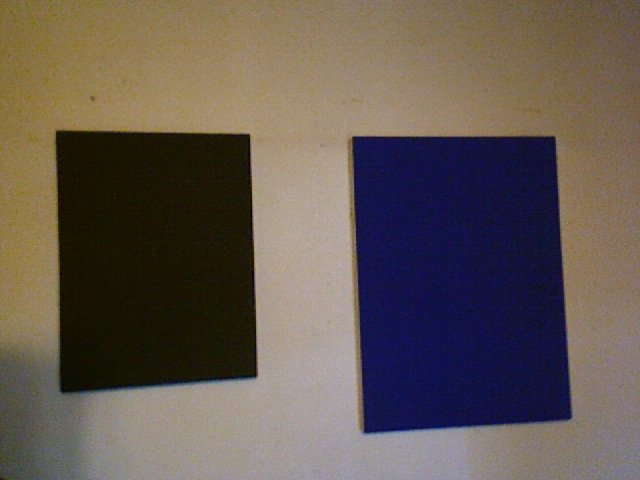 I'm a monochromatic painter who's been painting for over 40 years. I'm currently working on a series of paintings that I started creating 20 years ago. Specifically they are oil alkyd on canvas, I use a limited pallet mostly dark colors, blues and blacks. The premise of my art is the quest for spiritual understanding through self realization. The history of painting is an expression of the unseen spiritual world, and my paintings are an attempt at manifesting that.
Rachelle Rojany
Artist
Los Angeles
Her current show MAKE NO SHIBBOLETH is currently on view at The Impermanent Collection, Los Angeles.

On the roof of a hardware store next door to the downtown Los Angeles gallery, The Impermanent Collection, I just finished painting a massive (100 x 60 feet) white "swoosh" for my show, MAKE NO SHIBBOLETH, which opened on October 13. The work, titled The perfect audience, is visible from the gallery's balcony, where the viewer may recognize the swoosh as an editor's mark of erasure, or one that mimics the wind, or a large lasso that pulls you in.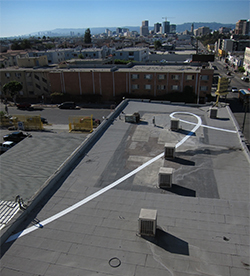 Accompanying this sight/site specific work are interactive works installed inside the gallery made from wood, plaster, mirrors, plexi, paper, and text. I'm playing with the relationships between artwork, viewer and gallery in terms of both creating art and assessing its meaning and value. The title MAKE NO SHIBBOLETH is derived from the David Foster Wallace book Consider the Lobster and other Essays, and is used in one of the performance works, Defined Sentence in French, for Eugenie Fremiot. Collecting unfamiliar words while reading, I assembled a list of words whose meanings had commonality with this body of work. The word shibboleth resonated, as it means a word whose pronunciation identifies a speaker as belonging to a particular group -- or, conversely, a password to designate exclusion.
Two pieces in the show are human-sized: "1,2" and "Make me a home over there, 2 positions." Both move: One is kinetic; the other is modular. And both address time, home, relationship and what it means to be human and also what it means to be an artist. Another work, "The beginning of religious feeling," speaks to the uncanny experience of seeing and not seeing oneself at the same time, and the psychological, philosophical, even religious experience that this invokes. The works smallest in scale are the "Geryons For Sale," hand-built miniature statuary that tease out the interaction between appraisal and consumption in the art marketplace.
Jessica Wimbley
Visual Artist- mixed media
Claremont, CA

I am a trained painter who works with sourced and created images- photographic, digital, printed. My background as a painter is an important element in the making of the work, as my approach to the images and material is not that of a photographer, although I work in a photo based mediums. My technological understanding is rooted in the ideas of painting, in the hand of the artist, and synergizing those ideas in conversation with how one consumes, composes, and experiences culture. The hybridity of images in the work reflect the way in which one composes culture in the digital age, integrating gazes by reflecting the mass consumption and democracy of the Internet. The finished work reflects historical artistic approaches of painting and drawing with Photoshop, collage and digital photography, itself becoming a hybrid. This hybridity creates a hand in the work, which mirrors sensibilities of painting, drawing and traditional fine art mediums while articulated in digital processes.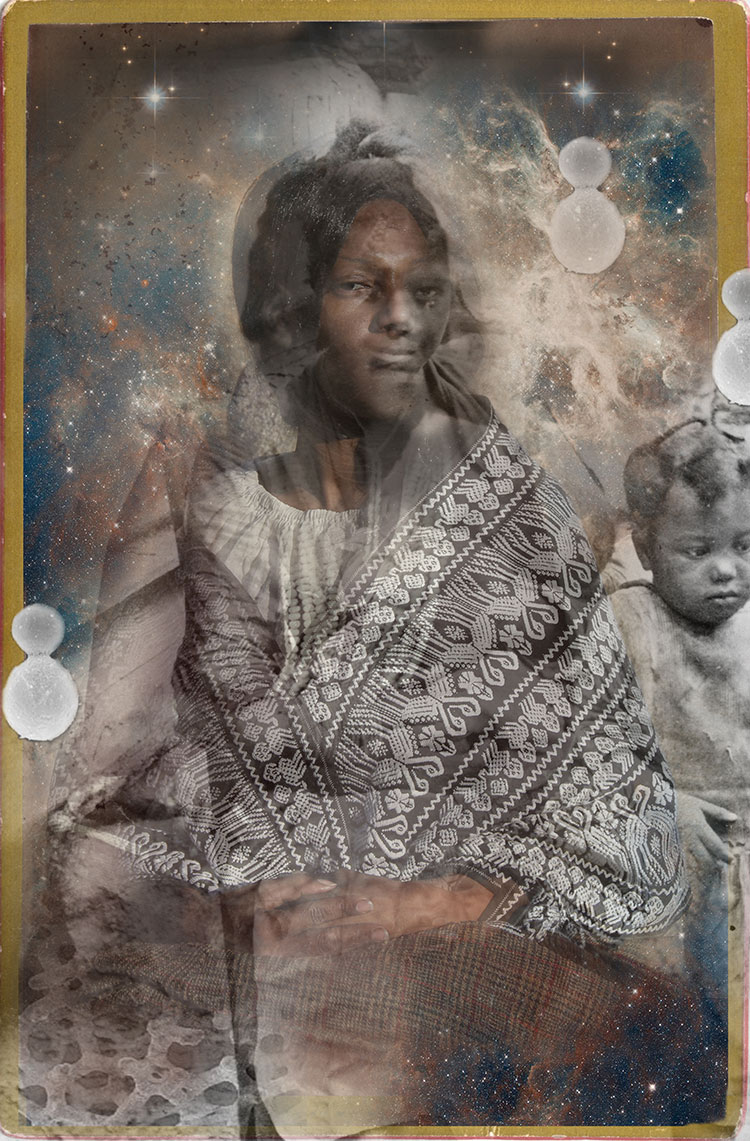 The hybridity in the work is so integrative, that painters, printmakers, and photographers can be confused as to how I make the work, understanding and reading those elements within the work but not being sure of it's nature, object hood, or medium. For me, striking that nuance is an important part of the work.

Currently, I am working on the Belle Series, a series of C-prints printed on canvas and watercolor paper.

By investigating the one-drop rule at a micro level (DNA and genetic information contained) to a macro level (origin of humanity) the African diaspora is reframed in the context of the African as the original colonizer and explorer of the earth. Using aesthetic elements such as collage, digital imagery, appropriation, panoramic landscapes and space imagery, as well as images of microscopic biological entities, including t cells, melanin, stem cells, and DNA, provides both a conceptual and visual metaphor for the macro and micro- galvanizing what is seen and unseen, and questioning the scope of the human experience and identity.

The Belle Series continues the investigation of identity by integrating images of myself with my grandmother, great grandmother, and other relatives dating back to the early 1900's and historical stereographic images of Native and Black American women from the Turn of the Century. The stereograph, being a popular medium for disseminating images of Americans during the Turn of the Century, was also instrumental in helping create visual representations of American life and inform American identity. Through the merging of images, I seek to create a hybrid, which exposes the shifting of identities in relationship to both historical and social political understandings. As the series evolves, references begin to shift between both photographic images from the turn of the century to popular culture printed images, such as JET Magazine's "Beauties of the Week"- investing both shifts in time, ideaology, and representation- capturing the nuances of identity development, conceptualization, and intersectionality with social political frameworks across generations.

GORDY GRUNDY is a Los Angeles based artist and arts writer. His visual and literary work can be found at www.GordyGrundy.com
Related
Popular in the Community