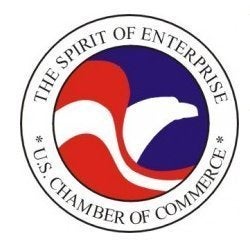 Apple Computer's announcement this week that it was quitting the US Chamber of Commerce was just the latest high profile defection from the country's most powerful business lobby. In the preceding two weeks, three major electric utilities and Nike also said they'd be leaving the Chamber's board of directors or dropping out altogether to protest its hardline stand on climate. Nike has also described a lack of accountability that suggests a violation of the organization's own policy -- and potential conflicts of interest on the part of key Chamber officials.
The Chamber claims to speak for more than three million businesses spanning Wall Street to Main Street. But as Josh Harkinson, Mother Jones' West Coast reporter, has found, in its zeal to please a few powerful industries the Chamber seems to have fallen out of step with a significant part of its membership. The organization opposes the Waxman-Markey energy bill and is threatening to sue the Environmental Protection Agency if it regulates greenhouse gas emissions. It has also questioned the fundamental scientific consensus around global warming, even proposing a public hearing on climate science that would be "the Scopes Monkey Trial of the 21st Century." Though he has backed away from the Monkey Trial idea, Bill Kovacs, the Chamber's vice president for the Environment, Technology and Regulatory Affairs, still asserts that the minority views of climate change "whistleblowers" and skeptics are being ignored by policymakers.
The opaque nature of the Chamber's inner workings is reflected in the role of Chamber president Bill Donohue, who makes a lucrative income as a member of several major companies' boards of directors. He is on the board of the Union Pacific Railroad, which has given the Chamber $700,000 since 2004 and is also a staunch opponent of Waxman-Markey. Since 1998, Donohue has earned roughly $5 million in payments and $3.8 million in stock from the railroad. In return, he is expected to abide by a Union Pacific conflict of interest policy that prevents him from engaging in "any conduct or activities that are inconsistent with the company's best interests." The Chamber has no similar policy.
"What makes this uncommon is in this case the individual is the head of the nation's business federation," notes Natural Resources Defense Council climate campaigner Pete Altman, who first drew attention to Donohue's Union Pacific connection. "They want people to believe that they represent the broad consensus views of their federation, but he is obligated to watch out for Union Pacific, and I just don't see how you reconcile those roles."
REAL LIFE. REAL NEWS. REAL VOICES.
Help us tell more of the stories that matter from voices that too often remain unheard.