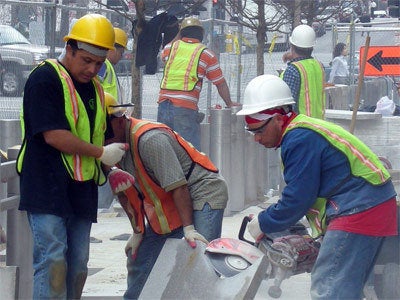 Between December 2007 and June 2009 -- the recession's official timeframe, according to the National Bureau of Economic Research -- the U.S. economy largely shed jobs from male-dominated industries: construction, manufacturing and production. Hence, the term "mancession."
But in recent months, men are flourishing in the job market. In February, the unemployment rate for men was 7.8 percent while the overall unemployment rate is 8.9 percent.
The unemployment rate for men 20 years and over has fallen to 8.7 percent from 10 percent in February of 2010. For women of the same age, the unemployment rate has hovered around 8 percent over the same period.
"You have a situation now where the sectors that traditionally employ men have stopped losing jobs and are actually adding them," said economist Dean Baker. "So there's been a reversal. Men really took a very big hit in the first phase of the downturn. But for now it seems that the sectors that are gaining jobs most rapidly are the areas that are employing men."
"Manufacturing appears to be red hot," said Ryan Sweet, an economist at Moody's Analytics.
In February, the private sector added 222,000 jobs. Of these gains, 152,000 were in private service-providing industries and 70,000 were in goods-producing industries.
Manufacturing gained 33,000 jobs, another month of positive news, but not as strong as the 53,000 positions added in January. Construction jobs grew by 33,000 in February, though improvement in this sector can, to some extent, be attributed to bad weather during January.
Transportation and warehousing jobs were up 22,000, a rebound that can also be partly attributed to January's inclement weather. Over the last three months, the sector has added 9,200 jobs per month on average.
Temporary help services increased by 16,000 in February. Over the last two months, temporary help services added 5,300 jobs per month on average, lower than its average of 32,000 per month in the fourth quarter of last year. Leisure and hospitality saw increased employment in February (+21,000), and the industry has gained 9,000 jobs on average over the last two months.
Retail trade positions decreased by 8,000 in February, a surprise since consumer spending has been on the mend. The retail sector has added 7,100 on average in the prior three months. Health care added 34,000 jobs, an increase over the prior three months' average of 19,000.
Related
Popular in the Community