Sometimes when you research a book, you get lucky. That's how this story began.
I got lucky last June, just not in quite the way I'd hoped, as you'll read. But my pursuit of a long-lost audiotape eventually opened the door (literally) and allowed me to take possession of a storage locker owned by a lawyer named Nat Weiss. For those who don't know, Nat just happened to represent The Beatles over on this side of the pond.
It all started when I was doing research for a non-fiction book on The Beatles' manager Brian Epstein. I was poking around for some audiotapes of a phone conversation that I know existed at one time. Whether those tapes still exist, I do not know. But I was hoping they might still be around and, if anyone had them, it was Nat. After all, he was the person who ordered a phone line to be tapped in the first place.
I should back up and tell you that Nat Weiss was very good friends with Brian Epstein, both Jewish and gay in an era when being gay was a crime. The audiotapes had to do with a blackmail attempt against Brian. Nat was furious and had ordered all calls from the blackmailer to be taped. I know for a fact that those tapes existed and wanted to listen to them if they were still available.
Nat had bonded with Brian by showing him around the gay scene in New York back in the Swinging '60s. Brian trusted Nat so much that, in 1966, they formed a company together called Nemperor to manage musical artists aside from The Beatles. Brian died of a drug overdose in 1967 but Nat carried on, eventually providing legal advice to James Taylor, Cat Stevens, Stanley Clarke, The Mahavishnu Orchestra and Steve Forbert, among others. (Pictured is a touring schedule for James Taylor, circa 1969.)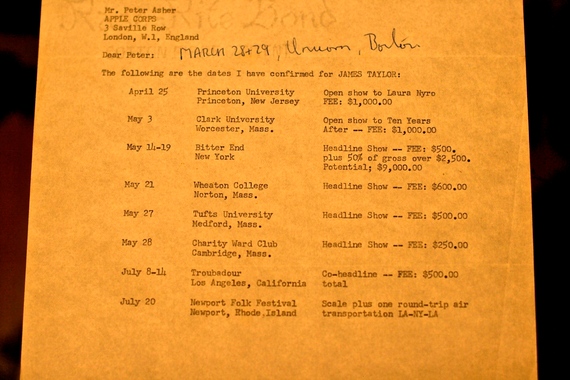 I spoke to Nat a few times by phone in 2012 but he was quite ill, and I wasn't surprised to read that he died last summer. I figured whoever his heirs were might have the tapes I was looking for and so I began my search. I didn't have much to go on, just the building where he had lived on E. 68th Street in Manhattan. It was not a co-op so records were scarce.
I badgered the building management company and, after repeated calls, someone finally passed along the phone number of Nat's estate lawyer. I wasn't overly hopeful he would talk to me but he proved to be surprisingly open and friendly. He told me that most of the contents of Nat's apartment had been auctioned already but there was this storage locker down in Chelsea that had never been opened.
"What you're looking for might be in there," he said.
Well, this was like sticking a giant ball of catnip in front of a cat's nose. I desperately wanted to take a look inside that locker, but how? It was a long shot but I told the lawyer I'd be happy to help Nat's heir go through the files. He said he'd pass along my name and number.
Months went by but incredibly, in May, Nat's niece finally called me and asked if I wanted to meet her the next day in Chelsea to help clean out the locker. It took me half a second to say 'yes.'
She said she had taken one quick look inside and had become overwhelmed. "There's lot of records there and a lot of his old files," she said. "Some of the filing cabinets are locked so we may have to hire a locksmith."
I told her I might be able to pick the lock (as I had done in the past when the need arose) and we arranged to meet. She was a very nice woman who, from the start, let me know that she wasn't all that interested in the contents of the locker. Her priorities were elsewhere and it was a schlep to drive in from the far reaches of Brooklyn, yada, yada.
"Well," I said, "I'm happy to help."
I cannot tell you how exciting it was the first time we opened that locker. We had no idea if we'd find hidden treasure or junk. It was very much like the reality television program Storage Wars except I wasn't bidding against anyone else and I could just go in and check it out. The locker was packed with filing cabinets and boxes and it was very dusty, but that was a good thing -- it had not been touched in a very long time.
The 11 very large boxes of records were sealed shut with a lot of heavy duty tape. I had my picking tool but had neglected to bring my knife. The records would have to wait for another day. There were also five large filing cabinets stuffed with files. On top and around the cabinets were assorted master tapes, recordings of live concerts, Nat's Rolodex and many other odds and ends, like a glass table with brass cobra legs.
We began to go through what we could access, including the two filing cabinets that were not locked and a bunch of other materials that were just loose. It was clear from a cursory search that there were many interesting items in the locker and who knew what was in those locked cabinets and what records were in those boxes?
It turns out that my lock-picking skills were not up to the task, so we called a locksmith and, while we waited, we poked around. Immediately, I noticed a tape marked "Mahavishnu Orchestra." There was a lot of material or ephemera from that jazz-rock fusion band that toured during the early '70s.
Nat's niece wasn't interested in any of it so I asked if I could have the Mahavishu tapes, photographs, files, touring book etc. I was never a fan of the band but I knew someone who was. At a grammar school reunion a few years before, a former classmate -- a drummer by the name of Ted McCallion -- mentioned how much he loved the Mahavishnu Orchestra. He'd even sent me a book about the group: Power, Passion and Beauty - The Story of the Legendary Mahavishnu Orchestra. I knew he'd like to see some of the ephemera that was now sitting in front of me.
With permission, I carried out the concert tape, had it transferred to a DVD and sent it on to my old grammar school buddy. To say he liked it is an understatement -- he was over the moon.
The tape was from a long-forgotten west coast television show called Telerock. On the tape were concert performances from The Mahavishnu Orchestra, Beautiful Day (does anyone remember them?) and Taj Mahal. It turns out that there are only six tapes of the The Mahavishnu Orchestra performing live. This was No. 7. In the Maha community (as it's called), that is a very big deal and the tape eventually was released to great fanfare.
I was thrilled that I had made someone happy but of course I wanted to know what else was in that locker. It wasn't so easy to know. It was dark and the locker and cabinets were stuffed and the boxes of records were taped shut. The locksmith had gotten the filing cabinets opened but, even after four hours, we had barely made a dent.
We made a date to meet back there in about a week. And Nat's niece told me in no uncertain terms that she wanted everything gone by the end of May even if everything got thrown away. It was already mid-May. The clock was ticking, loudly.
The storage locker could not have been in a more mundane place. It was on the 6th floor of the Manhattan Mini-Storage at 29th Street and 10th Avenue. It's a strange world where vendors store their wares, where musicians store their drum kits and other instruments, and where, I had a feeling, some people actually lived. One perk is the free on-site parking and free carts to haul stuff up and down the elevators. But it's airless and hot, even in May.
The second time I entered the locker with Nat's niece, heir to his estate, we had unfettered access to everything. The locks on the filing cabinets had been popped open by a locksmith -- we were in. But that didn't mean it was easy to examine everything. The locker was jam-packed. First, we had to drag some boxes into the narrow corridor so we'd be able to squeeze into a very small space and look carefully at the contents. I began to separate out some of the more interesting items and anything I thought was vaguely interesting, I showed to Nat's niece.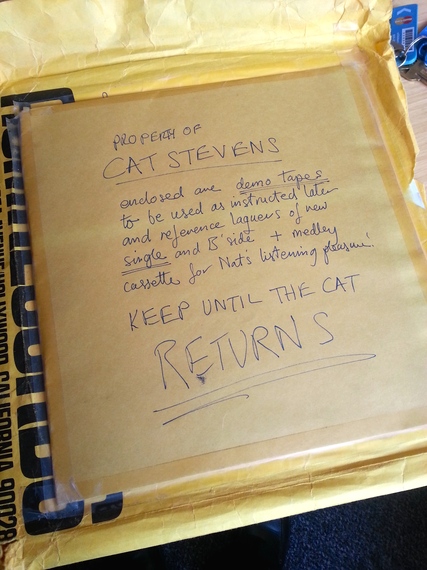 First up was a large brown package that had a warning scrawled in magic marker on the outside:
Property of Cat Stevens - Enclosed are demo tapes to be used as instructed later and reference lacquers of new single and B side and medley cassette for Nat's listening pleasure! Keep until the Cat returns!
I couldn't help but laugh. The funny thing about this rather stern warning is that The Cat never really did return. Soon after this was written in 1977, he gave up his pop music career, sold all his guitars and chose to become a strict disciple of Islam, even changing his name to Yusuf Islam. It's only in the last few years that he's begun singing again.
But back in 1977, The Cat was gone for good which probably explains why he never came back to retrieve this package. The other reason might be that this single had to be the worst of Cat's career. I was a Cat Stevens fan and I had never heard of it. It was called -- and I'm serious -- "Was Dog a Doughnut?" It's an electo-pop melody with a dog barking in the background. Very weird and, looking back, you have to wonder if it was time for Cat to take a break.
But no matter what, this was a one-of-a-kind item. Record companies make a handful of reference lacquers; the single was the size of a 33 LP. In addition to the doomed single, the package also contained two cassettes of Cat singing songs from a musical written by his brother. How do I know this? Because Nat's niece said I could take it and I did and I listened. On the cassettes, which have to be incredibly rare, Cat sounds like his old self. I now owned this piece of rock memorabilia but what to do with it? Somehow, given the sentiment on the envelope, it didn't feel right to sell it, so I tracked down a person who knew The Cat and he promised to send it to Yusuf where he lives in Dubai. I haven't heard back yet but I'm hopeful he received it.
On that second visit, I came across other tapes belonging to groups like Shy Talk, Motivation and The Romantics. I knew very little about those bands but I did know about folk singer Steve Forbert and have always admired his raw energy. I found a reel-to-reel audiotape of one of his live concerts out in Berkeley. It was fairly easy to locate Steve so, after an exchange of emails, I shipped the tape off to a Post Office Box number he gave me down in Nashville. Steve was a gentleman and rang me up to thank me.
But before we go on, I should say that it was again crystal clear on this second visit that Nat's niece didn't care what happened to the contents of the locker. Her concern was not paying any more of the monthly storage fees and was worried about getting rid of the filing cabinets and all those old files. In fairness to her, there was a lot in those cabinets -- like old financial records (like receipts from hotels bands had stayed at on the road) -- that no one would want. But there were also some gems tucked away. It was a matter of separating the wheat from the chaff.
You had to dig for it and pay attention. It was easy, I found, to begin tossing files away with a cursory glance and that was dangerous. For instance, in a file marked "Christmas," we found a dozen of so pristine 8x10 black-and-white photos of The Beatles that they had sent out to members of their fan club. They were a nice find but who knew it would be a file marked "Christmas?"
Was Nat's niece willing to take the chance that there was nothing else tucked away, something with potentially far more value? She was willing to take that chance.
I on the other hand wanted to go through everything with a fine tooth comb even if it was a pain in the ass and hot and dirty in the locker. Truth be told, I was now in it for the thrill of the hunt. This was fun!
We had not even cut open all the taped record boxes at that point so I made Nat's niece a proposition. I would pay for the June storage fee and go through everything and if I found anything of incredible value, I would split it with her 50-50. She agreed but only if i took a bigger cut, and then she handed me the key and disappeared from the scene.
Now I had time, at least a month or for as long as I wanted to pay the fee which was about $350 a month.
Over the next few weeks, I went through everything in those filing cabinets and 90 percent of it was junk. But I also found some treasures. There were reel-to-reel recordings of long lost concerts by James Taylor and Carly Simon. There was a whole box of black-and-white photos of Cat Stevens at a Madison Square Garden concert.
There was one large box in particular that I needed to go through slowly -- the box marked James Taylor. There were some very interesting and historically significant papers in there pertaining to James' career, including a copy of the letter his lawyer sent to Apple records informing Beatles executive Allen Klein that James was terminating his contract with The Beatles' label. The letter was cc'd to John Lennon, Paul McCartney, George Harrison and Ringo Starr. And that was just the beginning... (more to come on the contents of that box in Part 3).
There were also those 11 large boxes of record albums from the '60s, '70's and '80s. Most of the records were used but there were some new, mint condition LPs that had never been played. And the boxes contained all the classics, from The Beatles to Cat Stevens to Bob Dylan to Joni Mitchell to you name it. I had never seen a Beatles LP on the original English label Parlophone.
I began to move those boxes home to make more room in the locker. And I made a decision -- my record collection had been destroyed in a flood and I had gotten rid of my turntable but I would now use Nat's old LPs to restore my collection. All I needed was a new turntable and I would pay for that by selling the records I did not want.
After a month of scouring the storage locker, I came away with some very interesting pieces of music history and memorabilia but sadly, there was no master tape or in fact any music from The Beatles except for all the band's albums. I was happy to have those to replenish my record collection.
1. James Taylor Ephemera -- Nat represented James for a long time and there were some great finds in the locker and pieces of history that go back to James' early career. As I previously mentioned, I have a copy (not the original) of the letter in which James Taylor's lawyer informs Beatles executive Allen Klein and the four Beatles that James is terminating his contract with Apple Records.
For those who don't know, a little background is in order. James Taylor was first signed in England by Paul McCartney's longtime friend Peter Asher (Sir Paul dated Peter's sister Jane for the early Beatles years and Asher was a member of the duo Peter and Gordon who had a huge hit in "World Without Love" written by McCartney.)
Back when Apple Records was formed, Asher was a talent scout. Asher thought that James Taylor had the goods and had him play live for Paul who immediately agreed. So did George Harrison. I've read that both Beatles played on Taylor's first LP without being credited. In fact, George H. was so inspired by one of Taylor's songs that he used the title to write one of his greatest songs. Taylor's song was called "Something in the Way She Moves" which are the opening words for "Something," probably George's most beautiful and commercial composition.
After Taylor left Apple, he moved back to America where he signed a management agreement with Peter Asher who believed so strongly in his talent that Asher left England and Apple. I have that original management agreement signed by Asher and Taylor. I also found an early touring schedule for James Taylor -- pretty interesting how little he was paid back then.
James Taylor's most famous album probably remains Sweet Baby James. Tucked away in the locker is a neatly typed, stapled report on 'the production costs for Sweet Baby James" which cost all of $16,000 and change to record. The report makes careful note of who was paid for how much work and music historians will chuckle to know, that on one day in 1969, when they each worked from 2 p.m.-5 p.m., Carole King was paid $85 for playing the piano during the session and James was paid $170 for singing and playing guitar. The report is signed by both James Taylor and Peter Asher and includes original receipts for various items like wine and cold meats.
At the end of 1976, in a very famous story, James Taylor was wooed away from Warner Brothers records by Walter Yetnikoff of Columbia, then owned then by CBS. The story goes that Taylor had agreed to the switch for $2 million but, upon arriving at Nat Weiss Manhattan apartment -- where Yetnikoff was waiting with the check -- Taylor had a change of heart and said he could not sign the deal. Yetnikoff eventually bullied Taylor into signing and gave him the check. I have a copy of the cancelled $2 million check and the original deal signed that night by Yetnikoff and Taylor.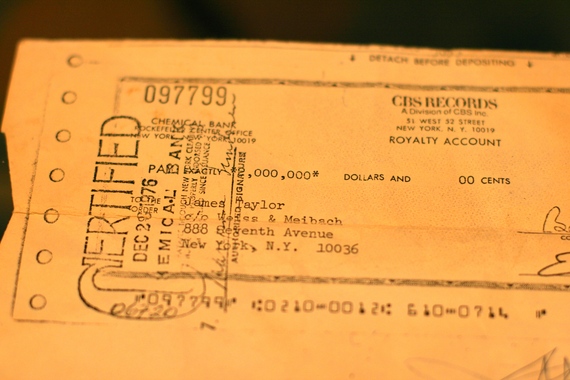 There is also a stock certificate in a Taylor's private company Country Road Productions addressed to and signed by James Taylor.
2. Signed Albums -- I looked painstakingly through Nat's record collection, took what I wanted and sold many others at two stoop sales in Brooklyn. What I could not sell, I gave away to a DJ. But I've kept the only two signed LPs, one by Tiny Tim and the other by Peter Allen, both deceased.
3. Signed stock certificates -- Nat had stock certificates for private companies he incorporated, like Taylor's Country Road Productions. Most interesting to me are the certificates for the company Nat formed in 1966 with Beatles manager Brian Epstein. I have the stock certificates and incorporation papers for their now-defunct company Nemperor (which was a nickname for Epstein. He was so regal in bearing, employees called him The Emperor behind his back and his first company was called NEMS, hence Nemperor, a combination of NEMS and Emperor -- Epstein liked the nickname.)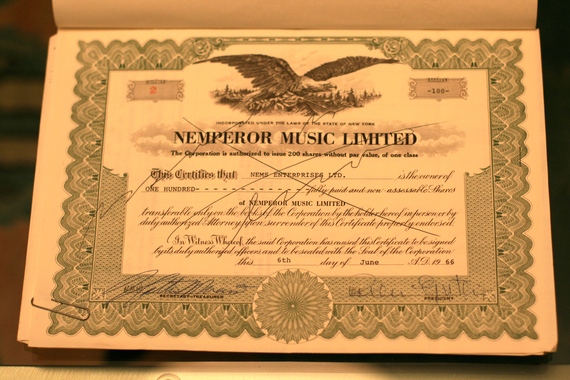 Epstein died in 1967 of a drug overdose but before he did, he signed the original stock certificates for this company. Even his mother Queenie signed a couple. I have to believe that these stock certificates signed by both Epstein and his mother are very rare indeed and one-of-a-kind.
So what to do with all of this? Good question.
I have talked to Sotheby's which recently had a rock and roll auction. They referred me to an English company who expressed interest but told me to talk to a woman in Los Angeles. I have and am in the process of uploading all the photos I've taken of these various items to her. We'll see what happens but that, my friends, is the final part of this story which has not yet been written. When it is, I will update all of you.
Thanks for coming with me on this magical mystery tour. It was great fun. :)
Popular in the Community