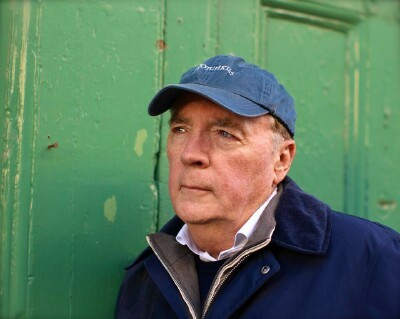 With over 300 million copies of his books sold worldwide, including 114 New York Times bestsellers and 67 New York Times #1 bestsellers (a Guinness World Record), James Patterson is one of the most prolific and successful authors on the planet.
While Patterson continues to write the suspenseful thriller novels his devotees clamor for as well as the children's books that have gained him a whole new fan base, he's also become a major champion for literacy. Last year, he pledged to donate $1.75 million to school libraries through a grant program with Scholastic Reading Club. "I'm really passionate about getting kids reading," says Patterson. "If kids aren't competent readers in middle school, they're going to have a really hard time getting through high school and getting through life. School libraries play a big part, but unfortunately, with budget cuts, school libraries are often the first to go. A lot of schools don't have as many books as they should have. These grants help the libraries and they shine a light on a much larger problem."
Patterson grew up in Newburgh, New York. His father was an insurance agent and his mother was a teacher/librarian. He soon developed a burgeoning reputation as a raconteur. "Even from a young age, I loved telling stories," he recalls. Although Patterson's mother encouraged her young son to read, he preferred coming up with his own stories rather than reading those of others. "As a kid, Peter Pan was one of the only books that I truly enjoyed."
He studied English at Manhattan College and went on to earn his master's degree in English from Vanderbilt University. During these formative years, Patterson developed what would be a lifelong appreciation for books. "When I was younger, I read what I was assigned, but not much else," he admits. "I really began to enjoy reading in college when I could finally read what I wanted to. I was impacted by an assortment of books, from classics like Ulysses to bestsellers like The Exorcist." After college, Patterson took a job in the advertising field, starting as a junior copywriter at J. Walter Thompson. It wasn't exactly his dream job. "I'd never particularly liked advertising and it wasn't really what I had in mind," Patterson explains. "But, I ended up being pretty good at it and worked my way up to chairman."
As Patterson climbed to the top of the advertising ladder, he still felt compelled to write the stories that formed in his head. "Storytelling has always been a passion of mine, and even while working in advertising, I felt the urge to write them down," he says. "Every morning I would wake up and write before going to work." He says his brain continues to churn out promising storylines and potential characters for future novels. "I've never run out of ideas for stories," he says. "In my office I have a five-inch-thick folder full of ideas and they've never stopped coming."
Patterson published his first book, The Thomas Berryman Number in 1976 while he was still employed at J. Walter Thompson. Twenty years later, Patterson would retire from the advertising world with nine more titles under his belt, including Along Came a Spider, which introduced Alex Cross, his most popular protagonist.
According to Patterson, he originally conceived Alex as "Alexis," an African-American female detective. "Creating that character was a bit daunting for me, so I changed the name to Alex," he says. "A lot of what I wanted to do was challenge the stereotypes of African-American males that I was seeing at the time. I didn't feel these stereotypes were true, so I wrote Alex as a well-educated family man." In addition to the Alex Cross series, some of Patterson's most popular books are the Women's Murder Club series, the Maximum Ride series, the Michael Bennett series and the Middle School series for young readers. He admits that the Middle School series is influenced to some extent by his own experiences in middle school. "But, I wouldn't say that the character of Rafe is based on me," he says. "I was always a good student and a hard worker. Rafe is more of a troublemaker than I ever was."
Patterson says he approaches writing children's books the same way he does when writing for adults. "The process for me is the same either way, and it always starts with an in-depth outline," he explains. "Whether I'm writing an adult book or a children's book, it's about writing a story that people want to read. The one thing that's a little different is that I get to be a lot funnier in the kids' books, which I enjoy."
He credits much of the success of his books to his staunch commitment to ruthless editing. "I focus on making every page in my novels count," he says. "If I reread a page and it doesn't advance the story, I scrap it. The most important part of a book is the story. If the story doesn't move along quickly, you risk losing your readers. Since I got my start as a writer, my goal has been simple: to write compelling stories that readers won't want to put down."
Patterson continues working to promote literacy. His ReadKiddoRead initiative is a resource designed to help adults find just the right books to get kids excited about reading. It was inspired by Patterson's own struggle to get his son interested in books. "It's a project that's close to my heart," he says. "When our son Jack was eight, he was a rather reluctant reader. So, my wife and I made him a promise that he could relinquish some chores over the summer if he read every day. We helped him pick out some great books, and he finished more than half a dozen that summer and is still an avid reader to this day."
Last year, Patterson boldly entered into new territory by launching Jimmy Patterson, a children's book publishing imprint for Little, Brown and Company. Patterson chooses the titles to be published, including some of his own works and those of other authors. He says he'll further his efforts to get kids reading by investing his proceeds from the sales of Jimmy Patterson publications into pro-literacy initiatives in schools, public libraries and independent bookstores. "Jimmy's mission is simple," says Patterson. "We want every kid who finishes a Jimmy book to say, 'Please give me another book.'" If children have the same reaction to Jimmy books that Patterson's adult fans have to his novels, that mission will be accomplished in no time.
REAL LIFE. REAL NEWS. REAL VOICES.
Help us tell more of the stories that matter from voices that too often remain unheard.