We're fascinated by the size of things!
Whether they be super small, or ridiculously tall, there's a force that drives our travel compass towards the superlative. Being peppered with some of the most incredible mountains in the world, this continent boasts an almost unparalleled collection of sceneries framed by peaks.
The National Park Service turns 100 years old next year, and to help you decide which of the Parks you may want to visit, let me provide you with a brief sampling of the mountains I love to photograph. When you arrive, remember to "Thank a Park Ranger!" They have dedicated themselves to protecting these incredible landscapes.
Mount Rainier - Mount Rainier National Park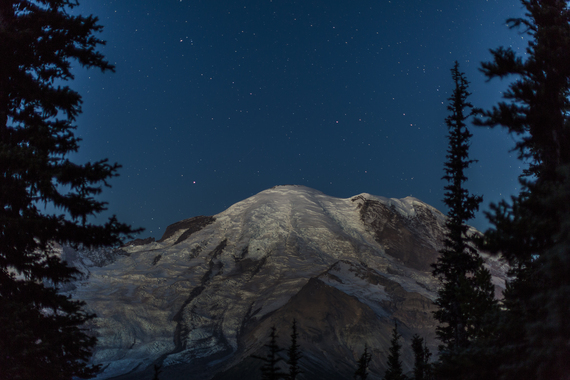 Mount Rainier, so iconic to the Washington State spirit, is a National Park unto itself. On the clearest of days you can easily spot Mt. Rainier at 14,410 feet from just about anywhere in western Washington State (making it the most prominent mountain peak in the contiguous United States). Rainier is an active stratovolcano (which may come as a surprise to many), meaning it's composed of several layers of hardened lava, conical in shape, and with the potential to erupt liquid lava at any time. As you can see in this photograph, Rainier is very heavily glaciated, in fact, it's the most glaciated peak in the contiguous United States. A tremendous amount of glacial ice clings to the side of Rainier, and at dawn (or in full moonlight), it seems to glow in slightly pigmented powerful white.
Mount Baker - as seen from Olympic National Park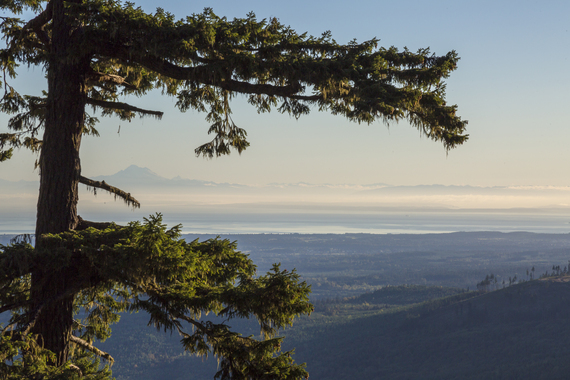 Mount Baker is the northern, sassy sister to Mt. Rainier. She's the second most glaciated peak in the contiguous U.S. (second only to Rainier) and also considered an active stratovolcano. This photograph was taken from Olympic National Park on Washington State's Olympic Peninsula (a brilliant place to view both Baker and Rainier on the clearest of days). Baker measures in at 10,781 feet, dominates the northwestern Washington horizon, and although not itself a National Park (Mt. Baker is contained within a National Forest and comprises a National Recreation Area), she's protected inside the umbrella of public spaces.
Devils Tower - Devils Tower National Monument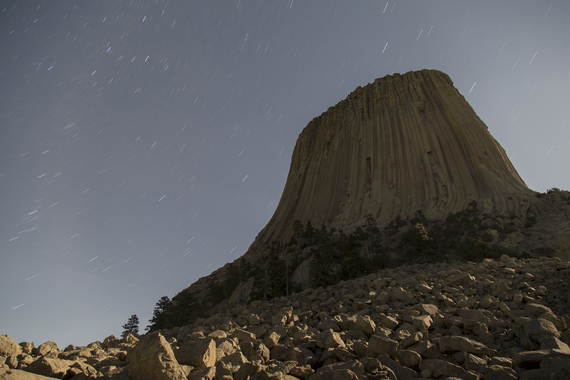 When you lay eyes on Devils Tower for the very first time (whether or not you've seen the Spielberg classic Close Encounters of the Third Kind) your mouth hangs agape. It doesn't seem real. How did a tower of fused polygonal phonolite porphyry blocks even form? I'll leave that question to your exploration of the tower itself, but i'll give you a hint: it's not the left over remains of a volcano, which some scientists believed for many years. This image was taken on a clear moonlit night, long exposure as the Earth's rotation made the stars appear in curved tracks.
Mauna Kea - as seen from Haleakalā National Park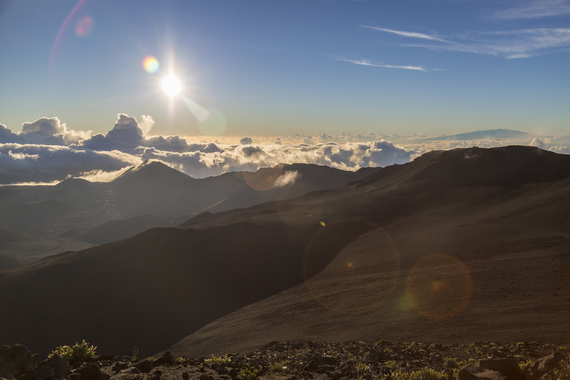 Whether you believe the world's largest mountain is in Nepal or in Hawaii (team Hawaii), you will be awed by Mauna Kea. I wasn't standing on Mauna Kea when I took this photo, I was standing atop Haleakalā (the tallest peak on the Island of Maui at just a tad over 10,000 feet). Mauna Kea is in the upper righthand corner approximately 80 miles away on a totally different island (Hawai'i, the Big Island). Mauna Kea, measured from the sea floor to the summit, is 33,000+ feet, making it considered by many to be the world's largest dormant volcano (Mt. Everest from sea level to summit is 29,029 feet). Atop Mauna Kea are some of the world's most impressive land based telescopes taking advantage of the fact that the summit sees ~320 cloudless nights per year.
Half Dome - Yosemite National Park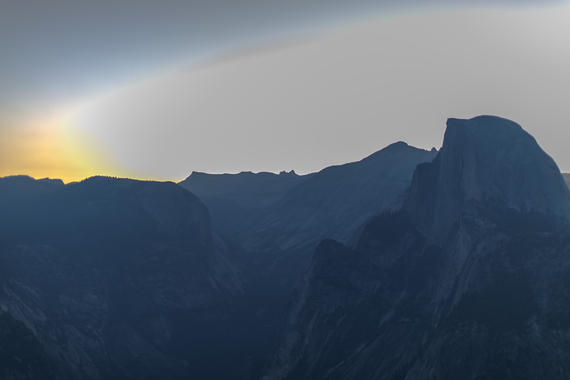 Rising almost 5000 feet from the floor of Yosemite Valley is the world famous Half Dome. Simplistically, but appropriately named, Half Dome appears as if its Northwestern face simply fell into oblivion. From a distance it appears unascendable, and for most of the 19th century that was believed to be true. With the aid of post mounted cables, thousands of hikers make the steep final climb each year.
Mount Whitney - on the border of Sequoia National Park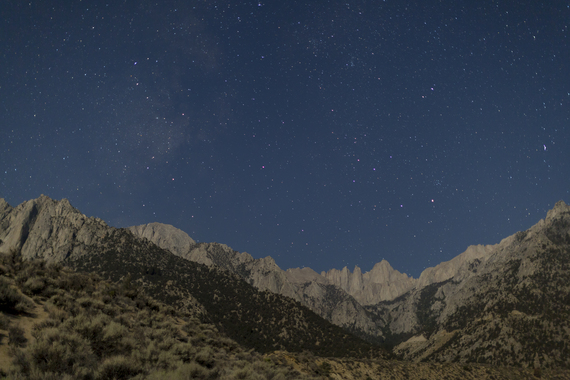 She's the tallest peak in the contiguous United States (14,505 feet), and most Americans have never seen her. Tucked into the southern region of the Sierra Crest in California, Mount Whitney is half inside and half outside of Sequoia National Park. Hikes to the top take a 10.7 mile route, an eastern approach from Whitney Portal (requiring a permit to keep foot traffic to reasonable levels). Since there's no way to see Mount Whitney from any point west of the Sierras, it's required to drive around the National Parks to get there (no road exits that traverses the Sierras through Sequoia or Kings Canyon National Parks). Fun Fact: The tallest point in the Lower 48, Mt. Whitney, is a mere 85 miles from the lowest point in the Lower 48, Badwater (-279 feet) in Death Valley National Park.
The Tetons - Grand Teton National Park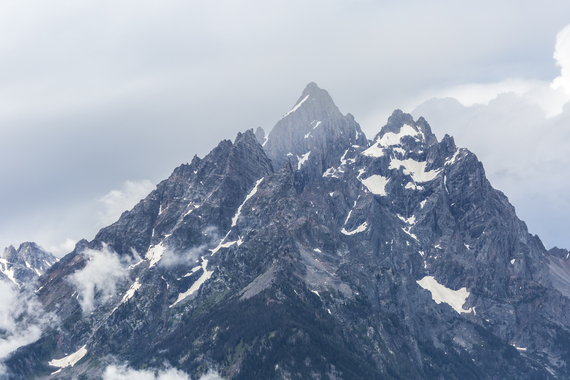 The Tetons are the enduring symbol of the state of Wyoming. Original residents of the state were deeply against the National Parks final boundaries, set in 1950, but today the park is celebrated as a symbol of State pride, and as a destination attracting millions of visitors each year.
Mount Drum - Wrangell St. Elias National Park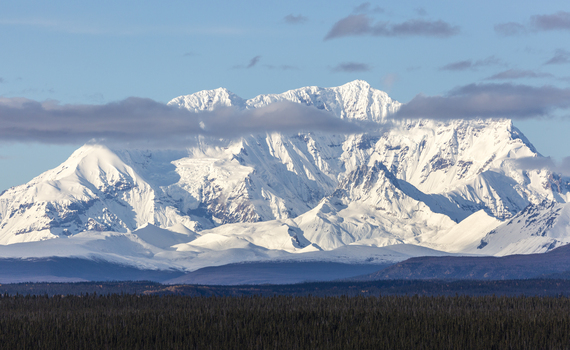 Many individuals don't know that Wrangell St. Elias National Park in Southeastern Alaska is the largest of our nation's National Parks, and contains the highest concentration of North America's tallest peaks. Nine of the sixteen highest peaks in the United States live here. Few roads penetrate this dense wilderness, making it the perfect locale for the off-the-beaten-track super adventure.
Mount Rushmore - Mount Rushmore National Memorial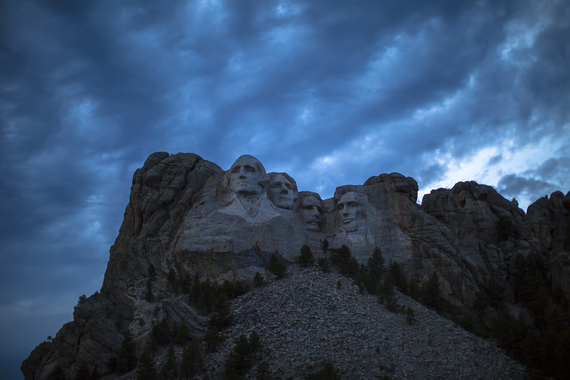 ~2 million individuals visit the stone faces of our greatest presidents each year, but Mount Rushmore isn't technically a mountain. The 60 foot facial sculptures were carved from the face of a granite prominence in the central Black Hills region of South Dakota. Despite her iconic status, Mt. Rushmore is an excellent place for quiet contemplation on the history of the United States, and few "mountains" in the country can claim that they engage facial recognition software on your digital camera.
Lassen Peak - Lassen Volcanic National Park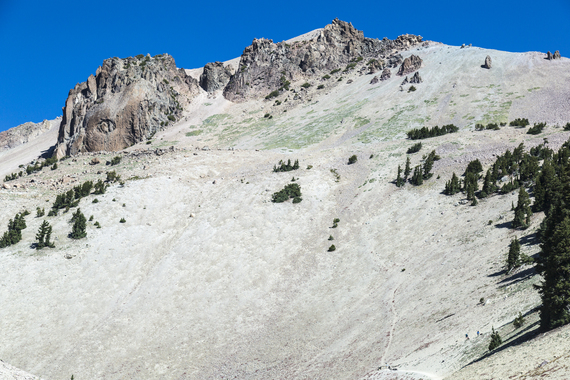 Many Americans think the only National Park to contain geothermal features (geysers, hot pots, hot springs, and vents) is the world famous Yellowstone National Park. This is a misconception. In northern California a less visited park, Lassen Volcanic, is home to dozens of very active geothermal areas circulated around Lassen Peak. Lassen is one of the largest lava domes on Earth, and the southernmost active volcano within the Cascades. In this photograph you can just make out the beginning of the Peak Trail, a 5 mile round trip day hike that allows visitors to stand atop one of California's famous Volcanos.
Mount Olympus - Olympic National Park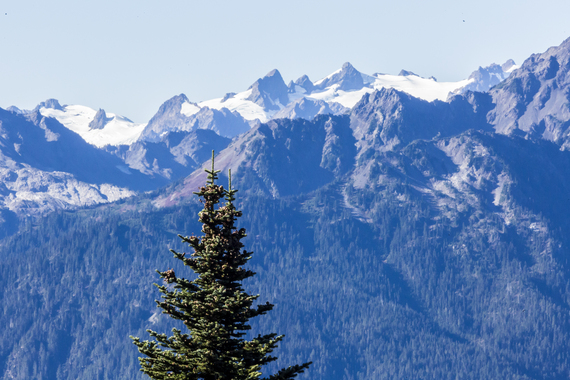 Mount Olympus (in Greece) is the second highest mountain in the European Balkans (9,570 feet). Mount Olympus (in Washington State, pictured here) is the centerpiece of Olympic National Park and the highest point on the Olympic Peninsula (7,980 feet). A climb to Washington's Mt. Olympus is only possible for a small 2 month window of time in the summer, via a 10 mile round trip hike.
Wheeler Peak - Great Basin National Park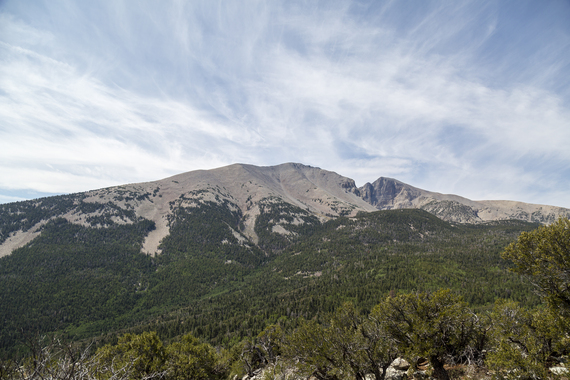 And we close with Wheeler Peak, the centerpiece of Great Basin National Park (the only National Park in the state of Nevada). Wheeler is the tallest mountain contained within Nevada, 13,065 feet. As mountains go, Wheeler is a perfect example of changing alpine ecosystems seen from a distance. In the summer months Wheeler is free of snow and it's easy to see the treelines and the glacial moraines. Great Basin National Park also holds a very old secret. Along the slopes of Wheeler Peak are some of the oldest trees on the entire Earth, bristlecone pines over 4000 years old.