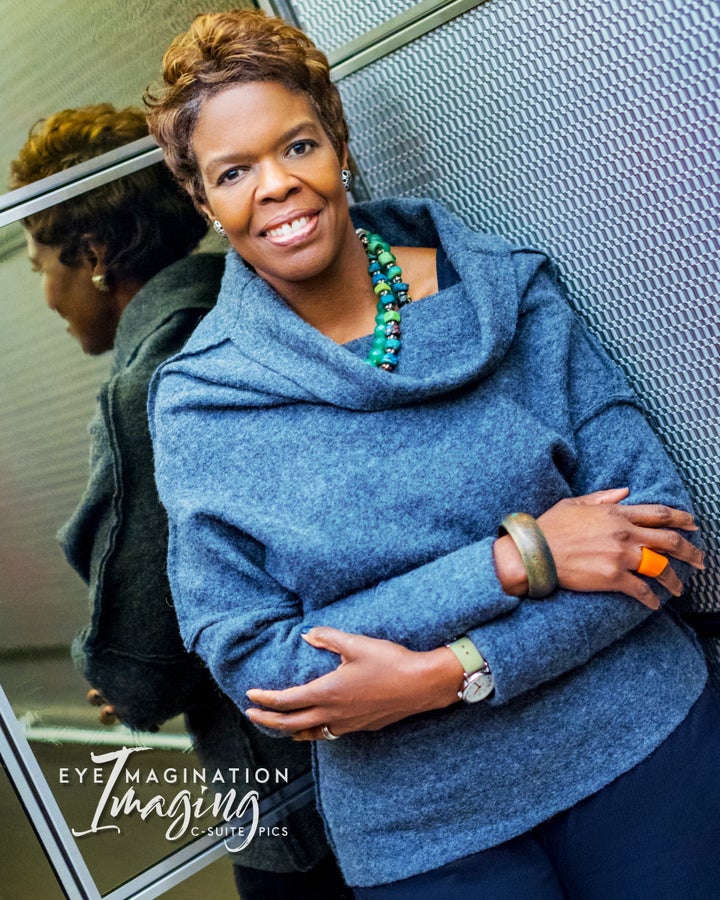 Margaret Mitchell can be described as a champion for the vulnerable. Her work as the President & CEO of YWCA Greater Cleveland has resulted in her changing the lives of several young adults in Cleveland. I got the chance to catch up with her and learn more about her work. Start with this short snippet from our live interview, then read on for more nuggets of wisdom from this beautiful woman who leads, and leaves, with grace.
I am the President and CEO of the YWCA of Greater Cleveland. My work is meaningful to me. We have a preschool and serve homeless families with children ages 3-5. It's amazing to be able to help families experiencing difficulties, and hold the doors open for them. We have 24 apartments that provide housing for formerly homeless young adults between the ages of 18 and 24. Most of these youth have aged out of foster care. It's exciting to see them come in at their lowest point and become absolutely amazing!
Who were your heroes or mentors?
One of my heroes was a woman named Barbara Jordan. She was one of the first African American Congresswomen from Austin, Texas. I remember hearing her speak. She had an amazing way of powerfully conveying her message and wielding influence.
When did you decide that this would be your journey?
I have always been very mission-focused, even when I worked at for-profit organizations. I was always very picky about where I worked. I started as a journalist, then had an opportunity to write some books. This led to a job opportunity in corporate mentoring. I stepped into non-profit thinking it would be a 3-5 part-time job. However, the corporate mentoring company I worked for was sold. So, I had to dive all-in.The social justice aspect of my nonprofit work came quite naturally.
If you weren't doing this work, what would life look like?
Sometimes I think I would want to be a police detective. That line of work fascinates me. There are all these obstacles, and you have to put these puzzle pieces together and figure it out. Detectives have to interface with police officers, the legal system, families, victims, and perpetrators. I love this type of interaction and solving mysteries since I have a deep sense of justice and getting to the truth.
If you had it all to do over again, would you do anything differently?
I think I learned that I don't do crazy. After having gone through some experiences that were truly crazy, I understand that not everyone pursues holistic wellness. I finally woke up and said, "I don't do crazy!"
However, it's the way you exit something that says everything about you. It's how you make people feel. It's common to leave a disagreement with hostility. I've learned to leave disagreements with love. If it's time to move on it's just time to move on. Just move on with grace. The world is small, and it is just so easy to be ugly. That's how we know to operate. The secret is that you get so much more if you keep the door to grace open. Be willing to just leave some things unsaid.
What is the toughest lesson you've learned, that you hope another woman can learn from you?
I've learned that operating out of emotion doesn't always serve me well. When emotions are high and charged, it's sometimes good to leave things for the next day. Don't send the email. Don't leave the text. Think before you act.
What do you do for you that brings you absolute joy or peace?
Over a year ago, I began taking greater pride in pampering myself. I get a facial or a massage every week. I'm a compulsive gardener. I will pull up in my driveway, kick my shoes off, and just start gardening. It is really therapeutic to weed my heart out.
I love the movies like La La Land and Hidden Figures. I was pleasantly surprised by how good Hidden Figures was. The acting was incredible and inspiring.It made me appreciate life. After all, the main actress walked a mile and a half to go to the bathroom. She teaches her team how to use the IBM computer. She showed me the immense value of believing in yourself.
What would you like your epitaph to be?
She loved the Lord and pursued Him with every step.
If you only had one word, what is it that you want people to remember about you?
Is there anything else you wish I'd asked you?
I would love to have spoken a bit about my marriage. Marriage is a difficult, but rewarding experience. As I get older, I want to give my husband, family and friends the best of me. I make a special effort to carve out time for building my marriage, family, and friendships.
How can readers get in contact with you?
Related
Popular in the Community