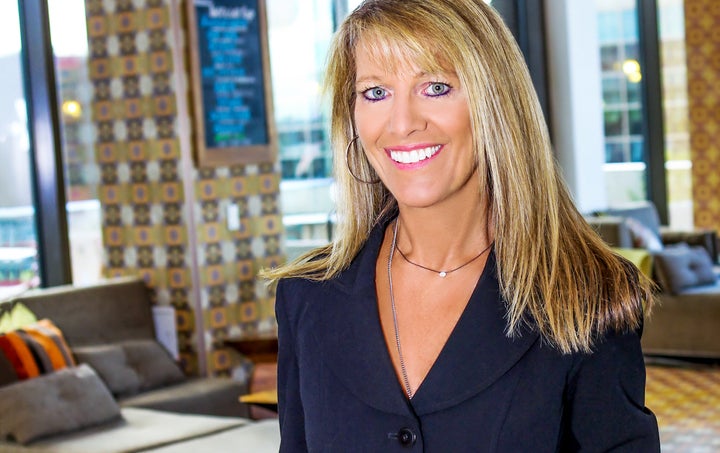 Michelle is the epitome of strength and resilience. Her powerful story of turning fear into courage and pain into praise inspired us, so we are happy to share Michelle with you as our August Featured Leader.
I am the Assistant Director of Prevail, a nonprofit agency that serves victims of crime. The mission of this organization resonates with me having survived a brutal crime. When I was 32 years old, I was single and managing construction sites. I saw three guys in the middle of my street one evening when I was coming home from work. My gut told me to not to go home and to drive around the block instead. When I came back around, they were gone. I pulled my car to the front of my house, grabbed my things and walked up to my door. Suddenly I was knocked to the ground.
I lifted my head to feel the warmth of blood running down my face. A terrifying voice above me said. "If you scream, I will use this." A gun was then pointed towards my face. The three men I saw in the middle of my street abducted me, threw me in the trunk of my car, sexually assaulted and beat me repeatedly. By fate, an undercover detective with the police department found me and I am still alive to share my story.
I lost who I was and fought to get my life back, as I lived in fear. I had to relearn to live and trust again. My friendships suffered and I couldn't find anyone who could reassure me that everything would be okay. I finally found this reassurance and affirmation in a book.
Chris, who I was dating at the time of my assault, stood by me during this dark and challenging period. We married three years after my assault, became pregnant and moved to Noblesville, IN. That is when I discovered Prevail and started volunteering as a co-facilitator of the Crime Victims Group. Soon after, a part-time job opportunity opened up at the agency. I took a leap of faith and left my secure job to answer the phone at Prevail. I have not looked back since. This has been the most fulfilling job I have ever had.
My experience has helped me connect with victims in a way that I never would have been able to otherwise. Victims are sometimes silenced by what they go through, they prefer to bury the pain and accept thoughts of fear, denial and shame. When I began sharing my story, I realized that it made a difference. I began having opportunities for speaking engagements and realized the audience found hope in my story. Each speaking engagement helped me to deliver my message of affirmation, resilience, hope and the realization that you are not alone.
Who are your heroes or mentors?
My hero Detective Arthur Billingsley, who saved my life after. Detective Billingsley had gotten off duty late at night but had the gut feeling to go back out and drive around. He found me in the trunk of my car. God was definitely nudging him. He happened to drive down a back road and saw two guys at the back of a restaurant; he became suspicious, as they took off running. One of the three guys stayed back at my car while I was in the trunk. He saw a light go on in my car and was able to catch one the guys that night. I heard Detective Billingsley's voice and I kicked on the trunk of my car. We named our son after Arthur, and he is his Uncle Art and has a special bond and relationship with my son. Uncle Art and his family have been a part of our family ever since.
My husband Chris is my rock, hero and so much more. I don't know how he can love me so much. Chris went through a lot during my healing. I tried pushing him away as far as I could, but he never left. There were dark days, but we made it through. After my assault my hope for being married and having kids seemed no longer within my reach. It is by the grace of God I am in this place in my life. I have a quote in our house that is hanging in two places in our house; that I see when I wake up and when I leave the house that reads; Life does not get any better than this". This could not be any truer!
Together we are able to make a difference in the lives of so many people.
My Son, Christian Arthur and daughter Olivia are my every day heroes — they teach me so much, but mostly love. They most recently traveled with me and spoke to over 3,000 soldiers in the Army to talk about the effects of sexual assault; they are the most amazing individuals. I am so proud of them and know they will carry on to make a difference.
I am also grateful to my family and friend heroes, and to all my heroes that are survivors of crime and abuse for inspiring me every day to keep going.
When did you know that advocating for victims would be your journey?
The moment I walked through the doors of Prevail, I knew. I was so grateful to have life and wanted to be able to reach out to someone else. One of my closest friends, Judi Johnson, has always encouraged me to share my journey, my voice. Prevail was the place that allowed me to do this. Prevail has been the platform that catapulted me into a victims advocate and motivational speaker.
If you had to do it all over again, would you do anything differently?
My daughter once made the following statement at one of my speaking engagements, "Please don't take this wrong. I wouldn't want this to happen to my mom, but my mom wouldn't be who she is today without this experience."
So many more good things have come from this experience than bad.
If you weren't doing this work, what would life look like?
I have absolutely no idea. It makes me nervous to think about that. I have found my passion!
Something that has always stuck with me is, "You don't have to make the mistake to learn from it." What is the toughest lesson you've learned, that you hope another woman can learn from you?
Don't have regrets! Dream big and know that anything is possible.
I was given a second chance. This experience has given me an opportunity to learn more about myself, enrich my relationships, realize my true friends, forgive, make amends and take risks. I try not to take anything or anyone for granted.
People often ask me about forgiveness. I have forgiven my attackers. For me, forgiving them gives me my power back to give back to God.
What do you do for you that brings you absolute joy or peace?
Spending time with my husband and kids gives me ultimate joy and peace Regardless of what we are doing, I just enjoy being together. We have so many beautiful traditions. My kids embrace our tradition and faith and are growing up to be amazing people. I love and value time with my whole family and celebrating life with my amazing friends and running with our dog Prancer!
What would you like your epitaph to be?
What words would you want people to use to remember you?
The scripture I live by "I can do all things through Christ who strengthens me" Phil. 4:13
How can readers get in touch with you?
Inside The Office is a monthly blog that features female executive, entrepreneurial and creative leaders from diverse industries sharing wisdom and insight from their personal and professional journeys.
Popular in the Community