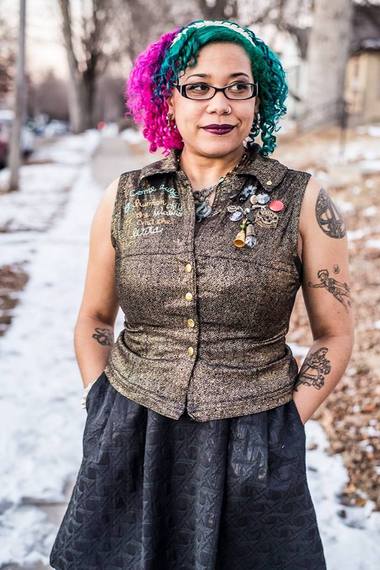 "Fashion is telling a story. You put on an outfit and it's the thing that makes you feel the most comfortable...it's equal parts armor and a chapter to a story.

Fashion is about expression. Clothing is about not getting arrested for indecent exposure." ~Samantha Rei
Samantha Rei Crossland is someone you'll never forget after you meet her. She is a colorful burst of energy contrasted against the greyscale landscape of the mundane world. This Twin Cities based fashion designer and artist is the poster child for the vibrant, innovative and growing fashion scene in Minnesota. Samantha, known for her impeccable sense of style and "cartoon" rainbow-colored locks, became a notable figure in the fashion scene due to her distinctly fanciful approach to her work. All of her designs are bold, smart and wearable, yet maintain a high level of functionality that makes her work a gem in the world of modern fashion.
She has been influenced by a range of inspirations, from the opulent designs of Alexander McQueen, to the demurely soft and feminine designs of Kate Spade--which explains why her unconventional style encompasses so many contrasting elements that blend together harmoniously. Fifteen years after she first came into the fashion world, Samantha is still one of the Twin Cities most beloved designers. In 2014, she was chosen by City Pages as "Artist of the Year" in the category of fashion. Most recently, she earned the title of author with the release of her new book Steampunk & Cosplay Fashion Design & Illustration, published by Walter Foster Publishing in September of 2015. Even though Samantha is not a Steampunk designer, her versatility as an illustrator and fashion expert shines throughout the book's composition. The content is not just limited to Steampunk; it incorporates several different genres of cosplay fashion.
I wanted to catch up with Samantha for an interview so I could ask what is the secret to her longevity as an alternative fashion designer. I first got the pleasure of meeting Samantha when she was a participant in the largest bi-annual teen art exhibition in the state of Minnesota called "Hot Art Injection (May Cause Side Effects)" in 1999, in conjunction with the Walker Art Center Teen Arts Council. She was one of the few artists selected out of hundreds of submissions, which means even as a teen she was one of the top artists among her peers. I was one of the twelve teen curators who put this massive show together. Ironically, 16 years later, we are sitting across from each other at The Happy Gnome (one of St. Paul's trendiest restaurants and bars) working together again, but this time with me as a freelance writer and her a leading indie fashion designer.
Samantha's journey to being one of the most prominent designers in Minnesota had very humble beginnings. When she was young, she wanted to be a children's book illustrator but over time her interests expanded into several different realms. Her father introduced her and her siblings to comic books when she was 12 or 13 and she became a huge "comic nerd". She would watch Saturday morning cartoons and then would watch the fashion programs that would come on afterward. She thought to herself, "I could do this." She merged her love of comics and fashion when she began to trace her comic characters and used them as her first croquis (before she even knew what one was).
Samantha's mother had always been extremely proud and supportive of her art, but only passively tried to teach her how to sew because she thought that she might lose interest. Crossland began hand-sewing clothing for her dolls but she didn't take up a strong interest in learning to use a machine until she was a teen. She recounted a nostalgic memory of her first sewing machine:
"I finally pestered my mother into teaching me how do sew. She begrudgingly did it. I think when I was about 14 or 15, she got a sewing machine from a co-worker. It was a crappy avocado green [colored] sewing machine from the 70's that could only stitch a straight line and a zigzag. And the zigzag was broken!"
She grew up in Hastings, MN and was one of seven Black kids in her town and looked at fashion as a way of expressing herself and overcoming the bullying she received because she was biracial:
"For the most part, it was terrible. It got to the point where I just didn't care. If they're going to make fun of me, it should be for something I can help, which is my clothes...rather than something I can't. Which was [the color of] my skin."
Samantha says that she surrounded herself with a group of really good friends that helped her through those hard times. She took those negative experiences with bullying and transformed them into positive expressions through clothing that pushed the envelope aesthetically. She went to Perpich Center for Arts Education in Golden Valley, Minnesota in 1998 and after graduation she spent some time learning illustration at the College of Visual Arts (CoVA) in St. Paul. She continued her studies at Minneapolis Community and Technical College for Apparel Technologies. She made a name for herself through her amazing work in the world of Lolita fashion with her former fashion line "Blasphemina's Closet", which she opened in 2000. By 2013, Samantha had evolved and wanted her clothing line to reflect that personal evolution. Exclusively designing Lolita clothing was getting old for her and she felt restricted by all of the rules. In 2013, she relaunched her brand under the name "Samantha Rei" with the same free-spirited and feminine feel, but a little softer and more versatile. She still loves Lolita and incorporates many of the same elements in her new clothing line, but she felt her artistry needed space to grow. The transition has been an immense success and has made her clothing accessible to people who aren't immersed in the Lolita culture.

Even though her designs are ornate, they should not be mistaken as costumes and Samantha should not be mistaken for a costumer (although she makes spectacular costumes for friends and herself when she does cosplay as a hobby). She is a high-end fashion designer of clothes with a very distinct, whimsical aesthetic that are meant to stand out due to their originality. Samantha says that the difference between fashion and costuming is that a costume is meant for you to dress up as someone or something else, whereas fashion is meant to celebrate you being the truest version of yourself. Her clothes are fancy bits of wearable art that helps the wearer tell a story about themselves. Every single garment is created through detailed hand-drawn sketches, custom patterns, and is handsewn by Samantha Rei herself. Due to the effort put into creating her clothing, her brand is some of the highest quality fashion that you can find.
Samantha also believes that her fashion line gives women a choice. Modesty is one of the values she incorporates into her clothing so that women can be fashionable without having to show everything if they don't want to. She believes that women can be totally covered or wear nothing at all, and they shouldn't be shamed for their choices. Crossland says:
"That's one of my business values. If you want to be modest in your clothes, you can do so and still be fashionable...you can be sensual without being overly sexual. I think that you can be proud of your body and show things off without having to resort to showing everything. It's about having options. I feel like a lot of teenage girls are taught that in order to be popular, they have to show their bodies. They should have the choice about whether or not they want to and if they do they shouldn't be made to feel bad. And if they don't, they shouldn't be made to feel like they are not worthy of friendship, popularity, or love."
As the Twin Cities approaches Fashion Week, we all are anticipating what the mind of Samantha Rei will produce next. She will be debuting her Spring/Summer 2016 collection at TIM+THOM presents LARK on September 25th, in Minneapolis. Her career in art and fashion has been the public evolution of an artist who fearlessly explores what it means to be creative, honest, and authentic. Life is filled with many wonderful characters. In my life, Samantha has been one of the most interesting ones. She reminds the world that beauty and art can be so many different things, which makes her not only a breath of fresh air, but truly unforgettable.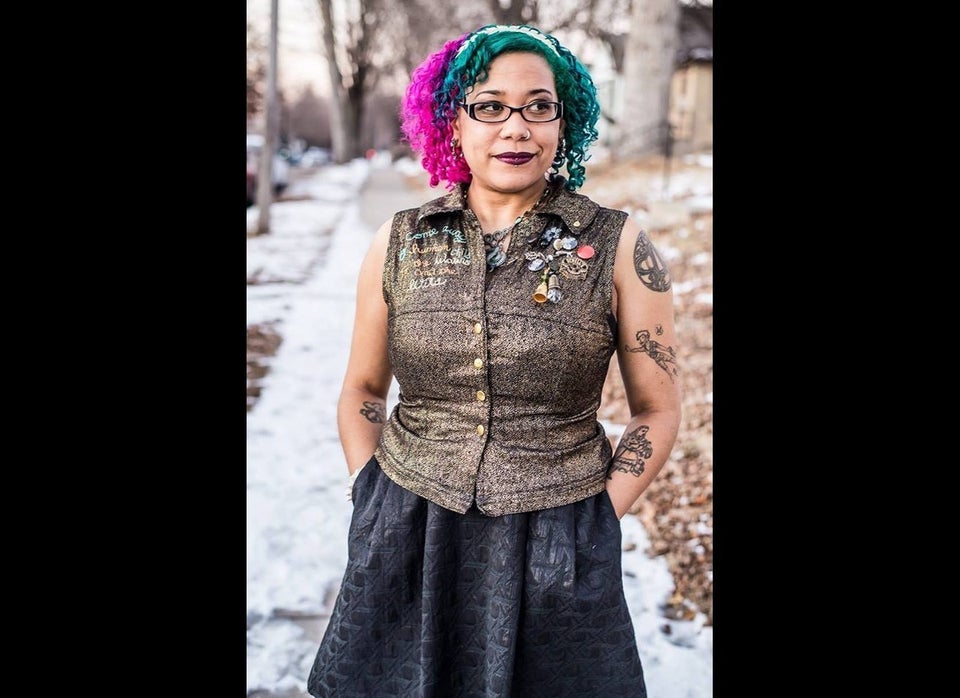 The Evolution of Samantha Rei
Popular in the Community