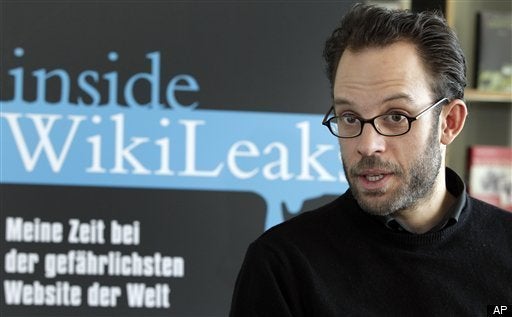 NEW YORK -- A super-secret organization led by a white-haired, cold-blooded lothario that uncovers revelations exposing the wrongdoing of the world's most powerful countries and companies is itself unraveling in a spiral of jealousy, recrimination and violent threats.
The WikiLeaks saga has more drama than the most compelling Hollywood thriller and a new tell-all book by the organization's former second-in-command has all the makings of an in-demand script -- and could prove to be useful fodder for the Justice Department's case against the whistleblower organization.
Domscheit-Berg, a German computer scientist who recently announced plans for OpenLeaks, which he claims will be a more transparent and politically neutral whistleblower platform, reveals:
- WikiLeaks has basically been impotent since September 2010, unable to accept and process new document submissions since Domscheit-Berg, a programmer known as "The Architect" and other key insiders defected from the group. He reveals that he took with him everything he had set up and installed during his time at the group and that defectors removed thousands of sensitive documents submitted to WikiLeaks.
- When their relationship fell apart, Assange threatened Domscheit-Berg with violence, telling him, "If you fuck up, I'll hunt you down and kill you," the author claims. In addition, Assange threatened him with the police and suspended him from WikiLeaks for "Disloyalty, Insubordination and Destabilization in Times of Crisis" which, ironically, is a term taken from the Espionage Act of 1917. Domscheit-Berg believes that WikiLeaks became a "religious cult" in which the "guru" was beyond question. He claims that Assange also explicitly threatened to reveal compromising material on him.
- Assange told Domscheit-Berg about his relationship with the two women whose accusations of sexual molestation have put Assange in the legal cross-hairs in Sweden. "He denied having slept with them without a condom. When asked about the details of the accusations, he remained vague. I have no desire to pass judgment on the women, or on Julian's conduct," the author writes.
- Reveals details about Assange's eccentricities, including his view that his genes deserved to be reproduced and his boasts about how many children he had fathered around the world, his penchant for always wearing two pairs of pants and several pairs of socks, his contempt for journalists whom he dismissed as "idiots" (such as WL supporter Michael Moore and writer Naomi Wolf, whose work he dismissed as "banal stuff"), his claim that his hair had gone white as a result of gamma radiation he experienced when he was a 14-year-old amateur scientist building his own reactor at home, his paranoid belief that the Iceland police had him under surveillance and that U.S. State Department operatives tailed him to a conference in Oslo.
- George Soros' Open Society Institute and the John S. and James L. Knight Foundation both considered funding the group, claims Domscheit-Berg. A representative of Soros approached the group but nothing ever came of the effort and the Knight Foundation effort fell through because the foundation wanted to meet WikiLeaks' board.

- The arrest of U.S. Army Private Bradley Manning for allegedly copying and leaking classified information represented the worst moment in the history of WikiLeaks, writes Domscheit-Berg. The arrest prompted the group to debate the effectiveness of its mechanism for protecting sources -- could a document be so dangerous for a source that WikiLeaks should not publish it? Domscheit-Berg also reveals that the organization let down Manning after promising to hire lawyers and raise $100,000 for his defense. By the end of 2010, only $15,000 had been transferred to Manning's support network. "I have to admit that we at WL, myself included, utterly failed on this score," he writes. Domscheit-Berg also speculates that the Pentagon may have busted Manning through a government project called "Vigilant," in which security officials scan the Internet broadly in search of relationship and data transfers that reveal connections between people, and that the authorities sought to present Adrian Lamo's "accidental discovery" of Manning's alleged leaks as the intended result of their own investigations.
- WikiLeaks was played by its mainstream news partners -- the New York Times, the Guardian and Der Spiegel -- on the Afghan War Diaries, becoming dependent and abandoning its principles, he claims. Donscheit-Berg claims that Assange allowed the Times to copy documents about the Iraq War that were not part of the agreement. "Our own ideals of publishing material immediately and remaining independent in our own decision-making had become a joke," he writes. "The media has us right where they wanted: WikiLeaks at their feet."
- WikiLeaks was paid 100,000 British pounds and 50,000 British pounds by Al Jazeera and Britain's Channel 4 TV station for two five-minute video clips related to the Iraq War Logs.The group received more than $1 million in donations in 2010, especially after the group's profile was raised by the release of the "Collateral Murder" video.
- Domscheit- Berg copied WikiLeaks' 1.4 gigabyte "insurance" file onto USB sticks and mailed them to dozens of people he trusted, including Green Party politicians in Germany and journalists he knew. He criticizes Assange for threatening to use the file as a "thermonuclear device" if he was extradited to Sweden, claiming that the point of the "insurance" file was to protect the group's collaborators and documents, "not to ensure Julian avoided investigation in a democratic country." In addition, he claims that Assange was sloppy with security measures, forwarding emails to WikiLeaks insiders's Gmail addresses and entrusting a 17-year-old Icleander with a WikiLeaks email address and access to the group's chartroom.
- New details about how WikiLeaks receives and uses donations from supporters, including how one of the group's PayPal accounts was unfrozen only after a New York Times reporter got in touch directly with PayPal to complain.
- One big difference with OpenLeaks, according to Domscheit-Berg, is that the new group's sources will help determine which media outlet or partner receive leaked documents. "Who knows better than the sources themselves?" asks Domscheit-Berg, though this does seem to leave the group open to charges that it could be manipulated by those with an ax to grind.
- Though the book takes a harsh look at Assange's reign, Domscheit-Berg gives him a shout-out in the acknowledgments, thanking Assange for "manifesting an idea and bringing it into my life."
Popular in the Community