This article comes to us courtesy of InternationalLiving.com, the world's leading authority on how to live, work, invest, travel and retire better overseas.
Panama's artisans are perhaps the best-kept secret in the world of handicrafts. In every region you'll find master craftspeople quietly selling their wares in small stores and on roadsides. Little-known festivals celebrate their skills. And Panama's oldest families pass their creations on to their children ... from the fine linen and Valencian lace of the dress known as the pollera, to the instruments needed for the distinctive sounding tipico music. To help you source the best value and variety, here's a list of my favorite Panamanian crafts ... and where to find them.
Over the years archeological sites across Panama have yielded artifacts used long before the conquistadores came from Spain. Round-bellied clay pots called tinajas kept water cool in the tropical heat. Geometric motifs adorned platters and open bowls used for meals and prayers. Centuries later, this tradition continues in La Arena, known for its pre-Columbian style pottery.
Just 10 minutes from the town of Chitre, in Panama's Herrera Province, La Arena is a tiny town filled with workshops. Walk down its one main street and you'll see entrances lined with colorful clay objects, from the tinajas of old to decorative wall hangings, garden ornaments and other bric-a-brac.
The quality is consistent from shop to shop, but Angel Calderón's workshop and store has the best reputation for value. (You can also watch the workers coax everything from tiny figurines to massive vases out of lumps of clay.)
Panama is known for its pre-Columbian gold, too, and little gargoyle-like creatures called huacas are my favorite gold artifact. The original huacas were handcrafted by ancient tribes to represent gods, elements and animals. Today you can buy replicas fashioned into earrings or pendants. You'll find these at hotel gift shops, but the best huacas are at the Reprosa jewelry store on Avenida A in Casco Viejo (Panama City). If you find you love these huacas as much as I do, consider a tour of the Reprosa factory in Panama City's Costa del Este sector, local tel: 271-0033.
You may find La Arena pottery at shopping centers around Panama, but you will never find polleras on the racks. The national dress of Panama, the pollera is always custom made by special order.
For this, Carnival queens and society girls alike head to the tiny town of San Jose de Las Tablas, located in the Las Tablas district of the Los Santos Province. About half the population of 600 are in the pollera business. If you want the best, ask for Epifania "Fanny" Vergara or Elia Vergara, who have been making fine polleras for decades. Their backlog is legendary as they make the kind of "gala" polleras you see on floats and in parades. If you'd like to save time and money, surrounding towns like Bajo Corral have pollera makers who aren't in quite as high demand. Ask for Katya Gonzàlez.
Simple white polleras without much lace or embroidery can cost as little as $600, but a proper "gala" pollera will take up to nine months to make and cost $1,200 to $3,000. And that's not all you'll spend, as a pollera should be worn with the requisite gold jewelry and delicate hair accessories called tembleques (made of fish scales and/or pearls).
Not ready to shell out quite so much for a dress? These ladies can make tablecloths, napkins, shirts ... and virtually anything else you can dream up. The Parade of a Thousand Polleras takes place in Las Tablas every year, and good photos can be blown up and framed for your home.
Polleras aren't the only wearable art you'll find in Panama. Panama's Guna tribeswomen are known for their molas, reverse appliqué panels worn across the chest. Commonly worn by Guna women, they depict everything from flora and fauna to themes from tribal legends. As molas are rarely found outside Panama, they are considered the country's most representative craft.
If you want to buy in bulk, go to the indigenous reserve of Gunayala, where you'll get good prices directly from the makers. Guna women sell good molas on Paseo Esteban Huertas in Casco Viejo in Panama City. An even better selection is available in El Valle, about two hours from Panama City. The El Valle market is also great for cocobolo carvings, wood bowls and trays and even traditional machetes -- leather scabbards and all.
Once upon a time every Panamanian campesino (country dweller) taught his son how to make sandals. These days the art of making the cutarra, or sandal, is dying. Cutarras sold in Panama City often sport rubber soles -- an abomination, as synthetic soles don't make the slapping sound required for tipico dancing. But in the Los Santos Province the tradition lives on. Master cutarra-makers convert thick leather rectangles (the soles) and leather straps into supple sandals. Give them about 20 minutes to mold the straps right onto your feet.
There are several kinds of musical instruments made in Panama. The tambor or drum plays an important role in local music, and you can own your own for as little as $10. Head to the tiny town of Agua Buena -- just six miles west of Guarare, Los Santos -- to find Tambores Cirilo and run by Señor Cirilo himself.
If strings are more your thing, buy yourself a mejorana. This small guitar is celebrated every September in Guarare's Festival de la Mejorana. In the mountain village of Santa Fe de Veraguas, one man still makes mejoranas by hand using centuries-old techniques. His name is Senor Orlando and his home isn't too hard to find -- ask at the butcher's stall, near the entrance to town.
If you've ever tried to buy a Panama hat, then you've probably heard the story. The hats were largely shipped through Panama (hence the name). But they're really from Ecuador. Panama's traditional hat is the sombrero pintado, or the painted hat, from the town of La Pintada in the Province of Cocle.
The hats are hand-braided, most often from fibers painstakingly obtained from palm trees. Quality is determined by how many times the braid circles the hat -- 15 or more rows means a lot of time and effort went into the hat. Expect to pay upwards of $75 for a fine weave, while "rougher" sombreros will run you as little as $15.
Just 15 minutes northwest of Penonome -- about 100 miles west of Panama City -- La Pintada is easy to find. You can find sombreros at the town market any time of year...or plan your trip around the Festival del Sombrero Pinta'o (October 19). This little-known event has plenty of local flavor. The ingredients are very Panamanian: pageantry, oxcarts, dances and singing. If you like ancient history, El Caño is just 20 minutes west of Penonome and one of Panama's top archeological sites.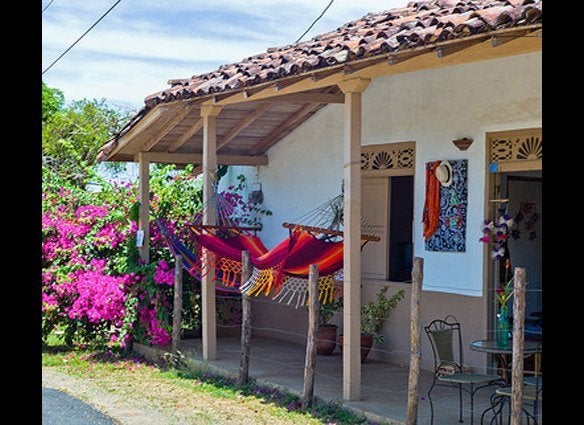 Panama - World's Best Retirement Haven