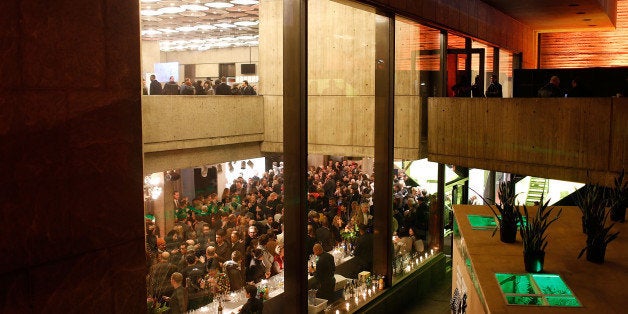 Thirty years in the art world and I had never been to a Whitney Biennial. That was actually something worth bragging about and especially after having been to one I can unabashedly lament that I will never be able to say it again.
The Whitney Biennial carries immense weight in the art world. There is almost nothing in visual art that exists as a gauge, a standard, a benchmark or just a simple "this is more advanced than that." No matter what artwork you are looking at, accomplished or ridiculous, there is always a nattering nabob who will remind you that any discussion of the work in terms of it being "good" or "bad" is taboo. One of the scant retorts available at all these days is to point out that the artist one is examining had been in a Whitney Biennial. To say "so what" to that is to risk a charge of philistinism. The fear of being asked, "Are you the biggest idiot ever?" is too great -- nobody can dismiss inclusion in the Whitney Biennial as anything but an accomplishment. In the land of the jaded snob, extending one's palm open near an artwork and saying "This artist was in the Whitney Biennial," is as close as it gets to being a bearded wizard uttering "Behold!"
And yet trudging through a Biennial is a time-honored pulling back of the curtain hiding the Wizard of Oz. The art world respects the Whitney Biennial artists and the market-gain they receive from inclusion, but badmouthing each Biennial is as predictable a ritual as champagne on New Year's Eve; nobody can resist using critical pontification to masquerade their envy over not being included or not having their allies represented in a Whitney Biennial.
The 2014 Whitney Biennial is a pile of unadulterated shit. There is supposed to be a celebration because a lot of Los Angeles artists have been included, and indeed the show is less New York-centric than ever before. But it is not a show that represents the Los Angeles art scene as much as it represents Los Angeles art school insiders (art schools in Los Angeles ARE the establishment, the bubble that protects what status quo there even is connecting L.A. to the internationalist "big art" conformity machine). But that is no surprise -- the Biennial is the ultimate art world insider exhibit. It is just that this exhibit sees so many insiders pretending to be outsiders. The language of outsider art is present in about half of the artworks (the other 50 percent are my two least favorite branches of conceptualism: dry conceptualism and conceptualism masquerading as rotten formalism). One could call it an outsider art show except that it is the ultimate insiders navigating the art world ladder of success with outsider visual strategies.
The trick to being an "insider outsider" is to make it look more obvious than a thrift store. There is macrame, knit sweaters, bric-a-brac chandeliers, sloppy ceramic and lots of wood scattered about the Whitney Biennial. There is an insidiousness lurking in the simpleton charm of this work. "Oh hey that looks funky..." is what the impulse thought of a viewer is when one encounters this work, but sadly, IT'S A TRAP! Most of this work has a tsk-tsk tongue-clicking pretension to being about something other than it is -- you see, if the work were about interesting-looking art that incorporated an outsider aesthetic (or heaven forbid were made by an actual art outsider), then it would be accessible and engaging -- something that is not taken kindly in the cold art world climate of rarifying the shit out of every human experience into academic-objective "re-presentations" of phenomena. So this is never outsider-informed art; it is outsider-embellished stances, analyses and deconstructions. The Mike Kelley impulse to soul-killingly crush any joy out of the visual language of the non-elites was the most insidious twist to the worship of irony in the late 20th century. It stands victorious (and resiliently unattacked) as the mainstream default approach to art-making practiced by the insiders atop the shit heap called contemporary art at 15 years and counting into the 21st century.
And speaking of Mike Kelley, the Laura Owens painting in this exhibit is so derivative of Mike that it reveals a new level of curatorial naiveté that has to be singled out. Owens is long out of ideas so you cannot shame the washed-up, but a curator's first job is to spot a cheat. Just nasty.
CONDESCENDING CONCEPTUALISM
The stark message about conceptual art in the 2014 Whitney Biennial is that the anything goes as long as it has an art history referent. Every time you turn around there is some terrible speck of nothing teetering on a curatorial insistence that it is art and justifying it by having some tepid construct about other art, artists, art criticism, art history or another construct unnamed by the academy as of yet but definitely involving the word art. The great Semiotext series is given a vast gallery for its archives and the curatorial impulse is to make its legacy as unappealing as a library trashcan -- a feeble attempt at "artifying" the installation with silver wallpaper on one wall is a cowardly curatorial act of "Warholizing" an institution with no allegiance to something as presently mainstream as "The Factory." Even when they dumb it down, the Biennial makes sure to do it obtusely -- the silver wall of Semiotext pages is not half the embarrassment as is the including of David Foster Wallace journals as "artworks" by the late author -- most of them are exhibited closed or open to indecipherable pages, totally uninteresting after the connection with the author. Celebrity stands in here as a substitute for curatorial rigor, hiding behind the glamor of their names and nothing else.
Amidst the hubbub there are plenty of forgettable paintings, installations, videos that would be elevated if they were simply relegated to YouTube and too much sculpture that vacillates between appearing to be a mainstream object performing an art function or an art object performing a functional function. The aesthetic of the day is either proto-minimalism with some clever twist to make it commentary or outsider integrity as an alias for downright sloppiness. And of course, no major art exhibit these days is incomplete with out the myriad twaddle taking place "outside the institution's walls". The Whitney brochure for the show was chock full of detritus that will be screening on inconvenient dates and times, almost as a reflex to ensure the Biennial can never really be experienced completely, and thus, can never be ripped apart in its entirety. Well fuck it, I cannot wait. This is a gargantuan turd that, if the art world need to be re-plumbed in its entirety to flush, so be it, call the goddamned plumber immediately or just give up, set the whole institutional art world on fire and at least we can get some nice marshmallows out of the deal.
There were four artworks in the show that made me think. Artworks that stayed with me... that made me take to google for all of 20 minutes to ponder.
All four of these artworks had death, in one form or another, as their central theme. Some were weirdly, perhaps unintentionally, poetic but the curators made sure to kill as much of that potential as possible. The four pieces were:
•The "art group" Public Collectors present a synopses of Malachi Ritscher, a musician and music-compiler who took his own life via self-immolation in Chicago in 2006 to protest the U.S. war in Iraq.
•The late Gretchen Bender had a 1988 artwork "People In Pain" completely refabricated as an artwork by Phillip Vanderhyden. The original artwork, exhibited in the 1989 museum show "A Forest of Signs" had totally disintegrated.
•Joseph Grigely discovered a caché of personal effects from art critic Gregory Battock, hidden in a studio space for decades. Battock was murdered, stabbed to death on Christmas Day in 1980 while vacationing in Puerto Rico in a crime that was never solved. Battock had an interesting life and a career in the art world that intersected with many art world luminaries.
•A "sub-curated" gallery presented a few paintings by the late Tony Greene. Richard Hawkins and Catherine Opie had been classmates of the artist in the early 1990s at graduate school. Greene passed away from AIDS complications years ago.
Each of these has an unavoidably serious topic as the pretext for the art installation. Grigley and Public Collectors have scraps from their subjects arranged in vitrines. Whether by curatorial choice or necessity, the overall effect here is about as far from maudlin and sentimental as one gets when the subject is the dearly departed. Perhaps there are among us those who would like to be remembered through unsentimental museum wall text, but both of these subjects were screaming for a documentary film or even a coffee table book to better tell the story, to acquaint us, to celebrate a random human life with whom we might connect. Nope, the Whitney made sure to freeze dry all the passion and let didactic assumptions reign free.
The Bender/Vanderhyden artwork was more complex. In her curatorial walk-thru on March 7, curator Michelle Grabner explained that the Whitney was resistant to crediting Vanderhyden; the institution houses its own restoration department and they never get credited as being artists. Grabner apparently fought the good fight and in doing so she has sent the message loud and clear to aspiring artists: be the foot-servants of those who showed in the museums a quarter century ago to cut in line on your way up the carer ladder. And on top of that, Bender's "People In Pain" is a snide, elitist thumping of popular culture and one of the ugliest large works of art ever executed.
The paintings of Tony Greene, also almost a quarter-century old, were included by curator Stuart Comer. On his March 7 curators walk-thru he poignantly expressed that a generation of artists died and that their voices would never be heard and that it was important to include one from then who, absent that terrible plague, would conceivably be making art and engaged in the art community alongside all of the Biennial participants today. The amount of space devoted here is generous and the delicate paintings show a range, discipline and sensitivity way beyond almost any other artist in the entire show. The second greatest tragedy of Tony Greene's passing after his death itself is that had he lived he would certainly be omitted from a Biennial (and an art world) that privileges the smarmy over the poetic, the academic over the delicate and critical distance over beauty.
So those are the choices -- die or sell-out. Whether you're a painter or whether you're a sculptor, if you're staying alive with an earnestness, buddy you're nowhere by the look of the 2014 Whitney Biennial.
Popular in the Community