Everyone has a question about plants they're afraid to ask. (How often do you water? What's the right way to plant a tree?)
Last week, someone kind of blew my mind. We were discussing simple, low-care options for a weekend home, and sudden he paused.
"Sooo can you just, you know, plant only grasses? Like, that's it?"
What a great question. How many plants does it take to make a garden? One? Twelve? Twelve million? How low can you go? How few plants can you use before you've devolved from "boldly modern" to blah-town?
For gardens that make the most out of just a few plant types, I take my cues from several British garden designers.
Tom Stuart Smith argues five is the magic number for a garden:
Suited to the mild moist climate of London, the plant list for this garden is the perfect mix of texture and form: the cascading Japanese Forest Grass sways in any breeze, and is balanced against the rolling hills of clipped boxwood. Tree Ferns add just the right amount of je ne sais quois; semi-tropical, somewhat mysterious; they punctuate the garden like eyebrows raised at a party. Jasmine and climbing Hydrangea cover the walls, adding fragrance and seasonal blooms.
Love the look but live somewhere less temperate? Swap out the Tree Ferns for Paperbark Maples, and Boston Ivy for the Jasmine. Sheesh. When did gardening become easier than cooking dinner?
Diarmuid Gavin, perhaps one of the best designers living, often riffs on boxwood-driven minimalism.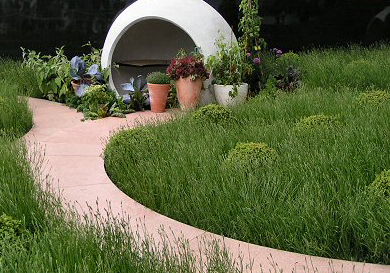 Photo Courtesy of Richard Burkmar
In his iconic Hanover Quay Garden, he alternated rows of Boxwood and Lavender, spliced the planting with boldly swerving pathways, and garnished everything with pod-like seating areas. Minus the containers on display: we're looking at two types of plants here. If less is more, this is everything.
Back to the original question: How low can you go? Can you make a garden just one plant?
Yep. Sure can. Deschampsia cespitosa, the grass used here, shrugs off the "One is the Loneliest Number" nonsense, and rocks out to Bjork's "Army of Me." Things don't have to be complicated. Bjork can be a ninja for 3 minutes. You can totally make a garden look great with a handful of plants. Sometimes, it's that easy.