Think about it for a minute.
When was the last time you were reminded that you are amazing? When was the last time you were reminded that you are powerful and capable of more than you've been told?

I am here to remind you. Inspiration Campaign is here to remind you.
We all need reminders, gentle, compassionate reminders of truth.
One day I found myself stopped at a red light, feeling unmotivated about life when a bus drove by with an ad for a giant sandwich on the side of it. In that moment, I did not need a sandwich, I needed a reminder. I wanted that bus ad to instead read, "You are amazing." And nothing else. No sale. No deal. No product. Just an affirmation to help me connect with joy again. To help me connect with purpose.
That night I called my friend who had recently founded the non-profit project called Inspiration Campaign which had been putting positive messages on billboards. I told him about my day.
"I want to see 'You are amazing' on a bus!" I said.
"OK!" he replied, "I'm in for 50 bucks."
I emailed a few more people, and by the end of the week we had raised enough money to put "You are amazing" on three buses which would drive around the San Francisco Bay Area.

How simple. How powerful. How beautiful.
A few weeks later we heard from a woman whose husband had recently passed away. He always used to tell her that she was amazing. One day while feeling down and thinking of him, the "You are amazing" bus pulled up next to her. She said when she read it she felt held... And that is just one of the many stories of people who have been touched by the campaign.
What if it's that easy? What if we can change the media, and change the world by showing loving kindness to one another? What if ad space can be used to inspire, awaken, and align people with their purpose?
In the last two and a half years Inspiration Campaign has put 24 messages on billboards and 10 messages on buses supporting people in accessing a moment of pause, a moment of awakening, a moment that can ripple out and change the way we perceive our lives.
People submit messages.
People vote on which message to display in the media.
People contribute to buy the ad spaces.
It's all people-powered, and people-empowering!
That's it! There's no agenda, no ulterior motives, just people coming together to create a new world.
Imagine you are driving home from work, feeling blue, and you look up to see a billboard that says, "The power you need is within you." It's a message that's not selling you anything, and those words are meant for you. Might you move forward from that experience with a new sense of gratitude, and possibly even a smile?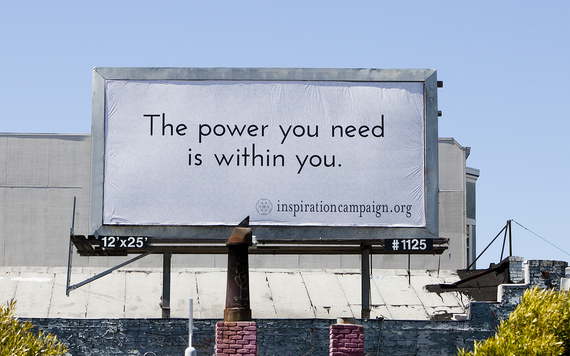 Inspiration Campaign was grateful to have a booth at the recent Wisdom 2.0 Conference where people were invited to write their message on a whiteboard and have their photo taken with it. One of the photos from the conference was to become the next billboard, voted on by Wisdom 2.0 attendees. This was the first time a person was going to be seen on one of Inspiration Campaign's billboards.
Here is the image that is currently at the intersection of Masonic & Fulton in San Francisco. If the vision continues growing, and expands to other cities, just think of what is possible!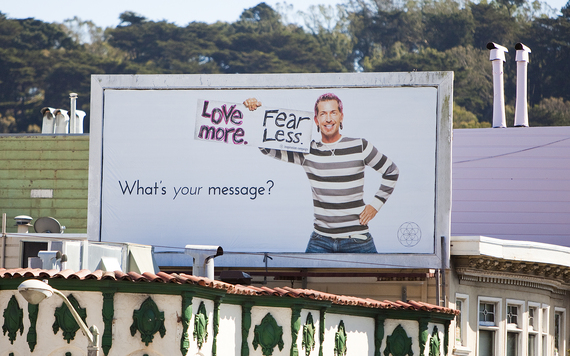 John Halcyon Styn, whose message was, "Love more. Fear Less." Wrote a brief explanation of why that message is so powerful for him: "Whenever life gets complicated or I get overwhelmed, the simplicity of 'Loving more' can bring me back to clarity. Those words have been especially helpful in trying to make right choices. My mind often tries to strategize how to best manipulate a situation. But all that anxiety is dissolved when I can go back to 'Love more. Fear less.' Which choice is in the direction of Love? Which is in the direction of Fear?"
What would your message be?
Inspiration Campaign believes that by seeing positive messages in the media we can all begin to awaken to our own inner wisdom.
You can submit messages on Inspiration Campaign's website. You can also share photos on facebook and twitter of past campaigns, chip in to buy ad space, vote for the next billboard, and even sign up to "Gift it Forward" and receive a pouch of little inspiration cards in the mail to gift to people you meet.
Let's change the media together.
Let's change the world together!

Popular in the Community