We hear so much in Hawaii about invasive plants, but do you realize that you probably have some growing in your yard right now?
Helping people discover which plants are better versus not-so-good is one of the goals behind Ulu, a new sustainable garden project at the University of Hawaii's Lyon Arboretum, located at the back of Manoa valley amidst a tropical rainforest and screaming cockatiels.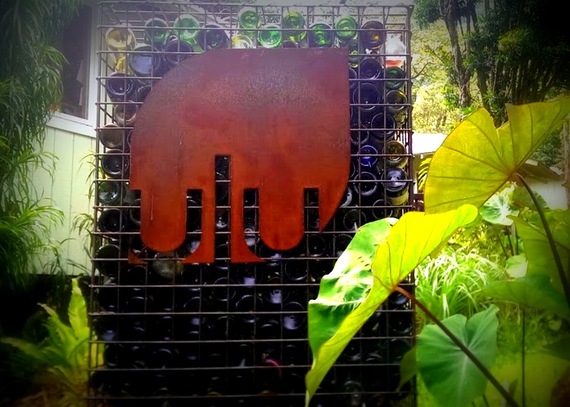 "With Ulu, we set out to build Hawaii's first sustainable garden that will educate visitors on what they can do in and around their own homes," said Bernice Fielding, Designer and Sustainable Garden Manager at UH Manoa.
A true community project, Ulu was designed by Fielding in partnership with local landscape architecture firm Ki Concepts. Green Thumb, a local landscape firm, also provided construction assistance at cost for the building of Ulu's storm water management features. And they've been getting kudos: Ulu recently won the 2013 Mohalu Honor Award for Water Conservation, given by the Landscape Industry Council of Hawaii.
Plants + Culture
Ulu was created to incorporate native and non-native yet culturally-important species, minus any invasive species. According to Fielding, roughly half of Hawaii's native flora and fauna are at risk of extinction, a problem exacerbated by invasive species.
What's the difference between invasive and non-native species? Fielding explains:
Invasive species generally have an adverse effect on a region, but not all non-native plants are bad. Over 75 percent of the plants in Hawaii were introduced, so it's sometimes difficult to understand the difference. There's also importance behind 'canoe plants,' which were introduced by early Polynesians. They all play a part in Hawaii's culture and its bio-diversity, and we're trying to educate visitors on all of these aspects.

As an example, Fielding points to how pervasive certain ginger and heliconia plants are throughout Hawaii, yet they are two of the most invasive plants, spreading via their root system, crowding out other "good" plants and making them difficult to eradicate.
"Surprisingly, there are few laws banning the sale of invasive species in Hawaii," Fielding continues. "Most people don't know the difference, and some invasive plants even have Hawaiian names, adding to the confusion."
Tending the 'Aina
On the education side, Ulu uses features like bioswales (yes, I had to look that up, too!) for storm water management, which they hope will let visitors see how easy it is to create sustainable, living environments that increase the beauty of their gardens while reducing the environmental impact, which was an integral part of Ulu's design. Besides being built on a former garbage dump, the project uses 100 percent recycled, re-purposed and/or reclaimed materials.
"Those tires over there," Fielding says, pointing towards a terrace built from old truck tires. "They would've been shipped off of Oahu and burned somewhere."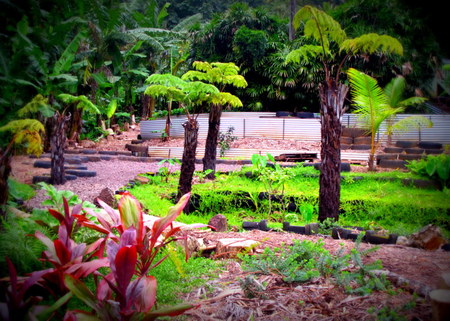 Walking the garden takes visitors through several outdoor "rooms," each focused on a different aspect of education and inspiration. The food garden shows urban gardeners how easy it is to grow your own ingredients. The banana grove includes avocados, cassava, edible ferns, sweet potatoes and, of course, bananas. The medicinal garden features plants from Hawaii, China, Japan and even Europe, each having cultural importance to Hawaii. There's also a lei garden, an ethnobotanical native and canoe plant garden, which looks at the relationship between culture and plants, and, currently in process, an accessible garden for people with disabilities.
Smarter Gardeners
In keeping with their education goals, Ulu plans to roll out classes for children in the spring and to create other learning opportunities, such as farm-to-table events.
"We want everyone to start caring about what they plant, so education is a big part of what we're doing here," Fielding continued.
We're going to add more signs and interactive displays to help educate visitors on how they can build gardens that incorporate beautiful plants but are also sustainable and good for their specific location, rainfall, and sunshine.
Given Hawaii's numerous microclimates and vast differences in rainfall and sunshine across each island and even within just a few miles, it's important to consider your garden's location when choosing plants.
One common saying of mine is 'right plant, right place.' We want to help you think about using plants that are right for the area you are planting them in and to ensure they will get the water and nutrients that they need, rather than relying on constant and ongoing irrigation and fertilization and pesticides. -- Fielding
It's a lot to think about, and something that most gardeners might overlook when considering which vegetable or flower or tree would look best in their yard. But it's always good to be educated, regardless of your gardening plans.
"If visitors leave with just one sustainable idea for their garden, then I've done my job," Fielding concluded.
Ulu is open to the public Monday through Saturday, from 8:00 a.m. to 4:00 p.m. For more information, visit their Facebook page, or call them at 808-988-0456.
(Photos provided by the author and Bernice Fielding/Ulu.)
Related
Popular in the Community