"Let there be Light" -- The phrase is often used as a metaphor for letting the truth be known and dispelling misinformation. In the case of Noor Film Festival, that objective is achieved. Launched in 2007, Noor Film Festival's mission was to shed light on Iranian culture through the medium of cinema. Since its inception, it's done much more than that. Its given inspiration to Persian writers and cinematographers to produce movies that have shed light on an Iran few ever get to see.
Noor in the Persian language means 'light'. The bright light of a film festival by and for Iranians has given voice to a burgeoning film industry that now has its own platform to showcase a wide range of creative cinematic expression. Fuelled by an eager Iranian populous bent on showing their true colors on the silver screen, the cinematic arts have gained robust steam in Iran and Iranian filmmakers are hailed today as one of the most prolific producers of noteworthy films around the world. Since 2007, Iranian films have been a constant presence in International film festivals including Cannes, Venice, Berlin and finally at the Oscars in the US where the film "A Separation" won Best Foreign Film in 2012.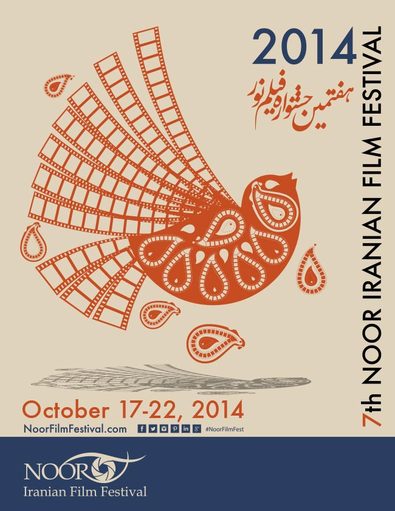 In a community where parents most often encourage their children to be doctors and lawyers, or at the very least engineers, choosing a career in the arts can be challenging. Young Iranians who find a love for film making and pursue a career path that puts them behind or in front of a camera often find themselves swimming against the stream. The Noor Film Festival offers a venue for them to showcase their work and often be taken seriously for the first time. Many are met with critical acclaim and the recognition can rekindle their hope for a fruitful career in a new and credible profession.
"I had decided to leave the film industry and not do animations anymore, now that I won this award maybe there is a future in this for me".
Ameneh - Winner Best Animation 2011

"So happy and proud to see someone in our culture so passionate about film-making. You've helped my parents to have more respect for what I do. Thank you for that."
Somara - Actress
For the viewing audience, Iranian cinema is a glimpse into a world often talked about, highly speculated on and acutely stereotyped, but seldom recognized for what it is. To be Iranian, or Persian, is to be many things at the same time, and just as life in Iran can be nuanced with multiple layers, life as an Iranian is similarly textured with many meanings and facets worth exploring. The film industry does just that - and the Noor Film Festival showcases it for the world to see.
A relatively new venture with little more than dogged insistence and now a crowd sourcing campaign to fuel it, the Noor Film festival has seen its share of trying times. It's Founder and chief visionary, Siamak Ghahremani tells it as a moment of inspiration when he realized that a film festival for the Persian community would bring to the fore the creativity and culture of a nation not commonly understood. Often portrayed as either revolutionary in the news or ostentatious in pop media, Ghahremani thought we needed a new medium by which to present ourselves - one created from within - and film was that medium. The creative expression allowed through cinema would be the natural frontier through which Iranians could introduce themselves, in all their rich texture and heritage, to the world. He launched the Noor Film Festival in 2007 with support from friends and family and some community donations from like minded people who thought the presence of a Persian voice in the realm of film was a necessity.
Today, six festivals later, stronger and better than ever, the Noor Film Festival comes to Los Angeles this October with an Indiegogo campaign and an impressive lineup of films for 6 days, spanning a creative gamut from gut wrenching drama, to uplifting humor, and food for thought in between. The selection of short films will leave the viewer with a full range of possibilities to describe "an Iranian"; and with much to ponder about the world around us - from the empowerment of women to the struggles of immigration to the humor of love and the timelessness of friendship. With headliners like Catherine Dent, Rainn Wilson and Dennis Haysbert as judges, to recognizable Iranian-American names in entertainment like Navid Negahban, Maz Jobrani,Shaun Toub and Mahnaz Afshar, the Noor Film Festival promises to be a festival to shed light on the vast and varied nature of what it is to be an Iranian. With inspiration abound and creativity to appeal to every disposition, Noor brings us one step closer to understanding a land and a people that have long captivated the imagination. For six days in October, it promises to guide the viewer through the multi-layered life of the Iranian world citizen with a balanced sampling of the best the community has to offer.
REAL LIFE. REAL NEWS. REAL VOICES.
Help us tell more of the stories that matter from voices that too often remain unheard.