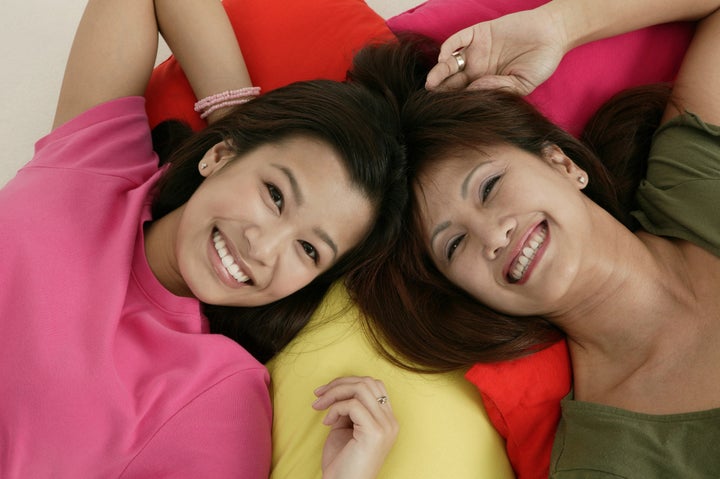 Throughout my career, I've had one foot planted in the Heartland, working with women and girls across America to strengthen their self-confidence, and I've had one foot in Hollywood, working with media executives to develop more empowering, honest stories that truly speak to the girls I've come to know. No matter where I travel or whom I speak with, the core issue we end up addressing is always the same: today's young woman is feeling more conflicted and concerned about her image and value than ever before.
Here's some good news: Girls of all ages overwhelmingly report that they still value their mothers over celebrities and supermodels as their number-one source of inspiration. Moms and mentors across America, here's my invitation to you: Own that special relationship with the young girl in your life and start taking simple actions to build her self-esteem.
Everyone has an opportunity to make a difference in a girl's self-esteem, and we should all commit ourselves to helping girls build a positive relationship with beauty so that they can reach their full potential.
You don't have to have all the right words. You don't even have to pretend to know the lyrics to her favorite song -- but know that when you choose to spend time with your daughter, she notices. When you choose to talk to her about the real issues in her life, and when you make yourself available to listen to her, she will open up to you. When you engage her mind and allow her to teach you about her world, she will feel more connected to you. That relationship and that trust, built over time, will give America's young girls the confidence and resilience they need to do amazing things as adults.
I hope everyone will take the time this weekend to start making girls feel better about themselves and their place in the world.
This weekend marks the first-ever Dove Self-Esteem Weekend, the largest effort to date in support of girls' self-esteem. From Oct. 22 through Oct. 24, parents and educators, along with national and grassroots organizations nationwide, will be hosting self-esteem events in their communities to inspire young girls. It's a bold new vision for Dove as it sets out to create a world where beauty is a source of confidence, not anxiety. As we shed light on some of the most pressing issues facing girls' self-esteem, it's important to provide tools and resources to help concerned adults navigate this broad topic. You can find information on local events as well as free tool-kits with conversation-starters and activity recommendations to host your own self-esteem event at www.dovemovement.com.
Related