How can you pay it forward this year on International Women's Day is a question we ask ourselves as we join millions around the world to celebrate the courage, resilience and dignity of women who inspire change after surviving war and conflict.
I was reminded of this two weeks ago at our Women's Opportunity Center in Rwanda, at the launch of an exciting partnership with Bloomberg Philanthropies and Sustainable Harvest to help coffee growers develop skills and explore new ways to earn more for their work.
As the women coffee growers stepped off the buses after the drive from their rural villages, I could feel their excitement. Having participated in our economic empowerment program, they were eager to learn more, to hone their skills and increase their value as growers, washers and roasters in the coffee supply chain.
Many were survivors of the Genocide 20 years ago. Since then, they have defined what is possible after unthinkable violence and loss tore their nation apart. During the sessions and interactive workshops, I had a chance to sit down with Alphonsine, who lives in Rurarima in the Kayonza District, and ask about her journey to the Women's Opportunity Center.
In her early 40s with two children, Alphonsine recounted how she heard about Women for Women International (WfWI) at a time in her life when she was struggling with trauma. She had lost loved ones, and her husband's drinking problem left her depressed. She told me she could not cope and would isolate herself at home. But that changed when our staff met her at a community gathering sponsored by local government and offered her the chance to enroll in the program with the support of a sponsor.
Alphonsine told me this moment was life-changing, and my heart went out to her as she struggled to express the difference it had made in her life. She spoke, slowly, of how deeply powerful it was to know that her sponsor's support brought her out of isolation, at a time when no one reached out to her.
"It was unusual for me to see other women approaching me before I had joined Women for Women International. The support, the lessons on managing stress, coping with trauma, and human rights were important in restoring hope in my life," recounted Alphonsine.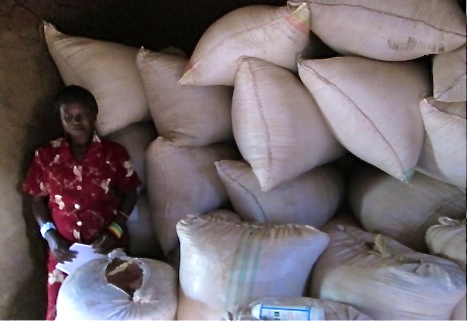 Alphonsine with the bags of sorghum she produces
The investment to connect her with others had a profound impact on her life, inspiring her to become a businesswoman and community leader. With support from the program, she learned how to take steps to protect herself and her family. To deal with her husband's mismanagement of money, she learned to open her own bank account. She learned how to promote health and hygiene, and inspired by the knowledge that her community could be healthier, she began to advocate. Soon her neighbors elected her to be a community health worker in her village. Alphonsine now shares her knowledge, educating other women in her community on family planning, nutrition, constructing kitchen gardens, hygiene and forming savings groups.
Before joining WfWI, Alphonsine was dependent on borrowing money from other women to venture in selling sorghum and beans. After joining the program, she managed to increase her working capital to 147 USD and save 293 USD. She was able to secure a loan of 586 USD, which she used to buy land equivalent to 366 USD.
With tears of joy streaming down her cheeks, she told me her business now employs five workers, and she meets her family needs -- paying tuition fees for her children, buying food and paying medical insurance for her family. She uses her money to inspire and invest in helping other women who are struggling in her area who are not in WfWI's program. She shared with me how she recently bought four goats and one pig for other women to look after, so that when they produce they can pay her back. "Paying it forward" may not be an expression in Kigali, but it is how Alphonsine lives today. A sponsor invested in her, and now she's investing in her neighbors.
Two weeks after leaving Rwanda, I was sitting in New York sharing lessons from our programs on a panel at the Turning Inspiration into Action conference hosted by the US Chamber of Commerce Foundation. I shared the stories of women like Alphonsine and reminded the business leaders in the room that all of us have an opportunity to invest in the untapped potential that resides in women, who too often have their strength and potential overlooked. They are the strong businesswomen, the coffee growers, the basket weavers, the farmers and artisans. They are the women saving money and working in a cooperative. Our challenge is to link them to market opportunities where they can add value. I shared these lessons because the impact is profound. Even in the insecure corners of the world, when we invest in women, we inspire change. They create stability, which is the foundation of peace.
Related
Popular in the Community