After a few glasses of his delicious aged Malvasia Istriana, (known locally as Malvazija Istarska) winemaker Ivica Matosevic told us, "My grandfather lived in Austria, my father was born in Italy, I was raised in Yugoslavia, and my daughter was born in Croatia, yet nobody ever moved." Matosevic, one of the superstars of the Croatian wine world, was not exaggerating or oversimplifying the 20th to 21st century history of Istria, a wedge-shaped peninsula in the northeastern Adriatic Sea.
About 90 percent of the area known as Istria is in Croatia, with the remainder in neighboring Slovenia and nearby Italy. Driving distances from Venice to most towns in Istria are about the same as or even shorter than from the nation's capital, Zagreb. Remnants of a distant Roman past, such as the fully intact Roman Arena in Pula as well as architecture belying Istria's importance to the Venetian Empire tie it much more to Italy than to Eastern Europe. Olive trees and vineyards dot the green landscape, and stone hilltop villages and panoramic sea views are found just around nearly every curve in the road.
Istria is surrounded by water, so it is no wonder that seafood features so prominently in its cuisine, but more surprising to visitors are the many sizes and shapes of homemade pasta available in its many wonderful restaurants. Possibly even more astonishing to many first-timers in Istria is the high quality of the local wine, particularly Malvasia Istriana, a white wine made in both a fresh, fruity version and an aged style, and Teran, a rich, earthy red.
The best time to visit is April through October, with festivals held throughout the tourist season that draw a stylish crowd from across the country and all of Europe. The Motuvun Film Festival, held in late July or early August, is known for its dedication to independent film from around the world. It comes hot on the heels of the Pula Film Festival, which takes place in mid to late July. More than 50,000 film lovers attend this celebration of international cinema, where a ticket to a screening in the ancient Pula Arena is a highly sought after commodity.
Late July also brings the ATP Croatia Open Umag, which draws a worldwide cadre of top tennis players and their fans to the seaside village of Umag for a week of tennis matches, nightly concerts and parties, and a series of wine dinners in popup restaurants on the tournament grounds. In the first week of August Istria also plays host to the Last Minute Open Jazz Festival in the town of Bale. Many concerts and performances are held in the Kamene Price Restaurant and Jazz Club, an ancient stone building with an interior courtyard just steps from the village's Venetian palace. Our favorite time to visit is in October, as harvest is wrapping up and wine is actively being made.
Although winemaking is an important part of Istria's agricultural and culinary heritage, political events of the 20th century forced many winemakers to keep their light under a bushel. In the last few years, a new breed of young winemakers who are active on social media and in the global market have made great strides in bringing international attention to their excellent wines, especially Malvasia Istriana, Teran and international varieties.
WINERIES TO VISIT and WINES TO LOOK OUT FOR
Matošević, Krunčići
Winemaker Ivica Matošević is the ever-smiling face of Istrian winemaking, often found at U.S. or European wine events presenting his own wines and those of his colleagues. One of the first to experiment with aging Malvasia in acacia rather than oak, Matošević focuses mainly on Malvasia and Chardonnay, but his Grimalda Red is a delectable blend of Merlot and Teran. The loft-like space above the rural tasting room is reserved for art openings and live music, always accompanied by the first-rate house wine.
Trapan Wine Station, Šišan
Bold graphics cover the walls and even bolder wines fill the bottles at bad boy winemaker Bruno Trapan's Wine Station. Trapan designed his winery and tasting room to look like a train station, and you will not be idly passing time as you taste through his well-made white, sparkling, rosé and red wines. In addition to Malvasia and Teran, Trapan also makes excellent Cabernet Sauvignon and Syrah.
Kozlović Winery, Momjan
Owners Franco and Antonella Kozlović spared no expense and no attention to detail when building this stunning winery within view of a medieval castle. The grass and native plants covering portions of the exterior wall and roof blend right in with the surrounding countryside. No matter where you look in the large slate and wood tasting room another exciting design element will catch your eye. Equal attention is paid to winemaking; be sure to try the fresh Malvasia, aged Santa Lucia Malvasia, rosé and Teran.
Kabola, Momjan
Your eyes will try to tell you that you are in Tuscany, but your taste buds will know you are in Istria while you are sipping Malvasia, Muscat, and Teran in the wood-beamed tasting room below a sprawling stone villa. Owner Marino Markežić ages his wine in terra cotta amphorae buried under lavender in the garden, and a small museum, wine shop, and English-speaking staff are totally set up for visitors.
Roxanich, Nova Vas
All the cool kids are drinking orange wine, and Roxanich will let your inner wine geek shine. This small winery specializes in "orange" wines, which get their color from long skin contact and deep oxidized flavors from barrel aging up to three years and beyond. Roxanich Chardonnay, Malvasija Antica, and Ines Cuvee (a blend of 8 white grapes) offer deep, complex flavors that are a natural accompaniment to regional dishes featuring truffles and mushrooms.
Saints Hills
Although Ernest and Ivana Tolj's Saints Hills Winery is located in Dalmatia, their Nevina, a heartily oaked blend of Malvasia Istriana and Chardonnay sourced from their own Istrian vineyard is a staple on the best restaurant wine lists throughout all of Croatia.
Peperoni Poreč, Poreč
Chef/owner Doris Cerin elevates everyday Italian-style Istrian cuisine to the next level in this delightful seafront bistro. Specials vary depending on availability, but Chef Doris makes fugi, a local pasta, daily, serving it with boskarin, indigenous Istrian beef. Her quail cooked in red wine on a bed of polenta is exquisite, as is cantaloupe semifreddo with basil puree. Not that you will want to leave, but at a moment's notice a water taxi awaiting just our front can spirit you away to the beaches of St. Nicola Island.
Wine Vault Restaurant at Monte Mulini Hotel, Rovinj
Said to have the largest wine list in the country, Wine Vault Restaurant serves French-inspired cuisine in an airy dining room with vaulted ceilings and views of the sea, on a large pool-front terrace, or in a private dining room in view of the kitchen. No matter which area you choose and Chef Tom Gretić will wow you with his culinary prowess, creativity, and mastery of fresh ingredients, but if you opt for the private dining room you are in for a multicourse feast with wine pairings.
Restaurant Bodulka at Hotel Velanera, Šišan
Owner Dušan Černjul is an original member of Croatia's Slow Food movement as well as a member of the Croatian and Italian Sommelier Club. The focus is on fresh pasta, even fresher seafood, and expert wine pairings from the extensive Croatian wine list. Stone walls and marble floors are accented by modern furniture and light fixtures. The market fresh menu may include a crudo platter with octopus, clams, and salmon, and house made fettuccine may be tossed with crab roe, shredded zucchini, and succulent sea scallops.
Melia Coral Hotel, Umag
Situated just meters from the beautiful Adriatic Sea, the Melia Coral Hotel is the place to stay in Umag. Croatia's first adults-only hotel, the Coral is reserved for guests 16 years and older and has 244 rooms and 6 luxuriously appointed suites. Sun yourself by the large pool or take a short walk to the hotel's exclusive beach club complete with canopy beds and waterfront food and drink service. Just in front of the hotel is a bike station for Park and Ride Umag, a local bicycle share program, one of the best ways to get around the immediate area.
San Rocco Hotel, Brtonigla
Located in the center of Istria's wine country, the San Rocco has been rated the Best Boutique Hotel in Croatia five years in a row. Located in the alluring stone village of Brtonigla, the San Rocco is a perfect base from which to explore the Istrian peninsula. The converted family estate houses 14 neorustic rooms, a spa and restaurant featuring excellent wines from across the region. If you are visiting in late summer or fall, try the all-truffle pairing menu, which is certain to feature Restaurant San Rocco's signature "Cappucino" of potato puree, squid cooked in its own ink, and a layer of just-shaved truffle.
Villa Meneghetti, Bale
Staying at this rural resort doesn't mean that you have to forgo luxury. Surrounded by olive groves and vineyards, the estate boasts only four rooms, each decorated with rustic charm. Hardwood floors, antique furniture, wooden beams, four poster beds replete with Frette sheets, and both an indoor and outdoor pool make you feel like you're staying in a private villa...and you are! With an award-winning restaurant, excellent service, an extensive wine cellar, and beautifully landscaped grounds you just might never want to leave. Sommelier Vladimir Pap has over 30 Croatian wines on his carefully curated list, including 10 from Meneghetti's own winery.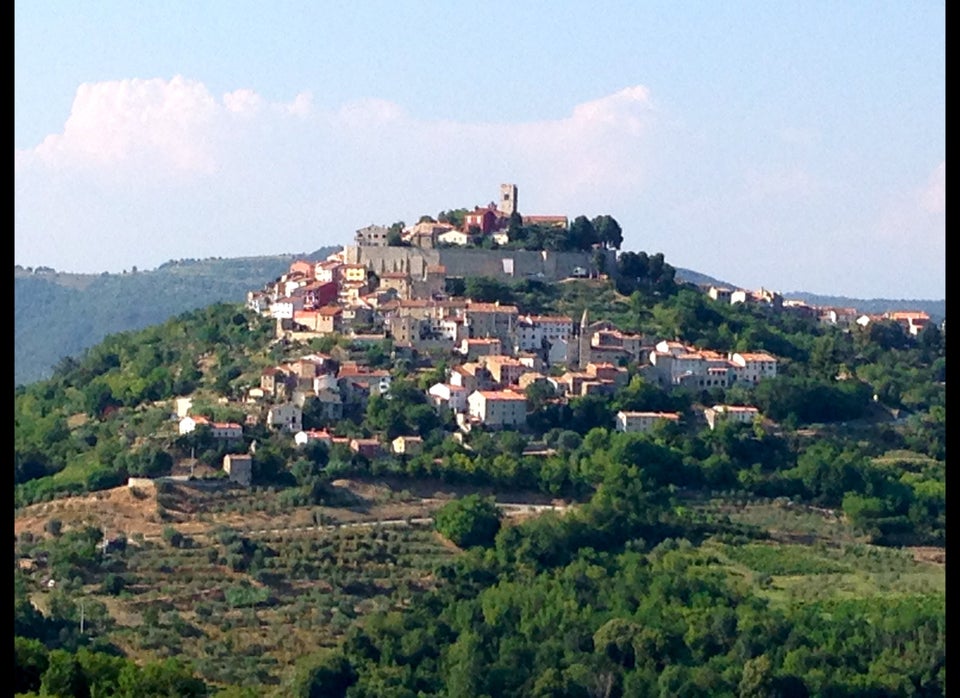 Inspired by Istria: Sipping and Dining in Croatian Wine Country