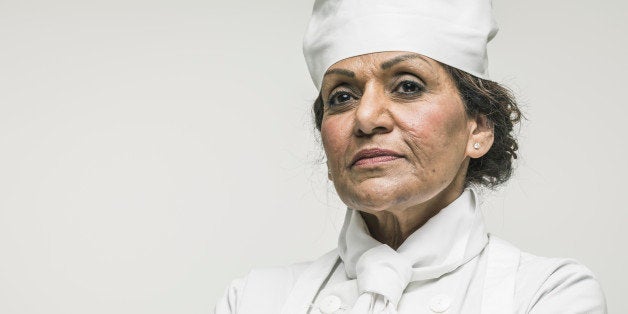 Sitting down to write a piece about being nominated for the "Women Who Inspire" award from Women Chefs and Restaurateurs, wanting to thank all of the women who have inspired and supported my journey, I overheard someone on the news talking about a new "social" campaign called "Ban Bossy." I think the defining quote by Sheryl Sandburg was, "I want every little girl who's told she's bossy to be told instead that she has leadership skills."
I want girls to grow up to be leaders, too! I burned my bra for their mothers and their grandmothers. But I take objection to the catch phrase, "Ban Bossy." I expressed my concerns on Facebook and many of my smart, successful and "bossy" friends told me what they thought.
Our defining quote became, "Bossy and proud. And I'll answer to bitch, too!"
I'll start with my own testimonial. Growing up, I was always called bossy. I thought
it meant I would grow up to be a boss. Why not? I thought bossy was feminine for boss, and to be honest, I like the word bossy.
As my friend Virginia says, "Bossy is good, bossy gets the job done.''
Sharon claimed, "Bossy, here. I just know what's right!"
My darling Pamela said, "Bossy is seeing what needs to be done and who can do it!"
My childhood friend Maggie proudly stated, "Every woman in my family is bossy!"
Damn. Sometimes bossy is in our blood.
Is the word bossy really bad? Do we need to ban it?
Forty years ago, I saw Gloria Steinem speak at a local college. Boiling her speech down, this is what I took to heart: Don't ask for a piece of their pie, bake your own. I took this literally and became a chef in a male-dominated field -- before it was cool to cook.
I'd rather teach young girls to be bossy. Embrace your inner bossy. Love yourself when you are bossy. Bossy is beautiful. And wear the inevitable t-shirt that plainly states, "Strong Men LOVE Bossy Women."
I've worked in kitchens most of my life. If I hadn't relied on my bossiness, I'd still be peeling potatoes. I would never have owned my own business, bought my own homes, traveled the world and been called a bitch. Hell, that's not ugly; it's a badge of courage.
Words hurt? Not as much as thinking you don't have to fight for yourself or for the life you want. And yes, you should be a good boss. Be a fair boss. But never apologize for your bigness.
Here I sit. Wanting to write a piece for Women Chefs and Restaurateurs, and all I can think of is being bossy. Then I realize this association, which has been around for 21 years, was founded by women who owned restaurants. Bosses all. They were a small group in the beginning, and at the time my friend, Joyce Goldstein, asked Barbara Tropp, "So, you really think we as women need our own group?" And Barbara replied, "Maybe not you, Joyce, but others do." They became the founders of WCR.
I was nominated for the Women Who Inspire Award by a mom, chef, teacher and friend who asked if her 16-year-old daughter could audit one of my workshops. I said yes and tried not to swear like a sailor (that, of course, was short-lived). And we've kept in touch because it is my job to help a sister out, no matter her age or experience. If I happen to inspire, that's icing on the cake.
Whether I win the award or not, I want to say thank you to all the women chefs before me and to tell the next generation to be kind, be yourself, and be ready to kick ass. Be bossy.
Denise Vivaldo has written 8 cookbooks and all of them are available on Amazon.com.
REAL LIFE. REAL NEWS. REAL VOICES.
Help us tell more of the stories that matter from voices that too often remain unheard.