On March 18, I had the honor of joining President Susilo Bambang Yudhoyono and the First Lady of Indonesia, along with Bapak DR Syarifuddin Hasan Minister of Cooperatives and Small and Medium Enterprise, the governor of Jakarta, Bapak Joko Widodo, and other distinguished guests speak at the National Youth Entrepreneurship Summit held at Gelora Bung Karno Stadium (Indonesia's national soccer stadium) in front of an audience of 50,000 young Indonesian entrepreneurs.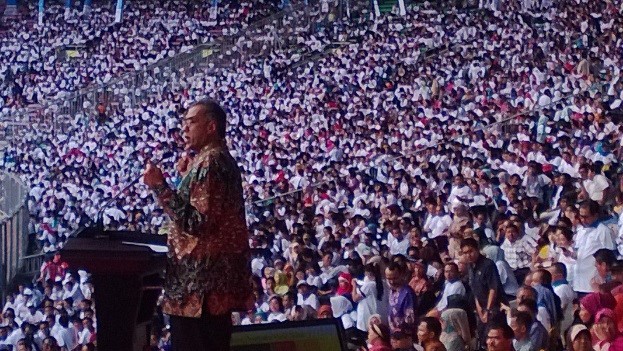 Speaking to a crowd of 50,000 young people.
The energy in the stadium was indescribable, and was heightened as the lead singer of a major local rock band energized the crowd before the event began. I was told I would be speaking right after the band and right before the president's address, so I knew I had an important task of keeping the energy high ahead of me. Speaking in front of this large of group was a first for me, I have spoken at many events, but never to thousands of youth, and certainly never in a professional soccer stadium! The stadium was full of university students that had come from 85 local universities for this event and their eagerness to change the world, their communities and their own lives was palpable. During my speech, I took a moment to record the youth and their greetings on my Windows Phone so I could share the excitement with the world.
With this incredible audience, I shared that for Indonesia to reach its potential and become the 7th largest economy in world by 2030 (according to a McKinsey study) and to grow its economy from .5 trillion to 1.8 trillion it will have to train an additional 58 million workers and these youth will have to lead the charge. With these staggering statistics in mind, I shared with the youth what Microsoft is doing to help through Microsoft YouthSpark, the company's initiative to help 300m young people get into jobs, access additional education and training or start their own business would be able to provide some of the support necessary in cooperation with the Ministry of Cooperatives and Small and Medium Enterprise and other local partners.
YouthSpark has reached over 66 million youth this year, includes over 30 programs, 70 partners and is within 100 communities globally. The programs within YouthSpark, such as Innovate for Good, the Imagine Cup, the Microsoft Innovation Centers, BizSpark and DreamSpark directly benefit youth like the young entrepreneurs I spoke to in Indonesia by providing them with the opportunity to realize their own futures and receive support from Microsoft along the way.
After I highlighted how Microsoft is helping youth across the globe imagine and realize their full potential, I shared some entrepreneurial insights of my own. Youth entrepreneurs must learn to move from "passion to compassion" and from "personal to societal" in order to successfully enact change. This cycle involves four key concepts:
1) The path to success requires perseverance and being unreasonable helps because you do not take no for an answer and you will find ways to move forward by overcoming obstacles.
2) However, if you are unreasonable then you also have to be a learner. Lifelong learning therefore is another key to becoming successful.
3) Coping with failure was another consistent theme. People will fail but is it how one reacts to failure will eventually pave the way for success.
4) Finally one has to be compassionate -- without thinking of the larger impact of your work on society you will not succeed as a change-maker.
The opportunity divide, between those youth who have the access, skills and resources to succeed and those who don't, is real. We need new and innovative ways to bridge this divide. Creating a movement of youth change-makers is part of our commitment to bridge this divide and create an opportunity dividend. We have challenged these young leaders to learn something new, listen to novel ideas and be open to things they don't understand.
After the event I was surrounded by many young people at the Microsoft booth who shared with me their stories which were inspiring and humbling. Two of them included Hasna Tsaniya Rananti and Garibaldy Widowo Mukti, both young entrepreneurs who started their company Nightspade while they were students at the Bandung Institute of Technology and winners of the Microsoft Imagine Cup in 2009. Hsana and Garibaldy developed game apps, and have hired over 20 people and are now generating income and creating a future for themselves. We have much to do to ensure that future generations are not lost as we struggle to come out of a major economic downturn that has gripped many nations and regions of the world.
Technology has a role to play in how we can level the playing field and how we can provide access to youth in underprivileged communities. But technology has to be connected with empowering youth by building their skills, by inspiring them to innovate and become change-makers. Finally we have to invest in them through time, talent and treasure so we can support them to realize their potential and that they create a world that they can thrive in.
Related
Popular in the Community