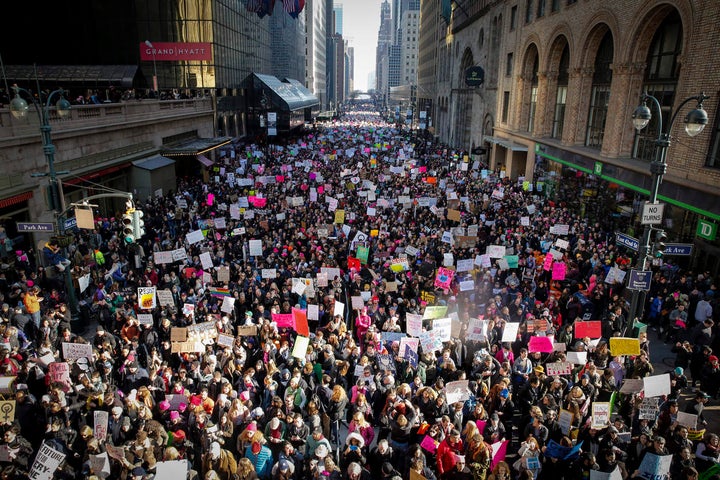 If a picture is worth a thousand words, then photos from around the world capturing Saturday's Women's March must be worth a million...5 million to be more precise. My favorite set of photos courtesy of the New York Times, gave perspective to the reach of the Women's March, a reach that up to now had simply been unprecedented. I felt nothing but gratitude to be among protesters participating in cities and countries big and small, known and unknown. In many places, we banned together and marched until it was all we could do to inch along while protest routes swelled to the point where we could hardly move. For those of us who could not march, protesters gathered and sat, voices loud and signs held just as high.
In the thick of a movement it can be hard to gauge how great the impact will be. Much like the experience of our brothers and sisters in our nation's capital, the Women's March on New York City, well underestimated how many people would come together to take a stand on the issues of women's rights, freedom of choice, healthcare, immigration, abuse of power, law enforcement, marriage equality, voting rights and our basic human rights hanging in the balance on day one of the new administration. In the present moment, I could not see that the massive crowd I stood with near United Nations, was only a drop in the bucket, far eclipsed by an even greater crowd as we made our way in front of Grand Central Station, and at 5th Avenue on up to Trump Tower. From my spot as a protester among protesters, these global images paint the picture I could not see to understand just how far the Women's March had reached and surpassed its goals.
At its core, the global impact of the Women's March has provided principle motivation for us to move forward with the challenging work ahead. Marches worldwide demonstrated the desire to protect basic human rights is universal and capable of transcending many of the hurdles that often keep us separated: history, culture, religion, language and the current leader of the free world…to name a few. I learned from photos taken in Serbia my first Serbian phrase "Žensk Marš Protiv Fašizma", which translates to "Women March Against Fascism" in English. The issues we marched for resonated not just for me as a woman (a proud nasty woman of course), and for us as Americans, but for all of us as humans. From Washington D.C. to Kenya, London, Colombia, and Iraq to Antarctica, photo after photo showcased the beauty of what it looks like for every continent to join together, making the ties that bind us as humans clear. At any given moment on that Saturday, each of us around the globe experienced that which was at once different and the same. Picture every age, every gender, and every stage of life taking a stand, some under the warm sun of summer, while others bundled against Winter's rain and snow. Every skin tone in every color was represented matched only by every shade of pink.
So Where Can We Start Today to #MakeAmericaThinkAgain?
Going forward from the Women's March we know peaceful demonstrations are possible and should be expected whether standing up for LGBT rights or #BlackLivesMatter. We are not to be deterred by the lack of response by the new administration, and where we keep applying the pressure there is no limit as to what we can accomplish.
I felt inspired being among my fellow protesters, but the global view of the Women's March turned up the heat on the commitment to resistance, using our collective voice, and not backing down from protecting our rights while bringing an end to the Trump administration. For resources on actions and next steps, all can now stay involved at www.womensmarch.com and join the new "10 Actions for the first 100 days" campaign. Become a leader in groups dedicated to the issues you feel most passionate about. Continue to contact members of Congress, and there is a need for those among us to run for public office in Michael Moore fashion, to sit at the decision-making table. But most important, take a moment to write your own story. Articulate what issues are most important to you, why, and share them to keep our community of resistance energized. Community is what makes this possible not just for one but for all of us. The proof is in the pictures. If there was ever any doubt, we now know we are not alone.
Related
Popular in the Community