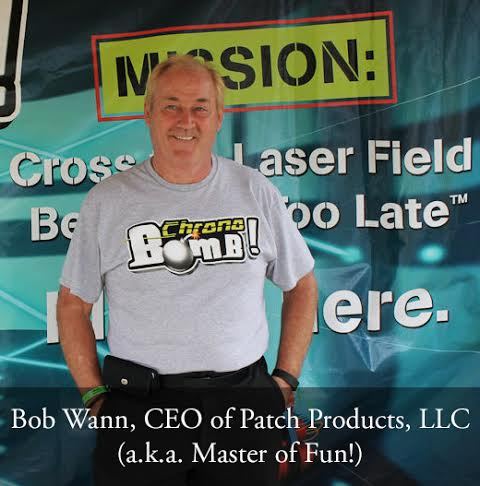 Without a doubt, Bob Wann, CEO of Patch Products, Inc. is a visionary, leader, and toy guru like you've never met. He's been a leader in the toy industry for more than 35 years having lead sales, marketing, and operations for companies such as Hasbro's Milton Bradley and Parker Brothers, Playskool, and Fisher Price. Originally from the UK, Bob has worked both domestically in the United States and across the globe. He has embraced each position he's taken in the toy industry with passion, perseverance, and a determination to grow both the business and his knowledge base. He's an expert not just in toys but also in consumer behavior, branding, and product licensing. He also sits on the board of directors for The Toy Industry Association.

Bob Wann is powered by pure ambition. This drive has allowed him to scale the ranks of massive companies. He is self-made, dynamic, and humble. I recently talked with Bob to find out his secrets to putting the fun back in business.

Express You in Your Business: Ever since he can remember, Bob says he has always been an adventurer. He loves traveling, learning about new cultures, and roaming. He says that it is this love of adventure that has allowed him to climb the ranks of huge companies. By the age of 30 years old he had already worked in six different countries and had lived in three of them. This fed his appetite for exploring and searching out new ideas and experiences. Just out of high school, while living in Scotland, Bob went to work for the government. He worked for the equivalent of the IRS in the UK. From there he decided to apply for a job at M&M - Mars in the UK. It was an aggressive interviewing process but he was able to land a job in sales. Bob says that the sales training was so good at Mars that he still uses the skills he learned there today. What Bob learned at Mars was that he really wanted to be in marketing and branding. There were no opportunities for growth at Mars, so he moved to Johnson & Johnson where they made a deal with him. He could start in sales and if he did well, they'd move him to marketing and new product development. He moved to Johnson & Johnson and they fulfilled their promise, giving him a taste at launching new products into the market. In the late 70s, Fisher Price had just entered the UK. Having recently become a dad, he was interested in the idea of working in the toy industry ad so he reached out and soon became the marketing director for the UK subsidiary of Fisher Price. At the time, Fisher Price was becoming more global and Fisher Price was regularly sending Bob to the US to sit on product review teams so that they could get his opinion on toys they were developing. It wasn't long before Bob became a permanent fixture in the United States with Fisher Price. Of his 10 years at the firm, 8 were in America, and he finally settled down in the United States for the long haul, after spending the first half of his career feeding his insatiable appetite for freedom, adventure, and getting out into the world. Bob says that there's always a way to infuse your passion into the work you do. Bob married his love for exploration with his early corporate career giving him the opportunity to travel the globe while building brands he loved. Over time, his family grew and his love for business outweighed his love for adventure and he eventually settled down in America. In the beginning years of his career, Bob figured out a way to turn his love for adventure into his personal unique value proposition which catapulted him into higher and higher positions throughout his career.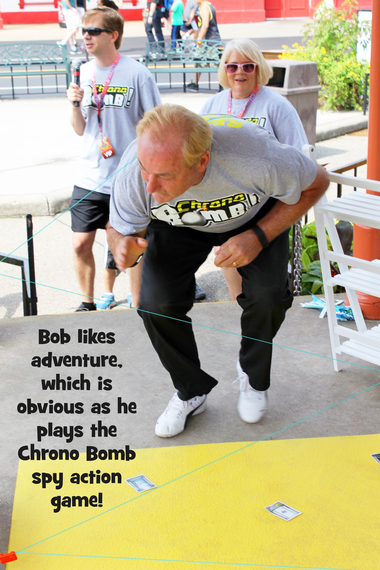 Embrace Change: Bob says that if you want to differentiate yourself from other business leaders and executives, be the person that embraces change. Bob notes that humans err on the side of comfort because change is always hard. For Bob, the opposite is true. In fact, he says he gets easily bored with the status quo and prefers to try to new things, to encourage growth, and to always feel comfortable with the uncomfortable. After ten years at Fisher Price, Bob moved to TCFC, a subsidiary of American Greetings, where Bob spent three years learning about licensing characters like Care Bears and Strawberry Shortcake. His customers were toy companies like Hasbro and Mattel. This was a big change for Bob because now toys were in the periphery of his business, no longer the absolute focus. He took this time to further develop his knowledge of branding, sales, and consumer behavior and although he loved the licensing side of the business, he eventually decided to get back into the trenches of the toy business, going to work for the Playskool line for Hasbro. Bob eventually became the president of the Hasbro Games Division, overseeing legendary gaming product lines like Monopoly, Scrabble, Trivial Pursuit, Operation and Candyland. When Silicon Valley game knocking in the early 2000's, Bob tried his hand leading Schoolpop, a school fundraising program that was way ahead of its time. Throughout most of his career, Bob has always been very involved in The Toy Industry Association. He enjoys learning from other toy executives and helping others by sharing his knowledge. It was through the association that Bob eventually met Fran and Bryce Patch, the two brothers who owned Patch Products, a mid-sized toy company based out of Wisconsin, known for games such as Farkle, The Game of Things, and Perplexus 3D maze game. The rest is history. Now with the company for five years, he says he's right at home with a company that is constantly comfortable with change and trying new things. For example, while many toy companies are constantly finding ways to make their toddler toy lines beep, buzz, flash, and zap, Patch Products went a totally different way with the introduction of their Mirari line of toys. Mirari means "wonder" in Latin and Patch has made it their mission to put the wonder back into play. Their Mirari line envelopes the child into the play experience. For example, their line of alphabet blocks are made of see through plastic and small 3D letters and characters are suspended on monofilament, and magnetized inside the clear block, so that when a child puts one block next to another they magically come to life by "wiggling and jiggling" due to the magnetic interaction. Wann says that he's always comfortable working for and with companies that embrace change and new ideas, like Patch does, because to him, change is growth and the status quo is death.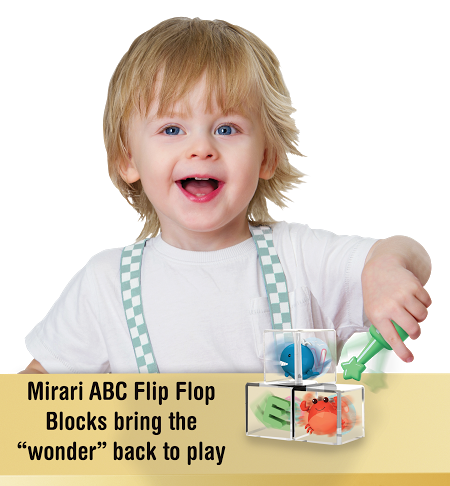 Play: As Bob sees it, his job and the job of Patch Products is to inspire quality playtime. In other words, he's on a mission to get more families and friends to laugh and play together. As such, Bob is a proponent of getting together with his own family to play games. He says that, admittedly, in the world we live in, it's not easy to find a lot of time to sit and laugh with family. However, he notes that it's not so much about pulling out the board games every night, but about finding time every once in a while to get the whole family around the table for some fun. I asked Bob if the electronic world of apps are a threat to the toy industry and he answered emphatically, no. As Bob sees it, games played on an iPad, tablet or phone, are very different than other toys. A game on an electronic device is often played alone or something that is played while you are on the move or have a few minutes of downtime in your busy life. He said that the toys and games developed by Patch Products, are meant for strong social interaction -- real in-person, face-to-face human interaction so that a family can have "laugh out loud" fun together.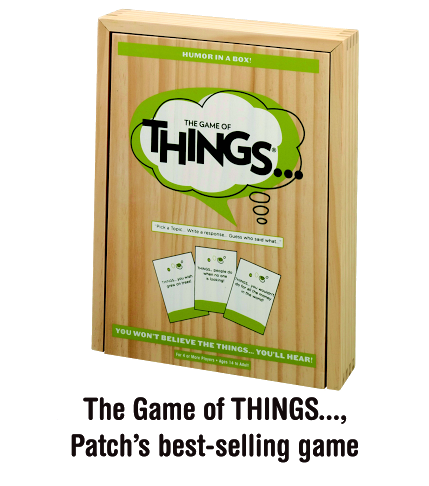 Have Insatiable Curiosity: As Bob Wann sees it, success in almost any consumer driven business requires that you are constantly on alert as to what people around you are doing. How do they interact? What causes people to laugh? How do they have fun? Bob says that there's no telling where the next big idea will come from in the toy industry but it's usually born out of someone noticing how a consumer reacts to something. For example, in the toy industry, ugly sells. This trend was set many years ago, says Wann, by the Cabbage Patch Kids. Who would have thought that little kids would yearn for what were seen by many as ugly little dolls, but they did. Not because they were ugly, but because they were not stereotypically pretty, they were seen by little kids as being "vulnerable." Therefore, little kids wanted to take care of and nurture something so vulnerable looking. As Bob notes, the only way to notice that kind of consumer behavior is to have insatiable curiosity and to always be studying what makes people tick.

If You Believe You Can: Bob says that the number one piece of advice he has for anyone looking to build a business, climb the corporate ladder, or accomplish anything in life is to believe in yourself. As Bob sees it, if you believe you can do it, you can. He says that instead of spending any time seeking excuses as to why you can't do something, spend that time figuring out a way to accomplish your goal. Bob gave two great examples of this from his personal life. First, when Bob's youngest daughter turned 19 years old, she asked her dad if she could find a way for her to meet John Green, the author of The Fault in Our Stars, and other best-selling books. The movie based on John's book was just about to premiere, so it seemed unlikely that Bob could pull off a gift like that for his girl, but he chose not to focus on excuses and instead he started working the phones to figure out a way. Not only did he get his daughter into meet John Green, they attended the movie premiere with him and she walked away with a signed copy of his book. Bob says that when you believe in yourself and when you make a conscious decision to never take no for an answer, you can have anything you want. Second, Bob's older daughter was involved in a life-changing, serious accident last year that left her with quadriplegic injuries, confining her to a wheelchair. Then, through the power of positive thinking, exactly one year and one day after her accident, she participated in her first Wheelchair Triathlon! It's a great example of what believing in yourself can help you achieve in life!

Bob Wann, offers a compelling story for any self-made business person interested in climbing to the top of their career. He's hardworking, ambitious and driven by a simple yet powerful mission of inspiring people and play around the world.
Calling all HuffPost superfans!
Sign up for membership to become a founding member and help shape HuffPost's next chapter