Marc Steren has founded several startups and coached many more to success, learning a thing or two about entrepreneurship along the way. He created a revolutionary tool in teaching entrepreneurship, called the BACCA method and recently published a handbook for students.
He is the Director of Entrepreneurship at an innovative school in Maryland, Bullis, where secondary students benefit from entrepreneurship education embedded in their classes and their extra-curricular activities. He is also the Entrepreneur-in-Residence at Georgetown University and advises students on their business plans. I asked Marc to share some of the methodology behind his book and the entrepreneurial education programs he runs.
Steve Mariotti: What inspired you to write The Student's Guide to Entrepreneurship?
Marc Steren: I wanted to give students an affordable, step-by-step guide to create and validate their startup ideas. Many of my students simply could not afford the textbooks.
The Student's Guide to Entrepreneurship explains the BACCA method for entrepreneurship--essentially an acronym for Belief, Association, Canvas (business model canvas), Customer Development and Analytics. I have found that instilling belief in my students, and in the creative process, is a key ingredient for their success.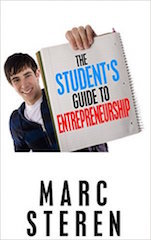 Marc's book, available here.

SM: What is the most difficult challenge for student entrepreneurs?
MS: In my Entrepreneurship Capstone, student entrepreneurs identify consumer problems through customer interviews and then, based on feedback from these interviews, iterate to a solution that the consumers actually want. The challenge lies in deterring students from developing ideas and solutions without first listening to the consumer.
One of our startup teams last year, Checkitout, developed a mobile application that displayed a map of the supermarket with your grocery items highlighted. Through interviews, they discovered that the customers preferred step-by-step directions, as opposed to a map, so their idea evolved accordingly. That customer feedback enabled Checkitout to develop a solution the customers actually wanted.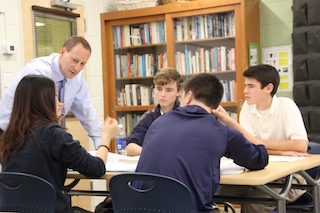 SM: I understand you use the business model canvas as the foundation for the class- what are a few examples of how you have changed the canvas to incorporate it into your classroom?
MS: Many entrepreneurship courses suggest filling out the business model canvas in 20 minutes or less. In our capstone class, we use a process known as design thinking to carefully complete their business model canvas over a three week time frame.
Design Thinking 101 from Marc Steren
In design thinking, we try to immerse the students into the customer segment culture whose problem they are trying to solve. This enables them to begin to understand their needs. We then offer a series of design thinking techniques such as brainstorming, brainwriting, what-if scenarios and peer-to-peer ideation. In brainstorming, we establish firm rules; no judgment, go for quantity, wild ideas encouraged and have fun. During this process, they focus on the problems and then match it with solutions by placing post it notes on a blank board. The best solution then goes on the business model canvas as the initial "hypothesis."
By increasing the time to develop the canvas, we find that the ideas are more thoughtful and creative. Additionally, one of the core tenements of the business model canvas is a building block called "value proposition." The value proposition asks "do you solve a problem or fulfill a social need?" But in our class, we ask "How does your value proposition solve a problem and how is it different from your competitors?" This enables students to begin to consider how they will differentiate their value proposition from similar products or services.
One of this year's teams, Slide Spikes, a startup that converts sneakers into cleats, was able to differentiate its offering after conducting a competitive analysis and a detailed patent search. Its value proposition today is now clearly different from where they started and unique among its competitors.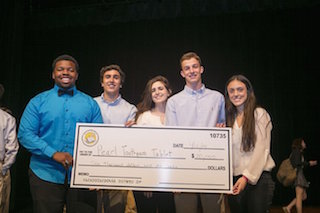 SM: What made you teach at Bullis and become an Entrepreneur in Residence at Georgetown University?
MS: During my first meeting with Dr. Jerry Boarman, the Head of School at Bullis, he shared with me his amazing vision to offer students unique, signature experiences. Entrepreneurship was just one of those experiences he envisioned. Three years later, four signature programs (the others are STEM, Visual & Performing Arts, and Humanities & Global Studies) are going strong and the school is now building a new 65,000 square foot Discovery Center on the school campus that will include a fabrication lab and innovation center.
In addition, Dr. Boarman shares my commitment to spread student entrepreneurship throughout the community. We provide a Young Innovators program during the summer, and a Social Entrepreneurship tournament in May, both of which are free to local public school students. I am also proud to be an entrepreneur-in-residence at Georgetown University where Jeff Reid and Alyssa Lovegrove understand how to help students create real startups such as Sunniva, a super coffee that is already in many Whole Food stores.
SM: What makes your program at Bullis different than other High School entrepreneurship programs?
MS: We are an experiential learning course, where the students build real startups. In short, the students design a concept, place their hypothesis on a business model canvas and then validate or invalidate these hypotheses through customer interviews and well-crafted experiments. Since they operate as real startups, they file intellectual property, conduct board meetings and build prototypes. The teams than compete in a "shark tank" where the winning team is awarded a $10,000 prize to continue to work on their idea after graduation. Just as important, we make entrepreneurship fun, where the students dance and celebrate in the classroom. They spend significantly more time moving around then they do sitting. I was really inspired to teach in this manner after attending a Tony Robbins seminar- you get body in such a peak state through movement that it actually becomes easier to learn. I try to provide that same environment for my students.
Past Winners...
Pearl Toothpaste: a chewable toothpaste tablet that doesn't need water. The product is designed for kids, so the tablets are made into fun shapes, such as dinosaurs and stars. The company had over $3,500 in pre-sales before the tablets even went into production.

HotSocks: an air activated heating pad within the sock, to keep your toes warm during those cold, wintery months. HotSocks also had thousands of dollars in pre-sales.
This year we have seven teams competing. A few of their concepts are: JobsByStudents connecting students with parents who need jobs completed around the house, and WhoU, a mobile application that enables you to identify an actor and then purchase one of their movies directly from the mobile application. For this year's competition, the winning team will be able to get office space and continue to be mentored through the generosity of XML Financial, who has agreed to not sponsor the prize, but continue to work with the kids through August until they go off to college.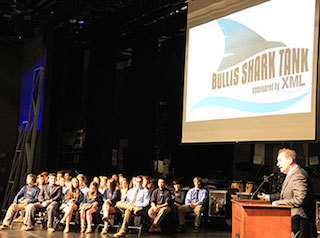 SM: What kinds of changes have you seen in your students?
MS: As a teacher, it has been such a thrill to see my students discover a passion for entrepreneurship. One team from the first year of our entrepreneurship capstone program, Kanga Trash and Energy Systems, have continued their venture, even winning college pitch contests and signing contracts with professional baseball teams. Another student recently sent me an email, stating that she has changed her major at Howard University to entrepreneurship because she found her true passion during our capstone. Student entrepreneurs are so exciting to work with--I wouldn't trade this experience for the world.
REAL LIFE. REAL NEWS. REAL VOICES.
Help us tell more of the stories that matter from voices that too often remain unheard.