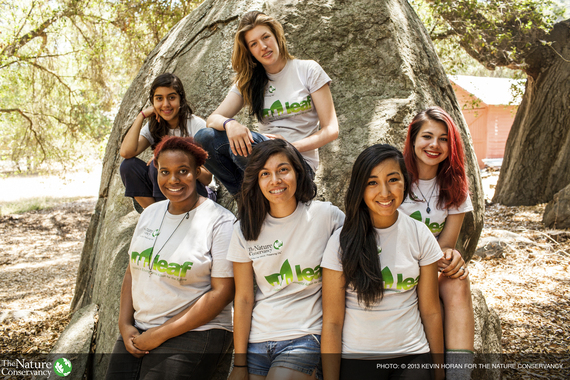 Almost everyone I meet in the conservation community can tell you about their environmental "a-ha moment" - a story about an experience with nature, usually at a young age, that inspired their career path.
For Fazena Bacchus, an upcoming graduate in Environmental Engineering from Columbia University, her "a-ha moment" was during her first time away from home.
Growing up in Queens, New York, Fazena always thought of "nature" as a remote destination far away from her everyday life. Her first encounter with wilderness wasn't until she was a teenager working to restore trails in Vermont with The Nature Conservancy's Leaders in Environmental Action for the Future (LEAF) paid summer internship program.
Seven years later, she still describes in detail her time there. How close the stars looked, how tired but accomplished she felt at the end of each day, and -- most importantly -- how through this experience the idea of conservation suddenly felt "tangible," and that she knew she wanted to pursue a career in the environmental field.
Together with The Nature Conservancy and my colleague, Director of Youth Engagement Programs Brigitte Griswold, Fazena was able to continue cultivating her connection to nature in a place she didn't think was possible: the city. Fazena completed several more internships assessing global freshwater practices, researching water funds, and improving urban green roofs throughout her hometown of New York City.
Now, with an environmental engineering job already secured in advance of her graduation, Fazena is on the path she set out for herself that hot Vermont summer. Reflecting back, her advice to today's teenagers is to realize that nature and environmental issues are everywhere - even in the city -- and that younger generations have the power to make a difference in solving these issues for their communities.
This advice hits at the heart of The Nature Conservancy's youth engagement programs. By 2030, 60 percent of city residents, who make up the majority of the world's population, are predicted to be under the age of 18. More than ever, today's young leaders are redefining what the environment means in an increasingly globalized and urban world, making them uniquely poised to ensure the sustainability of tomorrow's cities.
The fate of the environment will rely on this generation just as this generation will rely on the environment as one solution to issues of social equity and economic development. And it's critical that this and future generations are provided opportunities to interact with nature while they're young. If they are not exposed early to nature, younger generations will be less likely to see themselves as stewards of the planet as they make decisions about the future of our natural resources.
"Young people are growing up less connected to nature than previous generations and The Nature Conservancy is working to ensure that this and future generations value nature, take action to protect it and lead our legacy to ensure our mission into the future," says Griswold.
The Nature Conservancy has been engaging youth in conservation programs for over more than 20 years. Today, we have honed our focus to three core areas of engagement with youth: learning, action and leadership. In 2015, the Conservancy brought interactive, nature-based curriculum into the classrooms of more than one million youth; increased opportunities for more than 14,000 youth to participate in volunteer conservation activities; and secured vital internships for another 700 youth to experience nature first-hand.
This year, the Conservancy doubled the number of garden builds taking place at schools around the country and will lend its support in the development of new classroom curriculum and virtual field trips. Through this partnership, Lowe's and the Conservancy are encouraging young people to learn, take action and lead conservation solutions in their communities.
We are teaching younger generations how nature works around them, empowering individuals to make positive change in their communities and building career paths for leaders in the conservation workforce. The expansion and impact of The Nature Conservancy's work with young people this year is due in part to contributions from supporters like Lowe's.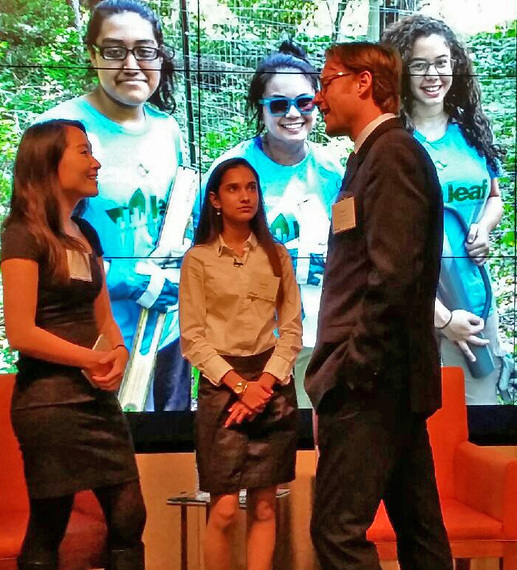 Earlier this spring, I met Fazena and many other alumni of our programs at the LEAF 21st anniversary dinner in New York. While listening to their stories and learning about their accomplishments, I understood what must have been an "a-ha moment" for The Nature Conservancy two decades ago: an investment in young leaders is an investment in conservation.
A world in which future generations understand and value the role that nature plays in our everyday lives and are empowered to work for natural solutions will ensure that people and nature - both near and far -- can thrive together into the future.
Pascal Mittermaier is the Global Managing Director for Global Cities at The Nature Conservancy. Explore The Nature Conservancy's latest thinking, science and recommendations on nature, cities and connecting with youth.
Calling all HuffPost superfans!
Sign up for membership to become a founding member and help shape HuffPost's next chapter