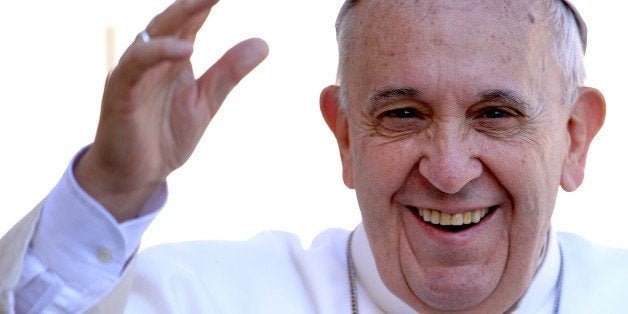 If solving climate change, as so many naysayers claim, relies merely on a hope and a prayer --well, Pope Francis is leading the way with both.

The leader of the Catholic Church has emerged as an outspoken advocate for action on climate, reminding the world's estimated 1.2 billion Catholics -- and so many others -- that we have a moral and spiritual obligation to preserve God's creation.

Climate change is a multifaceted issue. It is an environmental issue, yes, but it is also a human issue -- one that impacts our jobs, our health, and our ability to live just lives.

And, above all else, Pope Francis keeps pointing out that climate change is a moral issue.

We have a moral duty to one another, and to our children, to care for our environment and protect the next generation. As a person of faith, I believe that there can be no higher calling and it is one that Pope Francis has continued to outline eloquently, passionately and with the powerful purpose that this deep moral authority bestows.

Just this week, Pope Francis invoked the final judgment described in the Gospel of Matthew, saying, "we must also remind the powerful of the earth that God will call them to judgment one day, and it will be seen if they truly tried to provide food for Him in every person, and if they worked so that the environment would not be destroyed, but could produce this food."

This is an incredibly important reminder for us all -- the powerful will be judged for whether we choose to protect our environment, whether we make the right choice to preserve His creation for the generations that will walk the earth long after we have passed. We will be judged -- not for our good intent or polite concern -- but for the actions we take today that will impact our planet for centuries to come.

We already know that climate change stands to disproportionately impact those among us who are most vulnerable, and every day that we fail to take action is one that puts us closer to failing in our moral obligation to protect our fellow humans.

Faith is a powerful force. It moves us to think outside ourselves -- to see beyond our own selfish interests and embrace a greater purpose. I've been inspired -- as I'm sure many of you have -- by Pope Francis' call to embrace this greater purpose and help lead our world toward a more just and sustainable future.

I join billions of people -- Catholics and non-Catholics alike -- in my deep respect and love for this Pope.
REAL LIFE. REAL NEWS. REAL VOICES.
Help us tell more of the stories that matter from voices that too often remain unheard.