Photography is one of the best ways to connect people with the natural world, both for the photographer as well for those who are inspired by stunning images. Photography can inspire a love of wildlife and desire to protect it.
For the last 43 years, National Wildlife magazine, the award-winning publication of the National Wildlife Federation, has held a photo contest as a way to encourage people to get outside and learn about wildlife and our environment through the art of photography.
Here are some of the winners from the 2012 contest.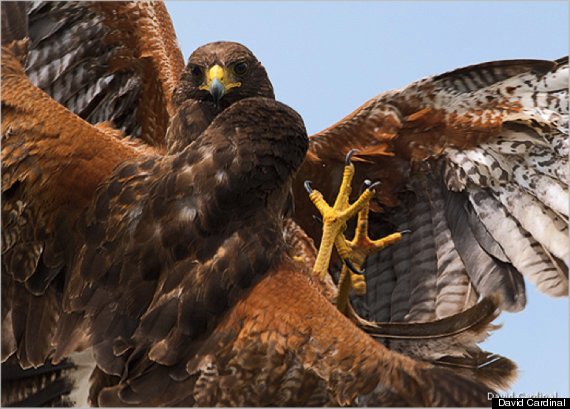 David Cardinal, Portola Valley, California
When Cardinal spotted a female Harris's hawk guarding road kill in the Rio Grande Valley of Texas, he expected action. These raptors form hunting groups to protect food from other predators, including nongroup members of their own kind. Cardinal prefocused on a branch "where an interloper was likely to land." Soon another female Harris's hawk showed up, and the first bird attacked. He says his winning image "captures the moment when the newly arrived hawk turns to meet the defending female's fully deployed talons."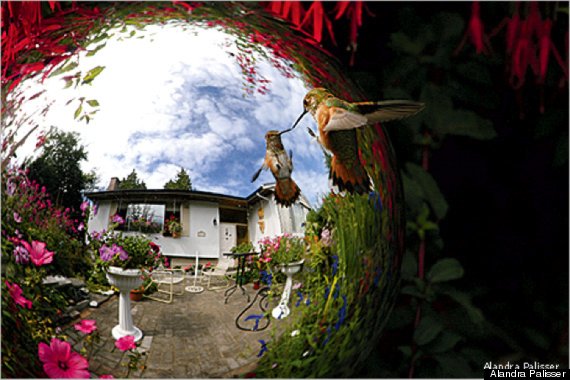 Alandra Palisser, Delta, British Columbia, Canada
Concealed inside her house behind a hanging basket in the window, Palisser photographed a rufous hummingbird "fascinated by its own reflection in a mirror ball, which it thought was an intruder in its territory." Palisser's yard is a haven for hummingbirds and other wildlife, filled with native plants such as bee balm, multiple nectar feeders and several water features, including a small lily pond containing a fountain. "Watching the birds gives us much pleasure," she says.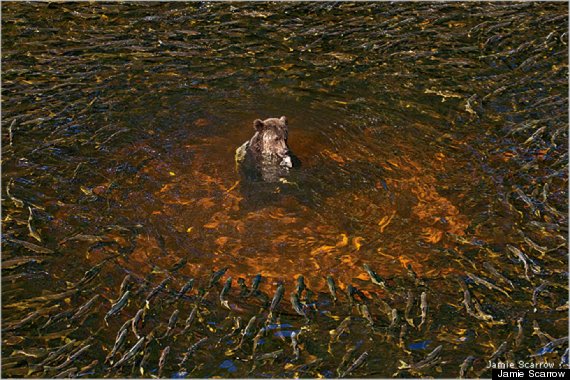 Jamie Scarrow, Nanoose Bay, British Columbia, Canada
Surrounded by salmon, this young grizzly still was having trouble getting enough to eat. The bear sat down in a pool in British Columbia's Knight Inlet, where "the water was just too deep and the fish too aware of its presence," says Scarrow, who captured the scene from a viewing platform directly above. "It's rare to have nature arrange itself in such an organized manner," he says, adding that the bear later moved to shallow water where it had better luck.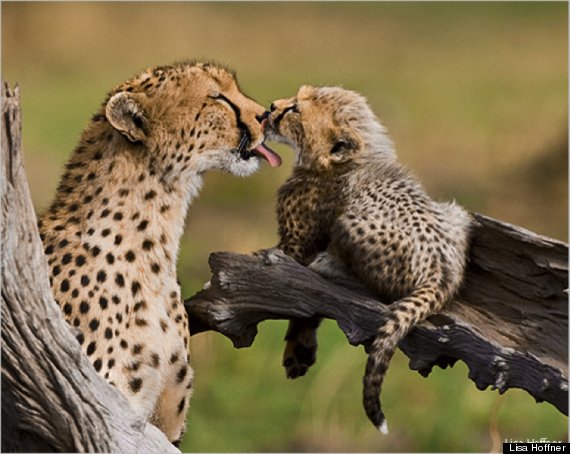 Lisa Hoffner, Los Gatos, California
While on safari in Kenya's Masai Mara National Reserve, Hoffner's vehicle hit a large rock and got stuck. Lucky for her, four cheetah cubs happened to be playing on a log nearby. After the three grew tired and lay down to rest, this cub "climbed to the top to get to eye level with its mom," she says. "They proceeded to gently groom one another before retiring to sleep in the shade."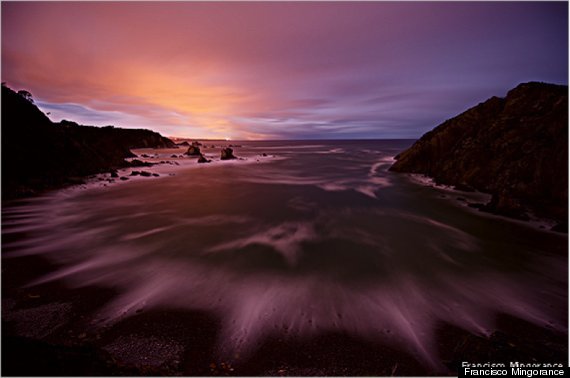 Francisco Mingorance, Almuñécar, Granada, Spain
Located near the village of Castañeras, the Beach of Silence is "probably the most beautiful beach in western Asturias, Spain," says Mingorance. To capture this "star" of sea foam on the shore, he photographed the scene during low tide at night using a long exposure. Lights from the village and a lighthouse shine in the background. "After getting this image, I have visited the beach many times," says Mingorance, "but I've never seen this star with the same perfection."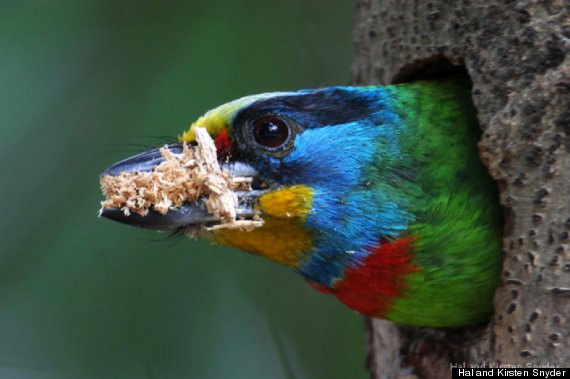 Hal and Kirsten Snyder, Shanghai, China
Visiting Taipei, Hal and Kirsten Snyder spent several hours observing this endemic Taiwan barbet dig out its nest hole in a tree. "Fascinated, we watched as the colorful bird removed large mouthfuls of woodchips and scattered the rubbish in the wind," recalls Kirsten. Based in China for a few years, the Snyders travel frequently to take photos of wildlife. The barbet, which locals call "the five-colored bird," "is one of the most beautiful birds we've seen in Asia," Kirsten says.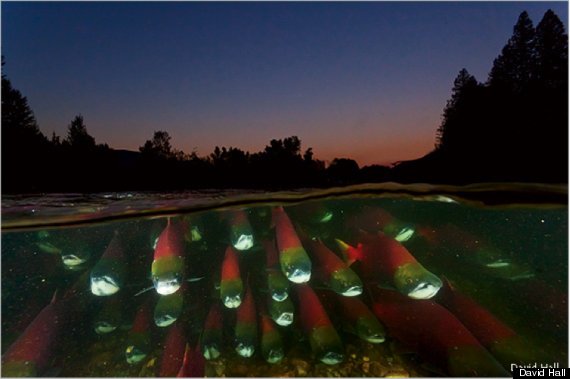 David Hall, Woodstock, New York
Hall waded into British Columbia's Adams River to photograph migrating sockeye salmon during October 2010, the largest run of these fish in a century. Battling a swift current that was wreaking havoc with his equipment, he sought refuge beside a large tree trunk. "I pointed my camera downstream," Hall says, "and on the back of the camera [its LCD screen] saw a virtual wall of sockeye facing me just inches away." Meanwhile, the setting sun turned the sky purple and pink, while his flash lit the water beneath the surface. "I began to photograph and did not stop until the light had all but disappeared," Hall says.
Enter the Contest
National Wildlife Federation is accepting submissions for the 2013 photo contest. Submission deadline is Monday, July 15, at 11:59 p.m. ET, US.
You don't have to be a professional photographer to participate.
The contest has seven categories: Baby Animals, Birds, Mammals, Other Wildlife, Landscapes and Plant Life, Backyard Habitat and Connecting People and Nature. There is also a People's Choice Award voted on by visitors to the website, as well as a separate Youth Category for photographers age 13-17.
Last year, photographers from all over the world entered more than 28,000 images in the competition, and the public cast more than 457,000 votes online for the People's Choice Award.
You can enter the contest or simply view this year's entries at the National Wildlife magazine photo contest website. Visitors to the site can view all entries, vote for their favorites and share them with family and friends through Twitter and Facebook.
Popular in the Community