In the world of Instagram, food obsessed feeds are stacked full with plates smothered in pasta swirls, burrata blobs, candlelit cocktails, stacks of towering sandwiches, fancy avocado toasts, mountains of macarons, squid and sushi platters, oozing egg yolks, rainbow sprinkle donuts, and the ubiquitous ice cream cone.
One's runny #yolkporn is another's #foodporn in the hashtag-hungry land of #instafood. It can be overwhelming to look at so many posts of delectable dishes. Sometimes it's a huge virtual bag of potato chips, loaded cheese fries and sloppy burgers. That's when I check in on a few favorite visual feeds for fresh culinary inspiration.
Some of the most interesting Instagram #food photos are taken by the busy hands of chefs while they are in the midst of running a kitchen, trying out new recipe ideas, or traveling through the culinary sights, eats and plates of other countries. (Sometimes they travel in pairs and ride on animal swings in Vietnam together.) Not only do you get to see what's happening in their kitchen, but you also get a peek on their personal lives and what inspires them to cook: a walk through a wet market in Vietnam, eating street food in Saigon, foraging for mushrooms in France, and preparations of exotic fruits and seafood in Australia.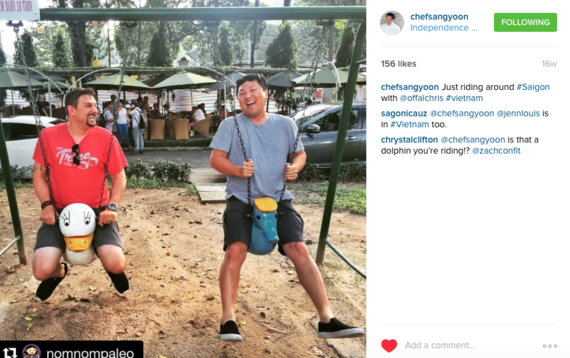 Scrolling through one chef's account, for instance, our eyes are dazzled by luxurious platings of caviar, egg yolks, crispy pork belly, foie gras terrine, scallion buttermilk biscuits, brioche French toast. Another chef shares a video of wriggling abalone, handmade colorful tortillas in the Yucatan, and curiously beautiful dessert creations made with wild blackberries and currants.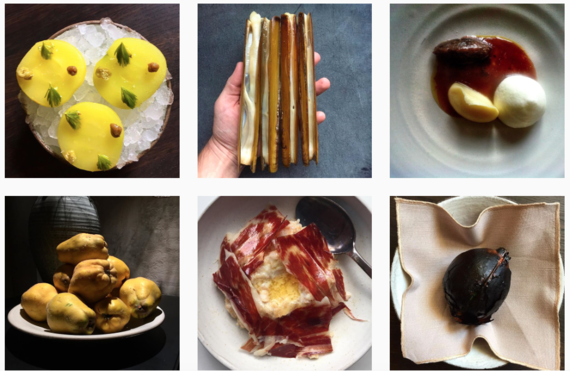 photos by @reneredzepi Instagram screen capture
We can see the culinary world from the chef's point of view. Of course, you can glance through without need of a green juice cleanse, as eating with your eyes is guilt free. Here are 15 chefs to tempt and tease your vicarious foodporn fantasies: