As a social media platform, Instagram can be incredibly effective when it comes to generating engagement and developing brand recognition. The social media channel is actively growing, and has recently made advertising options available to all. Integrating Instagram into your brand's strategic marketing approach may be just what your company needs to strengthen its brand building, reach a wider audience, and produce significant business growth.
To better grasp how Instagram advertising works and decide if it's a fit for your brand's marketing strategy, consider the following insights:
Who Is On Instagram?
According to a Pew research study, 26% of all US internet users are on Instagram, totaling approximately 400M active monthly users globally. These numbers are up 17% from 2013 and are still growing.
When it comes to gender, there is a pretty equal balance of male to female users. Those below age 30 are the fastest growing group on the platform, making up 53% of the user base. 25% of users fall into the 30-50 age range, 11% are between the ages of 50-64, and only about 6% are above age 65.
What Types of Businesses Should Advertise?
Overall, any B2C company that is either trying to build brand awareness or sell products directly from Instagram should consider taking their marketing initiatives onto the platform. The visually-engaging social channel is undoubtedly one of the best for showcasing product photos, helping to familiarize potential customers with your company and its products. For B2Bs, where Instagram may not seem like an obvious choice, if your target audience is active on the platform, it may be just the communication channel you need to reach them. Aside from generating sales, Instagram can be an excellent platform for recruiting and showing highlights of company culture and what goes on "behind the scenes."
How Does Marketing on Instagram Work?
Instagram operates on a cost-per-click (CPC) basis, meaning that you only pay once the ad is clicked on by a user. This advertising plan allows you to keep costs aligned with your budget. The bids for clicks are a bit more expensive than those on Google AdWords or with Facebook advertising, however the competition is much stronger from a consumer standpoint.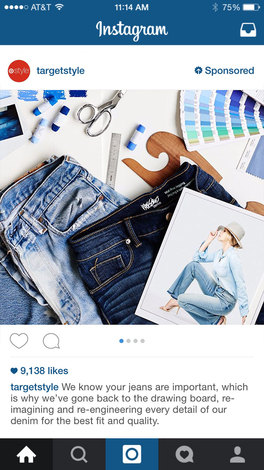 Overall, the platform generates high engagement rates, so click-through-rates will subsequently be higher as well! The more that users are engaging with your brand on Instagram, the more likely they will be to recognize your company and make a purchase.
How Can I Target My Users?
When you set up your account, you're allowed to select certain demographics for targeting your ads. Based on Instagram behavioral data, as well as Facebook demographics, you can really hone in on specifically who you want to reach. Target based on factors such as geography (all the way from country down to zip code), age, gender, profession, accounts that users follow or frequently engage with, and relevant hashtags This tactical approach provides your brand with exactly what it needs to tailor content that is going to users based on what their interests are.. By using this data to find your unique customers or potential customers on Instagram, you'll be far more likely to generate conversions and engagement because of relevancy.
What Kinds of Formats Are Available for Ads?
Regardless of your brand or industry, there's likely an ad format that is suitable for your content and for your audience, all the while remaining consistent with the look and feel of any organic post on Instagram. Sponsored ads are available for photos that you want to drive user engagement on and increase the comments and likes that the photo receives. Essentially this option is promoting your post to reach more people.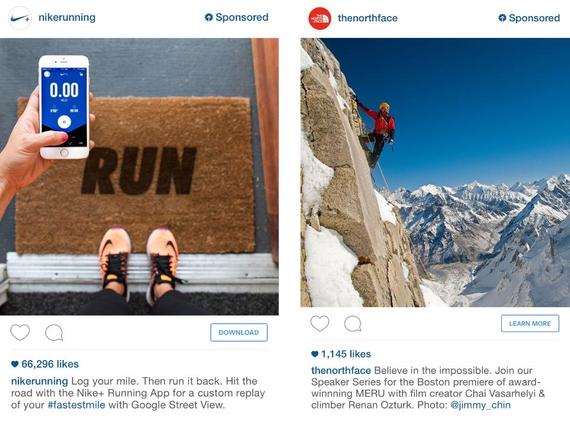 Direct-response ads are available and appear as clickable posts in a user's feed as they scroll through program, taking the customer directly to purchase page or whatever landing page you want to generate traffic to. Choose from compelling calls-to-action like "shop now", "install", "sign up", or "learn more". These posts won't show up on your company's Instagram page and will only appear actively in Instagram feeds for those you're targeting. Ads are available in carousel formats where you can choose up to four photos to include, allowing you some flexibility as you increase the effectiveness of your campaigns. If you have an event or want to promote something for a shorter-duration of time, but more intensely, there is an option that allows you to do so. If you want to try video advertising, 30-second video clips can be used the same way a regular photo would be on the platform.
What Should I Do Now?
If you're considering Instagram advertising or want to find out more to see if it's a fit for your company, do some research, take a look at the resources that Instagram offers for businesses, and review campaigns that other companies have succeeded with. Schedule a visit with experts at a digital agency that specialize in these offerings and can help you craft the right strategy to move your brand forward with this initiative.
Popular in the Community