I went to see a DanceNOW showcase of emerging artists this month held at New York University's Tisch School of the Arts. I was not going to photograph the showcase -- just see some new work and meet some new people. But whenever I watch dance, I see pictures, and I wanted to shoot.
I just started playing with Instagram, and I thought it would be a fun challenge making some dance photographs with the app. Shooting with Instagram on the iPhone is far from an ideal way to capture dance. Especially the way I like to capture it. I like to use two cameras with both wide lens and long lens at the same time. I like having the freedom to move around the theater if need be. With my digital cameras I can shoot hundreds of images very quickly without reloading and without any delay on the trigger or delay in the capture processing. I can keep shooting and make choices later in the editing room.
From the seat I was in at the showcase, there was a host of challenges I would face. So I decided I'd make it a fun game for myself.
Limited movement for camera location
Strong graphic elements in background (trim on the wall and distinct architecture of the ceiling)
Slow shutter speed
Delayed shutter trigger
Backlit from only one light source and a left-side window
I had never seen these works before (although I'm used to that)
Square frame format (I'm used to the rectangle format of the 35mm)
Only allowed to upload 1 image per dance
The image must give a feel for the choreographer's work
Once I captured and uploaded one image, I couldn't shoot any more of the same dance. So I was gambling on every piece wondering, "If I choose this picture, will I miss something really fantastic that I haven't yet seen?" I wanted to capture a variety of shots, too, so I was hoping to capture something unique in each piece. There were two pieces where I took image after image and kept hitting delete instead of upload, thinking I could make a better shot or a more interesting moment was coming. I erased a few good shots and ended with NOTHING! So frustrating.
All in all, it was a fun game, and I'm looking forward to a chance to try it again. Did I win this round? You be the judge.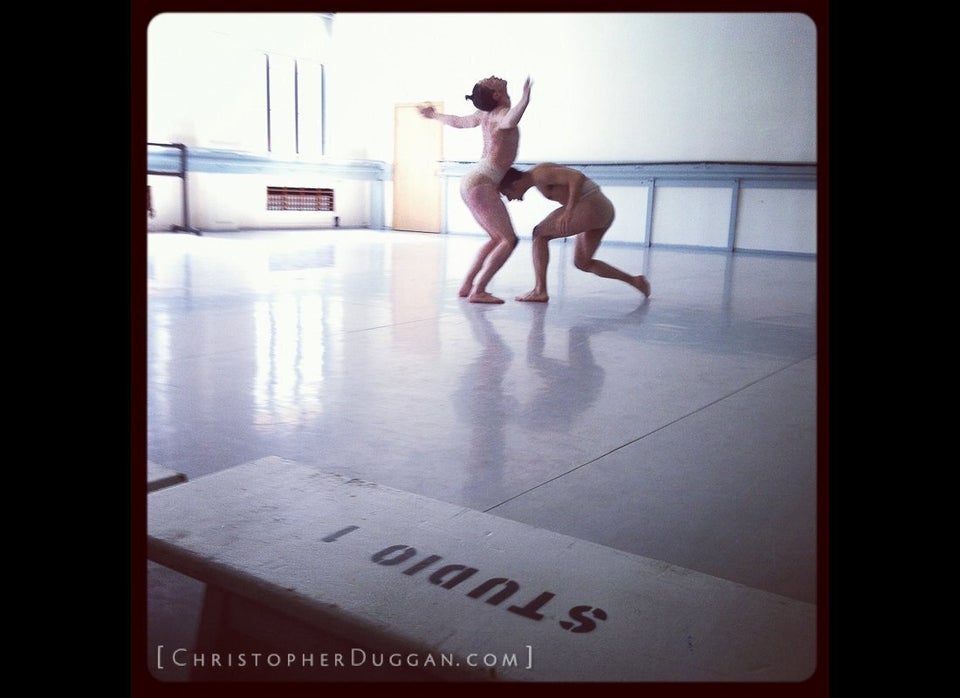 Dance Photography with Instagram