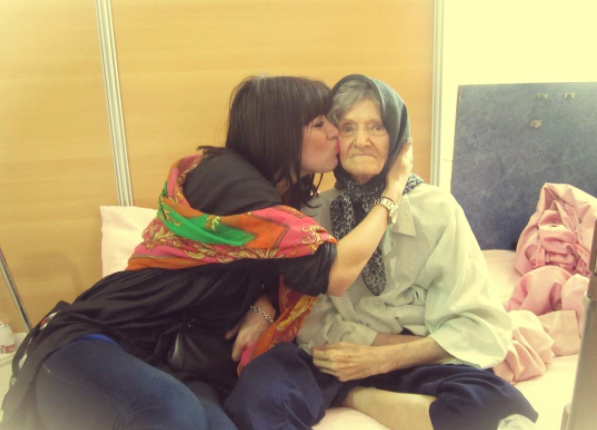 And on June 30, a powerful — and adorable — Instagram account was created to protest it.
"Banned Grandmas" posts photos of grandparents from six Muslim-majority countries affected by the ban ― Iran, Libya, Somalia, Sudan, Syria and Yemen.
Under the new restrictions, nationals from these countries can only enter the United States if they have a "bona fide" or close relationship with a person or entity in the country.
Among the family relations the government considers "bona fide" are parents, children and siblings. Grandparents, grandchildren, aunts and uncles are not included.
"It almost seems malicious that grandparents are part of the travel ban as they are often elderly and vulnerable," Holly Dagres, an Iranian American analyst and curator of "Banned Grandmas," told HuffPost. "I don't think we ever had a terrorist attack committed by a senior citizen."
A friend of Dagres, who would like to remain anonymous, started the account "Banned Grandmas" to keep up the momentum, and Degres decided to help.
"We thought it was important to keep it going," Dagres said. "When hashtags go viral, they are often popular for a week or two at most. By using Instagram, we are able to keep the interest and remind people that the travel ban is ongoing, since it will pop up on followers' feeds."
The account's first post was of Dagres and her late grandmother. Since then, photos have been added daily, and include some really, really, cute Nanas.
Their preciousness highlights the absurdity of the ban's new guidelines.
"While the travel ban aims to be a preventive measure against terrorism, none of the six Muslim-majority countries have had a national commit terrorism on U.S. soil since 1980," Dagres said. "In fact, most terrorist acts on the United States are committed by American citizens."
Dagres added: "Many of these grandparents don't have an interest in uprooting to move to the United States. They just want to visit their loved ones and attend special occasions."
"Banned Grandmas" has attracted a fair number of trolls in comments, Dagres acknowledged. But for the most part, the Instagram has received overwhelming support. And Dagres, also the creator of the Iranian-based newsletter, "The Iranist," thinks she knows why.
"Everyone has a grandparent," Dagres pointed out. "It's hard not to look at a photo of one and not feel sympathy. We owe a lot to our grandparents. They are the keepers of family traditions, history and recipes. The only thing they are ever guilty of is feeding us too much and giving too many hugs and kisses."