If you take a quick look at the data, you might think that the winner of the race to own social media is Snapchat.
Piper Jaffray's biannual "Taking Stock With Teens" survey reports that Snapchat is now the most popular social networking service among the teen set by far.
But the real story — and the one that matters for storytellers and marketers — is what's happening at Instagram, especially Instagram Stories. Over 200 million people use Instagram Stories each month, which is over 50 million more than those who use Snapchat, as reported in Business Insider. Instagram usage has doubled in the last two years.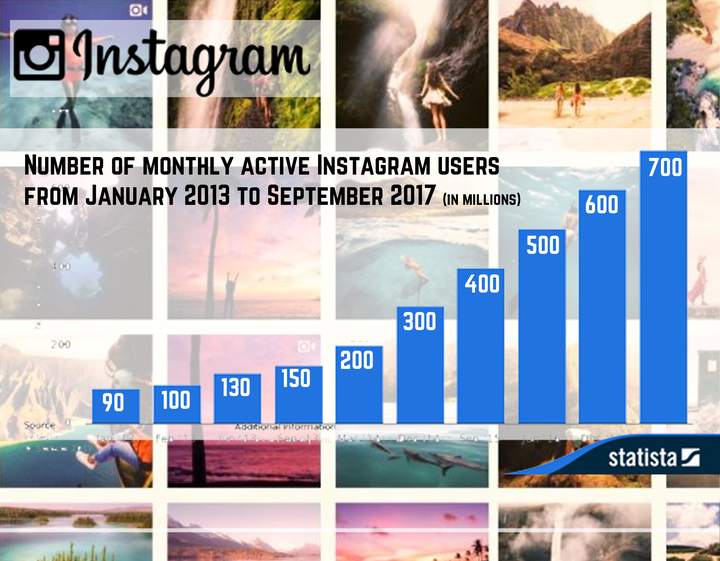 Facebook is no longer the place for young people. Twitter has failed to grow followers significantly in 2017.
So what can we learn from the growth of Instagram?
While Twitter, Facebook, and even Snapchat are the Wild West of social media, Instagram has created what is almost an alternate reality.
According to a Variety article, "The company strives to create a safe, happy environment." Instagram's CEO Kevin Systrom told Variety: "People say Instagram is super positive and optimistic."
And a quick look at 2017 statistics provided by the Instagram prove that point in dramatic fashion.
#love
#fashion
#photooftheday
#photography
#art
#beautiful
#travel
#happy
#nature
#picoftheday
According to Brandwatch, Instagram now reaches an average audience of 500 million people on a daily basis in the third quarter of 2017, more than double that of Snapchat or Twitter (each has fewer than 200 million daily active users).
Beyonce's maternity photo garnered 11 million likes, making it the top "like" count for the year so far.
And Instagram is a global community, with the most-Instagrammed cities of 2017 coming from around the globe:
New York
Moscow
London
Sao Paulo, Brazil
Paris
Los Angeles
Saint Petersburg, Russia
Jakarta, Indonesia
Istanbul, Turkey
Barcelona
75 percent of Instagram users are outside the U.S., with just 17 percent of desktop traffic to Instagram coming from the United States, according to Brandwatch. Ninety percent of Instagram users are younger than 35. Thirty-two percent of U.S. internet users are now on Instagram, and Instagram now has 800 million monthly active users.
And celebrities that fit into the Instagram vibe Instagram's "nice" digital environment are growing fans as well.
Accounts with the most-viewed Instagram Stories of 2017:
LeLe Pons (@lelepons)

Neymar Jr. (@neymarjr)

Olga Buzova (@buzova86)

Kim Kardashian (@kimkardashian)

Amanda Cerny (@amandacerny)

Chiara Ferragni (@chiaraferragni)

Maluma (@maluma)

Anitta (@anitta)

Ariana Grande (@arianagrande)

Kourtney Kardashian (@kourtneykardash)
And it's not just humans who are connecting with the Instagram community. The most-followed pets on Instagram in 2017 include cats, dogs and even a fox:
jiffpom (@jiffpom) – Pomerian, US

nala_cat (@nala_cat) – Cat, US

Doug the Pug (@itsdougthepug) – Pug, US

Marutaro (@marutaro) – Shiba Inu, JP

Grumpy Cat (@realgrumpycat) – Cat, US

Marnie the Dog (@marniethedog) – Shih Tzu, US

Tuna (@tunameltsmyheart) – Chihuahua, US

Juniper&Fig (@juniperfoxx) – Fox, US

Lil BUB (@iamlilbub) – Cat, US

Loki (@loki_the_wolfdog) – Husky, US
Instagram is a dreamscape of our lives: airbrushed, art-directed, photo-filtered images. We're all somewhere amazing, doing amazing things, and looking perfect.
In a world of digital overload and looming global issues, Instagram provides a warm, safe, inviting view of a somewhat aspirational world. Oh, and advertisers like that, too.
Popular in the Community