For our Night We Met series, we're asking engaged or married couples to tell us their version of the day or night they first met. Have a good story to share? You can send it to weddings@huffingtonpost.com. Each partner should send us one paragraph telling the story from his/her perspective. Meet our latest couple below!
Robin Coe and Matthew Fleming met on Instagram in 2011 while she was living in Toronto and he was living in San Francisco. It was Christmas time and Coe was posting many snowy photos on her account. Meanwhile, Fleming -- who grew up in Wisconsin -- was missing that wintry holiday season feeling and started "liking" her photos. Those "likes" turned into e-mails, texts and Skype marathons. Three months later, they met in person for the very first time... but more on that later.
Fast forward to May 1, 2013 when Fleming got down on one knee outside of Young's Market in Kensington, Calif. and popped the question. Coe, of course, said "Yes!".
Ten days later, they tied the knot in a simple garden wedding behind Fleming's Kensington apartment in front of a small handful of people including a pastor, a singer, two videographers, a photographer and Coe's childhood friend.
Find out more about their first in-person meeting below:
The first time we ever saw each other in person was at Toronto Pearson airport. This was after months of long-scrolling emails, marathon Skype sessions and countless text messages. By the time we agreed to meet in person, we'd already talked about so many big things and we could always make each other laugh. So I had no doubt we'd get along. And even if there was a possibility it might be kind of awkward, Robin made it a chance worth taking.

The flight from San Francisco to Toronto isn't terribly long, but it's long enough to be left alone with your thoughts. Whatever nervousness I experienced was drowned out by conversations with strangers and laughing to myself about the times I imagined Robin and I were about to have. I was wearing a Canadian t-shirt that Robin had sent me for my birthday -- bright red with a maple leaf on the chest. Dorky, I know, but I was excited! Once I landed, it took forever to get through the concourse, then customs. All I could think of was this girl waiting for me all cool and nonchalant. But we never get those things right in our heads, because when I finally found Robin, she was so shy she couldn't even make eye contact. I found it hilarious and she even has the photo to prove it. She snapped it moments after we said hello, mid-laugh.

We awkwardly made our way to the bus, which we managed to miss even though we were standing right there at the stop. I think that was our first little icebreaker. It didn't take any time at all for us to be great together, adventuring around Toronto and picking up right where we left off online. We had a week of Blue Jays baseball, outdoor beers, day-long walks, and late-night talks. We did so many things, trying to make the most out of our time together. But honestly, it would have been alright if we had done absolutely nothing. As soon as we said goodbye, I knew I would be back for her.
I woke up that morning with butterflies in my stomach and by "butterflies," I mean wild nausea. After meeting on Instagram three months earlier, Matt and I had been emailing, talking, or text messaging pretty much every second since. One Skype video chat lasted over THIRTEEN hours. Clearly there was something special happening, but I had no idea if our digital chemistry would translate in real life. I was scared that if our meeting didn't go well, I would lose an incredible friend. And I was scared that if our meeting did go well, we couldn't possibly survive a long-distance relationship spanning 2,500 miles.

I took the subway and then the bus from downtown Toronto to the airport where Matt would be flying in from San Francisco. By the time I reached the double doors marked "Arrivals," the anticipation was out of control. I buried my nose in my iPhone, texting furiously with my friend, Melissa, in an attempt to ease the tension. I even scrolled through all the songs in my iTunes, furiously smoothing my bangs and applying lip balm all the while. Honestly, I have no idea what I was doing -- just anything to stop myself from staring at those double doors,.

When he finally emerged, I was playing it so cool (well, as cool as one can be with shaking hands and the ever-present threat of public vomit) that poor Matt had to stick his face right in front of mine to get my attention. We hugged and I laughed with relief and disbelief and every other feeling I think I've ever felt in my life. As we untangled, I couldn't meet his eyes so I did the only thing I could think of to do: I snapped his photo with my iPhone -- a photo which, of course, I later Instagrammed.

Did I know that Matt would be my husband during those first shaky moments at the airport, when I was so nervous that I literally did not make eye contact until well after we got back to my place? No, honestly I didn't. I could hardly think straight. But days later, as we sat in a food court, eating lunch like two people who'd known each other forever, I did know. A voice spoke calmly and clearly, right inside my head -- a voice I'd never heard before and haven't heard since: "This is the person I'll marry."

I'm so happy we both listened.
Check out the slideshow below for photos of the adorable couple throughout their relationship.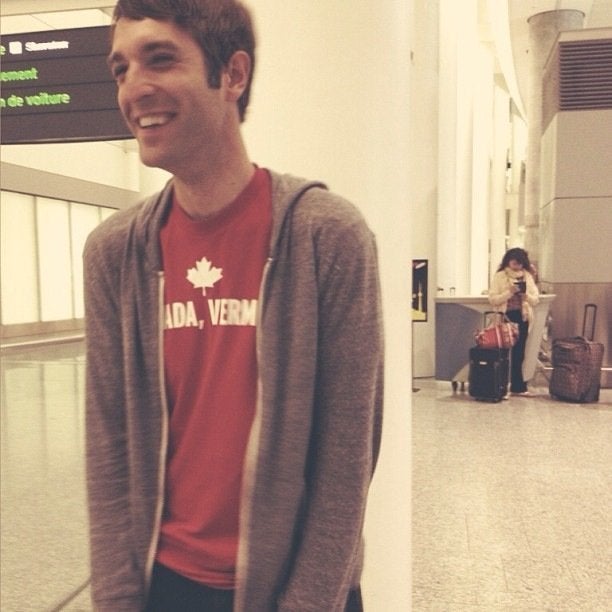 Robin & Matt
Popular in the Community