Instagram's safe spaces just got a little safer.
Instagram (along with other social media platforms, like Tumblr and Twitter) has become a space for both organized and individual self-expression. Communities that focus on issues like body image, eating disorder awareness and mental health have flourished on the platform. Now Instagram wants to keep these spaces intact (and arguably make them even more meaningful and effective) by identifying people who need help beyond a positive hashtag.
The platform has created new tools to identify such users and connect them with the appropriate resources. For example, Instagram is launching a support button, which will pop up when a user searchers hashtags or terms that are associated with self-harm. If a user indicates that they need further support, she or he will be connected to specific helplines, tip pages and even other friends on Instagram.
If users search terms related directly to self-harm or suicide, they will be redirected to a help page. Additionally, if a friend notices a concerning post, they can anonymously report it to Instagram. The person who posted the flagged content will receive this message: "Someone saw one of your posts and thinks you might be going through a difficult time. If you need support, we'd like to help." That user can then choose to be directed to a help page or "skip" the message. 
Instagram will have teams working 24 hours a day to review these reports in order to prioritize and respond as quickly as possible.
Below is what a user will see if a friend flags a posts as concerning.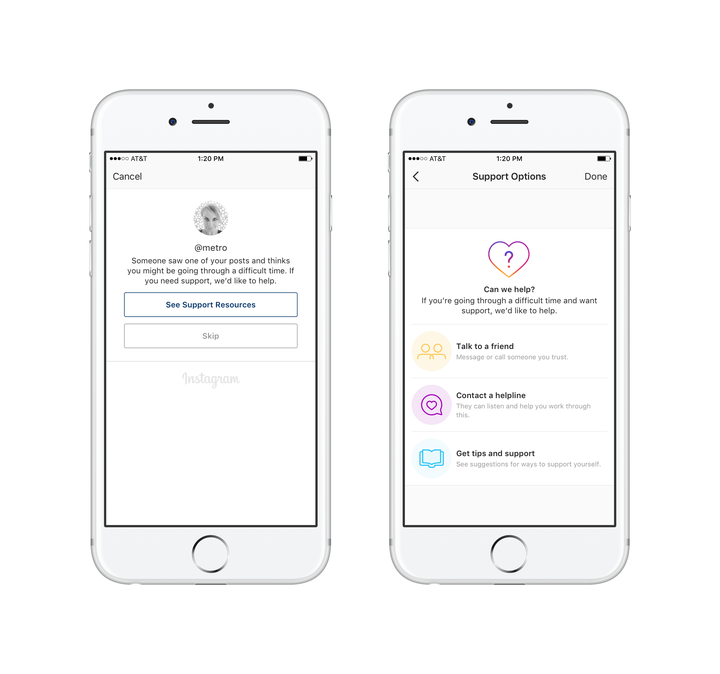 Below is what a user will see if she/he searches a hashtag or term related to self-harm.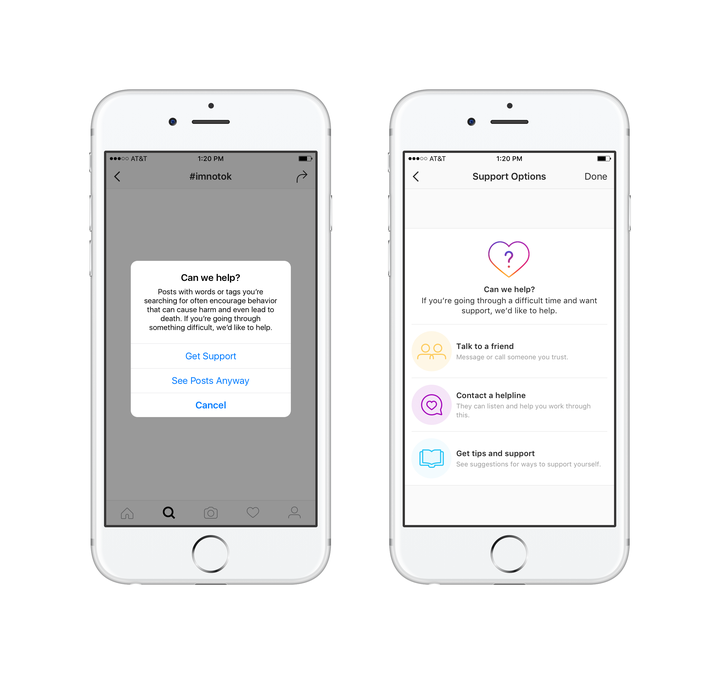 In addition to launching these tools, as part of their partnership with Seventeen, Instagram hopes to actively promote positive body image and self-love using the hashtag #PerfectlyMe. Users can post photos of themselves with the hashtag to show their support for body positivity and self-confidence.
COO of Instagram, Marne Levine, explained to The Huffington Post why this initiative is so important to young women specifically.
"Young women and teens, especially, have so many incredible stories to tell," she said. "We want to make it easier for them to do that and to build a platform where they are surrounded by a community that celebrates and supports them."
Levine added that keeping the platform ― and the communities that have formed on it ― safe and positive is one of the most important goals for Instagram. 
"Instagram is where people go to tell their visual stories," Levine said. "It is important that they feel safe and comfortable and have control over what they share. When people are able to be open and honest, they can find incredible communities of support on the platform."
Scroll below to see a few #PerfectlyMe images.
Head over to Instagram to see more images from the #PerfectlyMe hashtag.
Calling all HuffPost superfans!
Sign up for membership to become a founding member and help shape HuffPost's next chapter
BEFORE YOU GO
PHOTO GALLERY
Refinery29's 67% Body Image Project