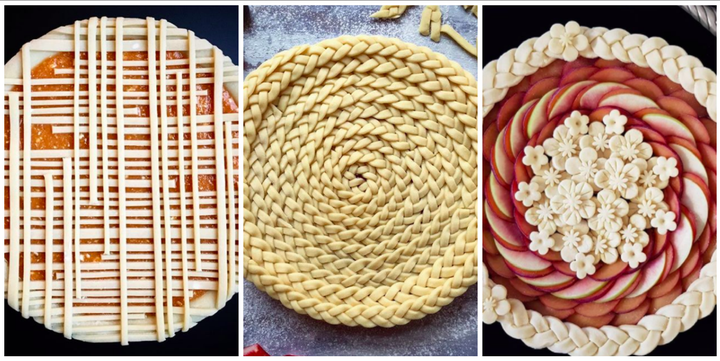 Social media has given us a bottomless thirst for symmetry, beauty and unattainable perfection, and one medium in particular speaks to that desire. It comes in the form of something one might call Instagram "pie porn."
It's the art of taking beautiful photos of perfectly made pies, which admittedly sounds delightfully easy. But calling it easy would be doing its creators an injustice. While bakers may be kind souls by nature, bakers who bake for Instagram are also forced to battle some truly weird demons of both science and social media varieties.
A growing number of Instagrammers have mastered pie art, each acting as architect, baker, stylist, photographer, social media manager and justice defender of every pie they post. In their world, design is everything and the actual content of the pie plays a more ancillary role. And there's nothing wrong with that, especially in a social media matrix that's littered with much more dangerous ― and Facetuned ― varieties of unattainable beauty.
The first signature of pie porn is a bird's-eye-view photo. The second is precision, with not a berry or a fleck of flour out of place. Other signs are varied: Sometimes you'll see freakishly perfect braids of dough that you'd think only tiny elves could weave. Other times you'll see impeccable geometric patterns worthy of a Frank Lloyd Wright blueprint, or miniature forest scenes in which every last twig and leaf has been painstakingly carved out of dough.
But here's where things get sticky. Often, the most beautiful photographs of pies are taken before they've been baked, and something about this really bothers people.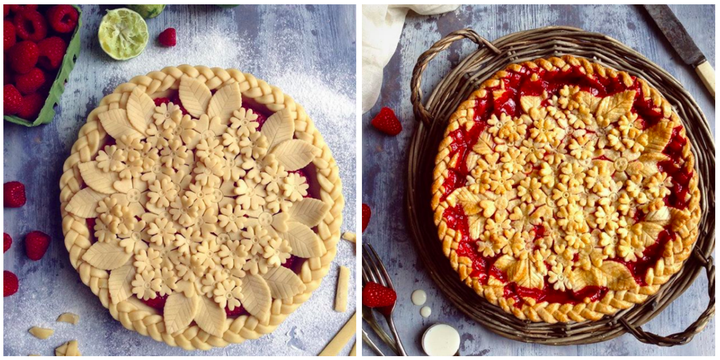 People want to see a "before" and an "after."
"You've touched on a 'contentious' topic in the Instagram pie community," Lauren Ko explained in an email to HuffPost. Ko is a pie 'grammer from Seattle who runs @lokokitchen, which now has more than 129,000 followers.
"When I first started out with my Lokokitchen account, so many people tore me to shreds because I didn't always post baked photos," Ko said. "I initially started the account purely as a holding place for my food photos with no intention of it becoming a 'thing,' and I was really in the pie scene for the design aspect. So it was jarring to receive really angry messages from people as well as to see Reddit threads with comments full of people discussing how I was a fraud, etc."
To some degree, readers' distrust isn't completely unfounded. The heat of an oven can spell disaster for an intricate crust design, making dough weep into an ugly mess that looks nothing like the "before" photo. (If you need proof, take a look at the recently created Instagram account @piesgoneawry.) This complicates things for Instagram's best pie makers, who are expected to be flawless at every turn.
Jo Harrington, the London-based baker behind the account @jojoromancer, explained to HuffPost that her pies aren't necessarily meant to be both aesthetically perfect and recreateable.
"I consider what I do to be art," Harrington said. "It's more about showcasing creativity and producing a nice picture that people can look at and hopefully enjoy. ... I sometimes see stunning 'before' photos that I know 'won't bake.' I simply appreciate them as beautiful images. I don't consider that the creator owes me, as a viewer, anything."
"It's strange to me how some people get so frenzied and want to call out that they don't think the pie will look nice baked."
Harrington is a rare Instagrammer who makes it a point to post a "before" and an "after" for almost every pie she bakes, but it's a decision she struggled with.
"I'm a bit conflicted," Harrington explained. "There are times I think it might be better to only post the 'before' pics, as that subtly indicates that it's not real life. By posting the 'afters' I recognize that people may look at what I do and think that it is achievable by the average hobby baker, when the reality is that they may find it quite difficult."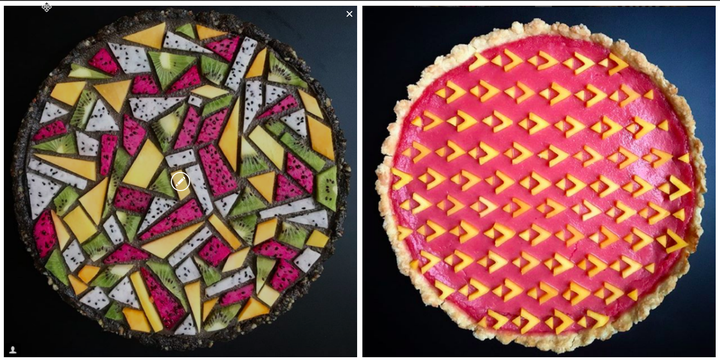 Ko selects her photos for @lokokitchen from a purely artistic standpoint, making her decision much simpler.
"Since I'm drawn to all of this for the design, I prefer the precision of the pre-bake photos for aesthetics," Ko said. "Since Instagram is such a visually-driven platform, I think the pre-bake photos are more appealing."
When an "after" photo of a baked pie isn't posted, it doesn't necessarily mean the pie didn't turn out.
Real life happens to pie bakers, too.
"To be honest, sometimes the pie is eaten before a photo can be taken, or all the natural daylight is gone by the time a pie has finished baking," Ko said. "Sometimes there are other factors that play into why the finished product isn't always featured."
Food stylist Judy Kim of @judy.kim echoes the sentiment that it's tough to shoot a baked pie before it's eaten. "I prefer the pre-baked pie mostly because there is a chance that the baked pie is going to get eaten before it gets photographed!"
But yeah, sometimes it just didn't work out. See: "Fruit-splosions."
"Pie is a fickle mistress, and we all have pie disasters," Harrington said. "It's to be expected and is part of the learning process."
Science can wreak havoc on a pie, as any baker knows. Temperature, moisture and elevation always play a large role in baking, but so do the ingredients.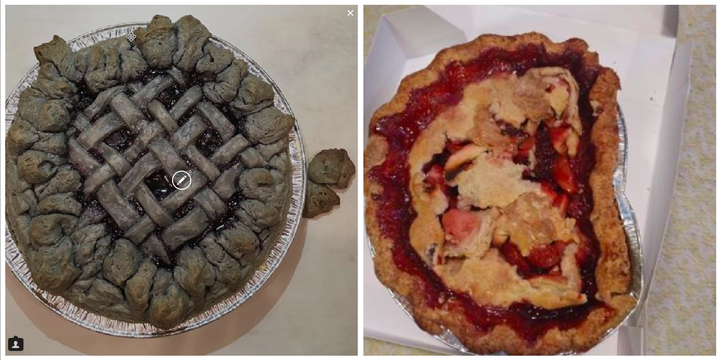 "I really like to bake with fresh fruit, and that adds another complicated variable," Harrington explained. "If my fruit just happens to be extra juicy, it can lead to a fruit-splosion. And when I've spent hours on a very complicated design, having it become submerged in fruit juice halfway through baking can be a bit trying."
"Probably only half of the pies I make find their way on my feed."
Here's what the pie pros have learned about making near-perfect pies.
"I have found that the golden rule to pie is to always keep everything cold. Make sure the butter is cold when making the dough. Make sure the dough chills thoroughly before rolling out. Make sure the entire pie is thoroughly chilled once it has been assembled and before baking. These aren't a guarantee by any means, but keeping things cold at every step goes a long way." -- Ko
"If it's a custard-based pie shell, I will freeze the pie dish solid, even overnight. It reduces the chance that the pie will lose its shape and prevent any overhanging pieces from sinking into the custard filling during baking." -- Kim
"The first thing when making the pie is to think about it structurally. If your filling is raw fruit and there are lots of gaps between the pieces, the fruit may collapse into those spaces, leaving nothing to support the top crust (which will then sink in)." -- Harrington
"It's also really important to ensure that your pie has lots of time to chill and 'set' before you put it in the oven. For instance, I use lots of egg wash to glue pieces of pastry together. If I let it rest for 10 minutes after gluing it together, it's much more fragile than if it's had a couple of hours in the fridge, as the pastry hasn't bound together." -- Harrington
No matter how you look at it, remember that these pies come from a place of love.
Psychologists acknowledge that baking for others is altruistic. Through all the grief and struggle, these Instagrammers make their pies from a place of great love and patience. And they do see positive rewards.
"The internet can be a funny conductor of perfect storms sometimes," Ko said. "But the response to my pie photos has been overwhelmingly positive, so I'm very grateful!"
"What we're doing is fun and it's important to remember that," Harrington said. "I started this project out of a very simple love of pie and want to encourage people to appreciate homemade pie and to attempt to make it themselves. And, I think to a certain extent, pie art is doing that ― it's raising pie's profile!"
Before You Go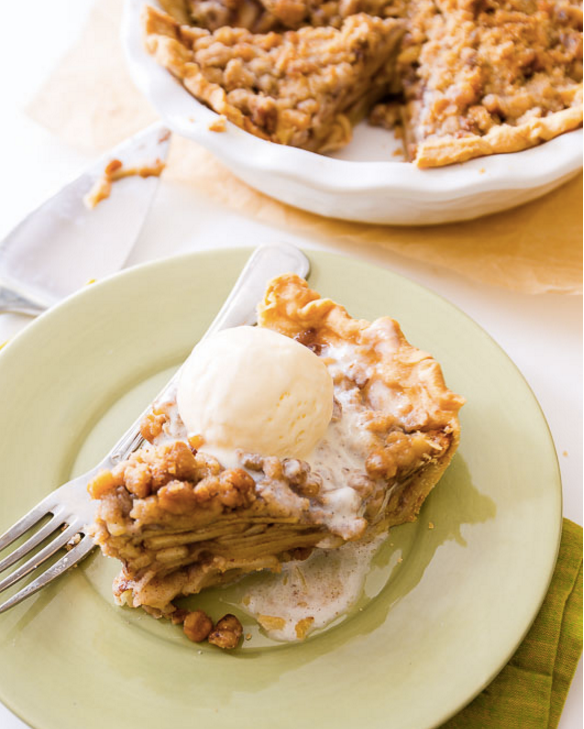 Apple Pie Recipes