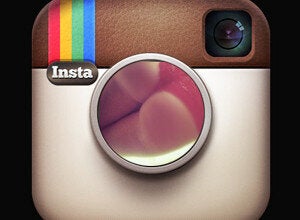 Instagram, the photo-sharing app that promises a "fast, beautiful" way to exchange images, has enjoyed an enviable reputation as the Eden of social networking sites. It's the place where 80 million people share picturesque, gently-tinted photos of bouquets, sunsets, spaghetti and cappuccinos. And it's a service Facebook paid $1 billion to bring into its fold.
But beyond the food porn that regularly tops Instagram's "most popular" list lurks an abundance of, well, porn porn.
Images tagged with terms such as "sextagram," "instaporn," and "handbra" summon up tens of thousands of images of genitalia and nude -- or nearly naked -- men and women posing provocatively in beds, in bathrooms, or with a partner in a similar state of undress.
The more graphic photos show people masturbating in front of the camera, while others might not look out of place in a Victoria's Secret catalog. There are 135,000 photos tagged "latte" and 201,000 tagged "Instasex." The hashtag "wet" has nearly twice as many images.
Instagram is being used not only as a way to exchange X-rated images, but also a place for sex chat partners to find each other, offering a glimpse at how cybersex has adapted to the social media age. Via photos, comments and hashtags, many Instagram members are inviting other users to join them for "KikSex" on the messaging app Kik, where individuals can chat privately or exchange nude photos.
"Woke up horny as hell!!!!! Girls who wanna play post a comment and I'll kik you," wrote one Instagram user in a post that included the tags "instaboner," "instac*ck," "instahorny," "instap*ssy," and "f*ckme." "Don't be shy. We can trade pics and have some naughty talk. Hit me up hotties."
The post received 17 "likes."
Instagram's adult-content alter ego comes as no surprise: the deluge of explicit imagery accompanies nearly every social network's transition to the mainstream. More users invariably means more sex, and the top three most popular social media sites in the U.S. -- Facebook, Twitter and Pinterest – as well as Tumblr, the tenth most popular, have all struggled to crack down on users whose X-rated postings violate their terms of service. In the past year, Instagram has grown from 10 million users to 80 million.
"Instagram has moved from a niche thing to something people have heard about, and that means it has a critical mass. Whenever you have a critical mass on the internet, the sex shows up," said Terri Senft, a professor specializing in global media at New York University's Department of Liberal Studies. "If something bills itself as non-pornographic then becomes that way, to me it's a sign that it's reached the public knowledge-base, and now it's solidly there."
"On Instagram, the community appears to be changing," Senft added.
The attributes that helped propel Instagram to social media stardom are the very same ones that make it so appealing to purveyors of soft-core pornography and people searching for sex-chat partners. The photo-sharing app puts photos front and center, allows for a degree of anonymity, and encourages public posts that help like-minded strangers find each other. The product's real-time stream of images and the ease with which it can be accessed on smartphones also ensures that users can connect at all hours of the day.
The explicit images run afoul of Instagram's terms of service, which prohibit "nude, partially nude, or sexually suggestive photos." But while Instagram can ban certain activity, it can't always police it. With just 15 full-time employees and over five million photos uploaded every day, Instagram depends on its users to report activity that violates the service's policies.
"We rely heavily on users to flag inappropriate content and we do our best to remove any media that we determine to be inappropriate," an Instagram spokesperson said in an e-mail. The app, which has always allowed users to report abusive photos, recently introduced a feature allowing people to flag inappropriate comments, as well.
Chauntelle Tibbals, a visiting scholar researching the adult film industry at the University of Southern California, argued that overly broad wording in Instagram's community guidelines leaves it vulnerable for explicit content.
"In terms of why we're seeing these [graphic images], it has a lot to do with sites like Instagram not being specific enough in their terms of service," said Tibbals. "They are more than allowed to decide what they do or do not want on their site, but I think it'd be easier to just define the terms of service in a clear way and people will use it in a way Instagram is more comfortable with, and we'd be done with it."
A failure to crack down on the "instasex" community risks tainting Instagram's rosy reputation and alienating users who came for tulips and landscapes, not KikSex and genitalia. Parents, in particular, could have cause for concern: Users as young as 13 years old can create Instagram accounts, and an Instagram username is all that is necessary to tap into the app's "sextagram" underbelly. Michael Sheehan, author of the HighTechDad blog, recounted how a friend of his elementary school-aged daughter was contacted by an Instagram user who asked her to chat with her on Kik. Once they were chatting, the individual "asked to see this child's privates," Sheehan wrote.
Once its acquisition of Instagram is complete, Facebook, with its thousands of engineers and billions of dollars, will no doubt help the photo-sharing service curb the pornographic postings. In addition to potential reputational repercussions, any "nudity" or "mature content" could jeopardize Instagram's access to Apple's App Store, which has strict modesty standards.
Though the sexual side of a social media site can be a turnoff for some users, companies' crackdown on the photos can spark -- and has sparked -- its own backlash. Facebook has repeatedly come under fire from users who allege its overly zealous censors inappropriately remove images of women breast-feeding, a nude statue, and a topless plastic doll. Tibbals noted that Facebook pulled down a page she created about her academic research because of its references to adult content.
Despite its lean resources, there are already signs Instagram is picking up on the pornography in places and booting at least some users from its service if they violate its terms of use. But there's always a way back in.
One Instagram account that posts images of pantless women seen from behind notes that its previous account was blocked. The new one is under the same name, with a few underscores. In its Instagram profile, it asks users, "please don't flag if you don't like."
Several Instagram accounts that regularly post suggestive photos to did not reply to requests for comment .
While the Kik user associated with the account RateSexyInstaPics declined to speak about his (or her) experience with Instagram, he (or she) followed up to ask this reporter if she wanted a "shout."
"On instagram," the Kik user replied. "U send me a sexy pic I tag ur name shout out to u and u will gain followers."
Support HuffPost
The Stakes Have Never Been Higher
Related
Popular in the Community