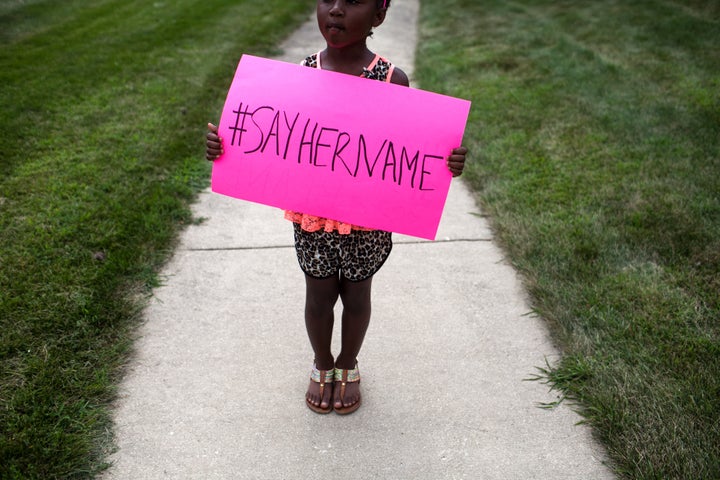 The week after Sandra Bland was found dead in a Texas jail cell after what appeared to be a routine traffic stop, her name started trending on social media.
Facebook users began sharing video of Bland's arrest and photos of the 28-year-old woman. Twitter users brewed a conspiracy theory that Bland's death, which authorities have said was suicide, had been staged by police.
But Instagram users who tried to post to the #SandraBland hashtag came up against a problem. Posts tagged #SandraBland weren't appearing on the hashtag's gallery page, prompting users to come up with their own conspiracy theory: Is Instagram censoring posts about Sandra Bland?
But Instagram said it isn't trying to censor users; it's trying to weed out hate speech.
When #SandraBland started trending heavily on Instagram -- the hashtag has accumulated more than 246,000 posts -- some people began posting racist, violent and threatening comments. To give the company time to sort through the posts and decide which violated Instagram's community guidelines, it "temporarily restrict[ed]" images in the hashtag's "Most Recent" gallery until moderators could catch up.
"Content in the 'Most Recent' section of a hashtag can be abused because the photos and videos that appear in that section are highly visible," an Instagram spokesman wrote in a statement to The Huffington Post. After a 24-hour block, Instagram's moderators caught up, and the hashtag started working normally around 10 a.m. Pacific time.
Delays haven't been uncommon since Instagram began allowing hashtags in June.
Earlier this month, Instagram restricted the #CaitlynJenner hashtag during a speech Jenner gave at a sports award ceremony, after a swarm of users began using the hashtag to post derogatory comments. While Jenner was on the podium, new posts to the hashtag were blocked. When the quantity of hate-speech posts dropped shortly after her speech, the hashtag resumed working normally.
Activists posting about Sandra Bland, without knowing about the policy, have become agitated:
How to preserve free expression while censoring for hate speech is a question social networks, like Instagram, Facebook, and Reddit, are asking often these days. And Instagram has had a difficult time navigating when to filter content for its audience. Since the site debuted its hashtag function in June, it has faced widespread criticism after eliminating the #curvy hashtag, on the grounds that it encouraged inappropriate content.
Instagram updated its community rules in April, implementing a firm anti-hate speech policy: "It's never OK to encourage violence or attack anyone based on their race, ethnicity, national origin, sex, gender, gender identity, sexual orientation, religious affiliation, disabilities, or disease."
But enforcing the rule at the hyper-quick pace of the Internet isn't an easy task, especially when politically charged topics amp up the quantity of guideline violations. When a hashtag gets hot, thousands of posts will arrive in a clump, with multiple new posts populating every second -- a pace moderators aren't equipped to deal with. That's when Instagram will temporarily restrict a hashtag so that it shows only the top posts in a topic area while their team sorts through the rest.
I asked an Instagram spokesman why the company doesn't notify users, or disclose on its blog, when a restriction goes into effect. He said it's considering changing the policy.
Related
Popular in the Community