Instagram exhibitions have taken place in London and Hong Kong, but today marks the first for New York. HuffPost Arts recently spoke to Brian DiFeo, the founder of Instagram NYC and the curator, about the exhibition. In our phone interview, he admitted that "gallery spaces are hard to come by," but that the W Hotel in Times Square offered the space after DiFeo worked on a project with them. When asked what unites the Instagrammers in this exhibition, he said, "The photographs really show the different elements of design in New York City: architecture, street art, patterns, and design."
Instagram reminds us that even those who aren't working artists still have a vision worth sharing, and HuffPost Arts wants to provide a platform to these photographers who are moved by beautiful moments. We will be featuring our favorite gems on the site along with their stories and inspirations, and will continue to scour the web for budding photographers. If you think this could be you, keep being creative and we will find you!
Today we are featuring @astrodub, an urban photographer with an eye for detail who is included in the exhibition. Scroll down for images.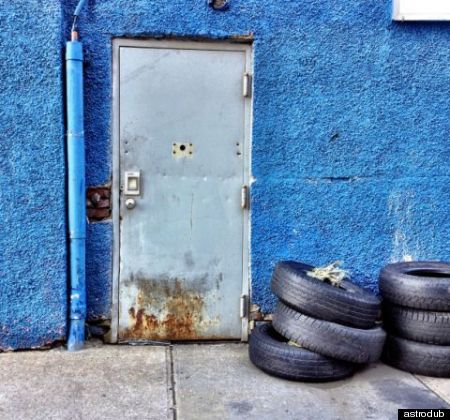 HP: Tell us about where are you from and what is your 'day job'.
@astrodub: I was born and raised on the small island of Chios, Greece. I have been living in New York since 1990. I make my living as a graphic designer.
HP: Are you a professional photographer, or is photography just a hobby for you?
@astrodub: I went to art school, but did not major in photography. It's a hobby.
HP: When did you start using your phone as a camera?
@astrodub: Pretty much since I first acquired an iphone. I didn't start to religiously take pictures with it though until Instagram came out.
HP: Has there ever been a moment you were especially happy to have had your cameraphone handy?
@astrodub: Yes, often! I photograph street art and due to its ephemeral nature, I'll take a picture of a piece with my phone as I see it, because chances are, by the time I go back with my DSLR, it will be gone.
HP: Who are your favorite people on Instagram?
@astrodub: In no particular order: @adoku @knorrstein @sazajane @uptowneastnyc @_pere_ @ka_nai
HP: Who are your favorite photographers?
@astrodub: Richard Avedon, Helmut Newton, Bruce Webber
See a slideshow of @astrodub's work below:
PHOTO GALLERY
instagram nyc
Calling all HuffPost superfans!
Sign up for membership to become a founding member and help shape HuffPost's next chapter
BEFORE YOU GO