When I first read Michael Pollan's An Omnivore's Dilemma, the bible of all food bibles, four words struck me hardest: "Our National Eating Disorder." Pollan started writing about the country's dangerous obsession with food fads, from carbophobia to the Atkins diet, in 2004. Americans take a scientific approach to food, he argues, analyzing each food as unhealthy or healthy, creating an anxiety around eating that is absent in the French or Italian joie de vivre at the dinner table.
So what's this all mean over a decade later, the age of millennials, social media and Snapchat? It looks like free-flowing juice cleanses, #thighgap goals, and carb-free living -- things that themselves aren't inherently bad, but shed light on the larger pattern that exists in the American fitness lifestyle. It's a culture that demonizes pleasure and views food and exercise as a means to an end. It's Crossfit for the six-pack, kale for the scale.
When slow food pioneer Alice Waters was asked what food fad she'd like to see next on a Los Angeles panel in April, she replied with a mischievous, simple "none." But food fads are continuing to sweep the American diet, and no better example than the gluten-free epidemic. When Pollan visited a traditional bread maker in his Netflix Documentary, Cooked, he learns that gluten-free labels are now used so heavily in advertising, they're sprinkled on foods that never even had gluten in the first place.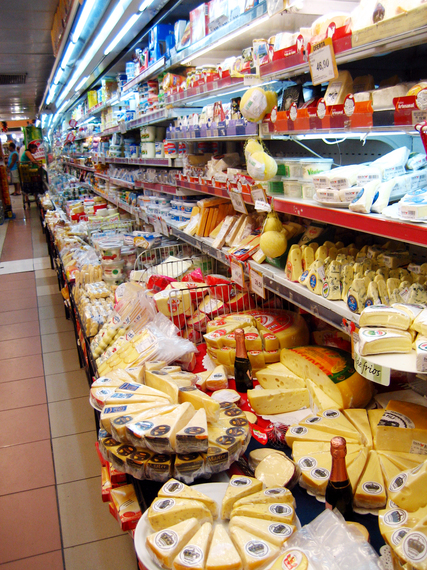 It's no surprise that the food industry is capitalizing on America's food anxiety, given a history of prioritizing cereal box sales over growing waistlines. According to food writer Michael Moss in Sugar, Salt, Fat, corporations used skillful advertising to sell women the conveinecne and liberty of frozen television dinners. Now the men in suits are once again telling us what we want is they're processed product, filled with plenty of "organic" and "healthy" jargon.
With climbing rates of heart diseases, diabetes, and obesity, reclaiming our health is clearly a national priority. But with the latest food fads we're once again missing the mark, making food the latest science experiment rather than whole, loving nourishment.
With on-demand food delivery and overwhelmingly dense nutrition labels, it's starting to feel unnatural to cook a family recipe (avec carbs) or eat a meal without punching it into MyFitnessPal. But there is nothing more natural than the process of unlearning.
Food is our culture and our communication, and in our attempts to mimic Gwyneth Paltrow's eating habits, who'd "rather smoke crack than eat cheese," we risk losing the stories of our grandmothers and the ones who came before her. While relearning the joys of gathering around a home-cooked meal, it becomes evermore apparent the food industry still isn't able to fill the void of what's ultimately lacking on our dinner plate. It's not gluten-free, it's a yearning for a deeper connection with our community, our humanity.