In a blog post published Thursday, Instagram introduced the app's new video-sharing feature by showcasing four short cinematic clips people had shared with its service. There was a video of Kobe Bryant walking through a doctor's office on crutches; another of babies gurgling on a blanket; a whimsical one of an amusement park ride above the mountains of Hong Kong; and a video of a latte being made in a Santa Cruz café.
Once the new service went live to Instagram users, however, the videos rushing in were of a decidedly different sort: Every few seconds brought a new clip of people speaking into their smartphones, extended at arm's length, with expressions of disbelief, horror, surprise, confusion and excitement. There were stop-action videos of people smiling and sticking their tongues out. One girl filmed herself lip-syncing to Miley Cyrus.
"This is awkward!" another teen squealed.
It marked a major moment not only for Instagram -- which had just announced that users could, for the first time ever, post videos up to 15 seconds long -- but also for the "selfie." The static cellphone self-portrait, the breed of photo the Internet most loves to hate, had officially been recast in an animated form. In the process, the selfie returned to its roots: messy, vaguely uncomfortable and strangely honest.
As one Instagrammer observed, staring into her phone's camera, "This whole video thing is pretty weird. I don't even know what to do. [...] But I guess it's cool."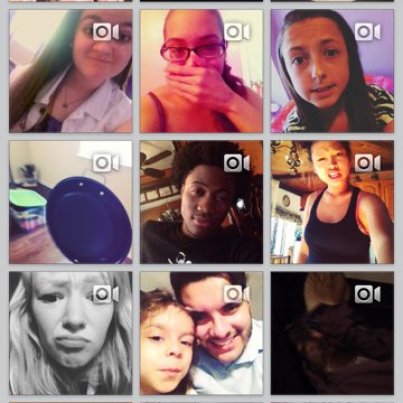 Photographic selfies, which have been around at least as long as it's been possible to take pictures with cell phones, have been staging a comeback, as Kate Losse observed in the New Yorker earlier this month.
While the first selfies were a blurry, unattractive bunch that caught people in bathroom mirrors or under harsh fluorescent bulbs, the high-resolution cameras on smartphones and the rise of filters, like those available on Instagram, have effectively sanitized the medium. In photo form, the selfie has become faux-unflattering, a carefully-staged candid of oneself that, as Losse writes, "can look as polished and crisp as posed group shots." Celebrities, and even CEOs, are now sharing selfies.

But social media apps like Instagram and Vine -- Twitter's six-second video-sharing app that Facebook effectively cloned with the new Instagram product -- are revamping the selfie with video, turning it from a document into a kind of diary entry. There's a confessional quality and an honesty to the filmed selfies proliferating wildly on Vine and Instagram. After all, even in the reality TV and viral video age, most of us are still used to seeing people in videos that have been edited, where outfits and makeup have been carefully staged.
In their new video form, selfies could actually counter much of the criticism of social media. Even with Instagram's filters and Vine's simple photo-editing tools, video is still harder to fake, pose and perfect; it captures not just an instant, but a period in time.
We see a person getting distracted by a sound off-camera, or people shuffling around in the background of the frame. We hear noises that don't belong, noises that throw off the whole scene. (In one Insta-selfie, a girl films herself reacting to Instagram's new video tool -- and is interrupted by someone asking for pants in another size. She's in the changing room of a store, we realize, something that wouldn't have been apparent in an image.)
We are also likely to see what's initially beyond the camera's frame. A coworker's Cancun cruise might seem blissful according to the album she uploaded on Facebook, from which all unflattering photos have been excised. Filmed on Instagram or Vine, however, we might catch sight of the interminable line at the breakfast buffet, or the sea of people crowding her chair by the pool. All the imperfections become harder to hide.
But that doesn't mean Instagram has given up on helping people cover them up.
Kevin Systrom, Instagram's co-founder, explained during a press conference Thursday that people would be able to add the app's trademark filters to their videos, and could also delete parts of a video and film it over again. Instagram will also offer "Cinema," a video-stabilizing feature that will lend shaky home videos a more professional air, and let users pick a frame to serve as a cover image for each video, guaranteeing they can avoid an awkward, mouth-agape-eyes-closed still. Those are four features Vine still doesn't offer.
"It wouldn't be Instagram without allowing you to produce beautiful content," Systrom said. "We need to do to video what we did to photos."
The beauty isn't just for our benefit, however.
It turns out that the same instincts of self-preservation and self-centeredness that make us want to look beautiful in front of our online audience actually serve social media sites' interests, too.
Facebook's advertisers -- who will no doubt come to Instagram shortly -- also want us to look our best. They want their brands next to people who are happy, who "like" things, who don't crack jokes about rape and who aren't showing too much skin. The video selfies flowing through Instagram might seem honest now, but it's easy to imagine they'll soon evolve beyond personal confessionals and into personal advertisements.
After all, it's no coincidence that Instagram's new 15-second-long clips will be just as long as another well-known form of video: TV commercials. The more beautifully we advertise ourselves, the more effectively we can be advertised to.
REAL LIFE. REAL NEWS. REAL VOICES.
Help us tell more of the stories that matter from voices that too often remain unheard.