Instagram has launched a unique and colorful effort to highlight the lives of its young queer users.
On Friday, the popular photo and video-sharing mobile app debuted its #VisibleMe series at the top of its Explore page, as seen in the image below. Created in conjunction with digital activist Raymond Braun, the new channel is the first of its kind to be dedicated exclusively to the LGBTQ community.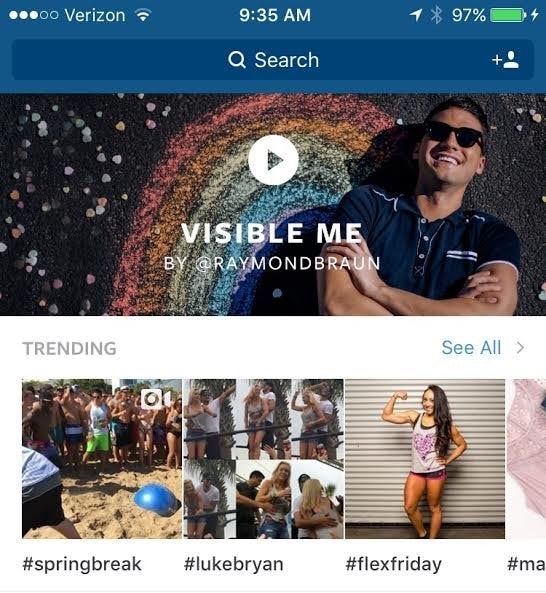 At its March 11 launch, #VisibleMe featured over 25 videos on the channel, including submissions from viral star Brendan Jordan and Ella Giselle from "I Am Cait."
Braun, who is a Huffington Post blogger and was honored as one of Out magazine's OUT 100 in 2015, told HuffPost that the series aims to provide a platform for LGBTQ youth to share their experiences with coming out, dating and spiritual beliefs, among other issues, as well as connect with one another.
When he began spearheading the #VisibleMe series late last year, Braun said he'd hoped to "make the invisible visible."
Hear Braun speak about creating #VisibleMe. Story continues below.
"Every day, I am impressed by the creativity, passion, diversity, intelligence and resilience I see from LGBTQ youth on social media," he told The Huffington Post in an email. "People are more likely to support the LGBTQ community when they know someone who identifies as LGBTQ, so I hope this project provides a platform and voice for young people to create change, helping them feel empowered, supported and visible."
Most importantly, he hopes #VisibleMe "shows LGBTQ youth that they are not alone and that they're part of a vibrant community around the world."
Don't miss some of the incredible #VisibleMe video submissions, via Instagram, below. You can also view an archive of #VisibleMe photos on Facebook here, and read more about Braun's thoughts behind the effort here.