A violent white supremacist group ran a clothing brand through an Instagram account, where it also promoted other neo-Nazi clothing labels and celebrated fascist political parties. The page existed for months and was not taken down even after it was flagged for violating content rules. Instagram only removed the account on Monday after HuffPost contacted a spokesperson for comment.
Southern California-based Right Brand Clothing describes itself as a "nationalist apparel company" and gained over 2,000 followers on Instagram after launching earlier this year. The brand is part of the Rise Above Movement, an openly racist activist group that attends far-right marches in order to fight counterprotesters ― including at the infamous "Unite the Right" rally in Charlottesville, Virginia, last year.
The Rise Above Movement, or RAM, has uploaded videos on social media showing its members inciting violence at such rallies and attacking counter-demonstrators, as well as marching with signs calling refugees rapists and alleging a global Jewish conspiracy. The group counts Nazi skinhead gang members and men convicted of violent crimes among its members. Founder Robert Rundo, now 27, pleaded guilty to gang assault charges in 2009 after he and several friends chased down and repeatedly stabbed two Latino men.
But when a HuffPost reporter flagged Right Brand Clothing's Instagram account for hate speech and threatening violence in two separate reports last week, the platform said the page did not violate its community standards.

The system by which Instagram and its owner Facebook supposedly detect extremist content has been repeatedly criticized for failing to drive action against white supremacist and neo-Nazi companies. HuffPost previously reported that White Rex, Sva Stone and other neo-Nazi clothing labels ran Facebook and Instagram pages and shops for years. Their public accounts offered swastika shirts, Holocaust denial magazines and racist baby clothes, while promoting white supremacist fighting tournaments.
Those pages were also flagged for hate speech using Facebook's own tool. But only after HuffPost directly contacted a spokesperson at the social media giant were those brands removed. Right Brand Clothing carries a number of the same brands in its store and promoted them on its Instagram page.
"Almost every hate group that we've ever dealt with … has had some kind of marketing. It used to be music was the big thing and now it tends to be more on the clothing side," said Heidi Beirich, director of the intelligence project at the Southern Poverty Law Center, a civil rights organization that monitors hate groups.
Why clothing? "It gives you a brand, it gives you money and it puts the face of your organization out there," she said.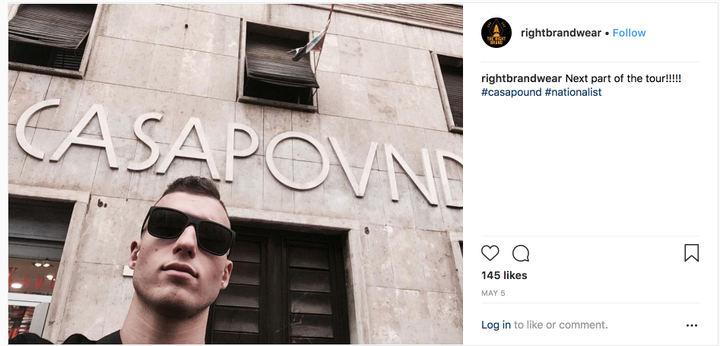 In addition to supporting other white supremacist clothing companies, posts on Right Brand Clothing's Instagram page celebrated Italian fascist party Casa Pound and showed RAM members posing with prominent Russian neo-Nazi Denis Nikitin at a white supremacist mixed martial arts event in Ukraine. One post defended RAM member Mike Miselis, who was caught on video assaulting a counterprotester at last year's Unite the Right rally.
For those who wanted their own neo-Nazi attire, Right Brand Clothing accepted orders through Instagram direct messaging.
The brand's website contains a "where the money goes" section that says its profits will go to the legal defense of "patriots" who "get singled out for noble actions by fake news." It also says that money will be used for activism and efforts to spread its ideology.
Right Brand Clothing did not immediately return HuffPost's request for comment on its relationship with Instagram and the white supremacist ideology of RAM.
Instagram's community guidelines state that the platform "is not a place to support or praise terrorism, organized crime, or hate groups." It's hard to see how defending violent white supremacists, enriching hate groups and promoting neo-Nazis does not directly contradict those rules, but Instagram's reporting tools and content moderators don't appear to recognize that.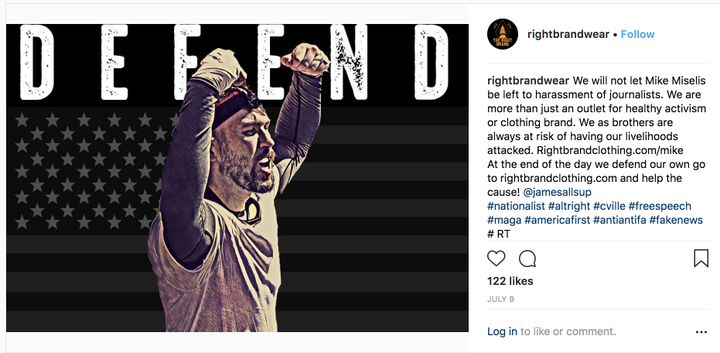 One of the problems with Facebook and Instagram's efforts to detect companies that support violence and hate groups is that doing so sometimes requires context. White supremacist clothing brands tend to use codes and symbols rather than the more obvious swastikas or hate speech. In the case of Right Brand Clothing's Instagram page, there was nothing that overtly incited violence and it took a knowledge of extremist groups and neo-Nazi brands to fully understand why the page violated community standards.
But ignorance is a poor excuse for social media companies that claim they are addressing extremism. White supremacist codes and symbols have long been known to researchers, journalists and law enforcement. A trove of public information about these extremist groups is available through a simple Google search, including several articles from ProPublica on RAM and its clothing label.
Social media companies and services such as Facebook, YouTube and Twitter are currently under public scrutiny for how their platforms have facilitated conspiracy theorists, such as Infowars founder Alex Jones, and extremist groups in reaching new followers. Extremism monitors have criticized these platforms for relying too much on third parties, such as the media and civil rights groups, to police hate groups and bad actors.
"It's policy by public pressure, as opposed to them taking responsibility for their own platforms. It's ridiculous," said Beirich. "We're just little civil rights outfits. Facebook makes 40-plus billion a year ― they need to clean up their own systems."
Many social media companies have increased their efforts to combat extremism in recent years, albeit only after it became impossible to ignore that parts of their platforms had devolved into cesspools of violence and discrimination that caused real-world harm. But no company has found an ideal solution, and a constant stream of misogynists, misinformation campaigns and hate groups still use these platforms.
"We take action against these groups as soon as we identify or are made aware of them," an Instagram spokesperson told HuffPost on Tuesday. "In this case, content on this account broke our standards for representing and supporting a designated hate organization, Rise Above Movement, and has been removed."
Popular in the Community