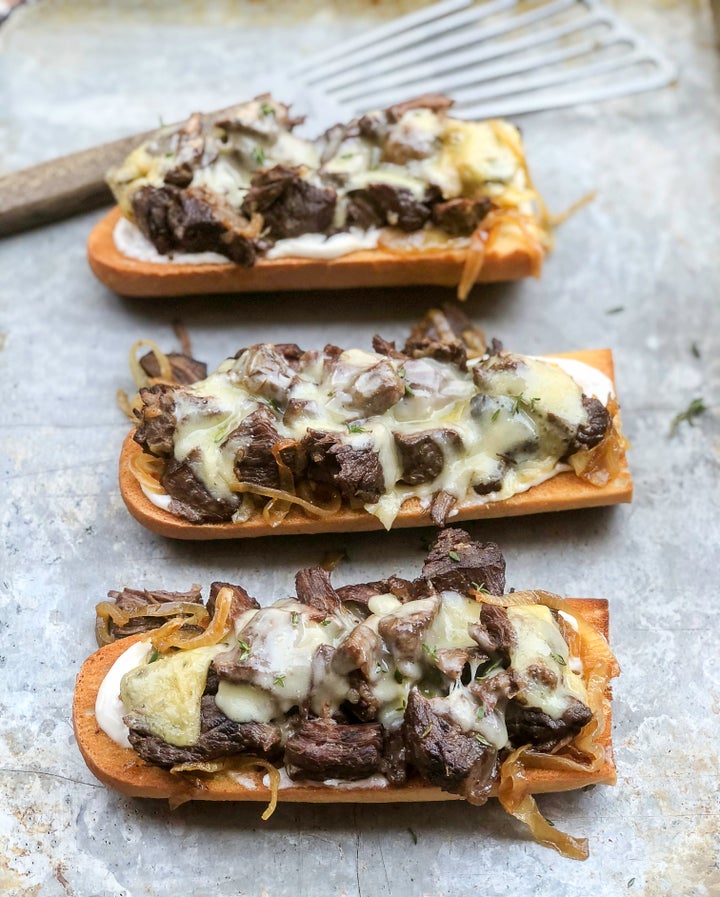 Is there anything that screams comfort food more than the classic French dip sandwich? How can you resist delicious roast beef topped with cheese and onions, stuffed into a crusty roll and then dipped into its own cooking juices? You really can't.
Making these tasty treats can be a time strain, but I figured out a way to speed up the cooking process by having the Instant Pot do all the work. The meal comes together with just a few simple but key ingredients. Let's review.
Clergyman Gordon B. Hinckley is credited as having said, "You can't build a great building on a weak foundation," and the same goes for sandwiches. The success or failure of a French dip starts with the bread.
Go out there and get yourself the best baguette you can find. I'm talking crusty on the outside and soft and pillowy on the inside. This sandwich was made for dipping, and a soft roll simply won't do.
I make that perfect baguette even more perfect by toasting it with garlic butter and slathering it with horseradish mayo. Swoon.
Traditionally, French dip sandwiches are made with beef round roast, which is slow-cooked in the oven for hours and then thinly sliced. But who has time for that?
For this recipe, I went with a fattier cut of beef ― because fat equals flavor. I used a beautifully marbled chuck roast and cut it into 1-inch cubes so it would cook quicker. After it finished, I let it cool slightly to break into larger pieces without falling apart. We're not looking for shredded beef.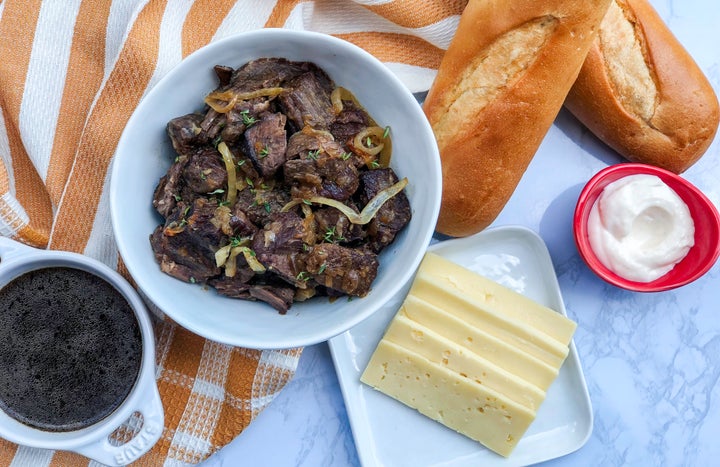 Another critical element of this sandwich is the beefy, delectable sauce you dip everything into. I used a combination of fresh and dried onions, beef stock, dark beer, Worcestershire sauce and soy sauce to make an insanely rich and delicious au jus. It's so good, it's drinkable.
Some might ask if two types of onions are necessary. The answer is yes. The dried onions give a concentrated, pungent flavor, while the fresh onions caramelize and add sweet notes to the jus.
These sandwiches are usually made with Swiss or provolone cheese, but I've never been one to follow rules, so I used raclette cheese instead. Raclette is a semi-firm cow's milk cheese from the Swiss Alps that transforms into a creamy, nutty, a little bit funky deliciousness when melted. If you can't find Swiss raclette, look for the Leelanau or Reading variety. They're made in the U.S. and similar to the European counterpart.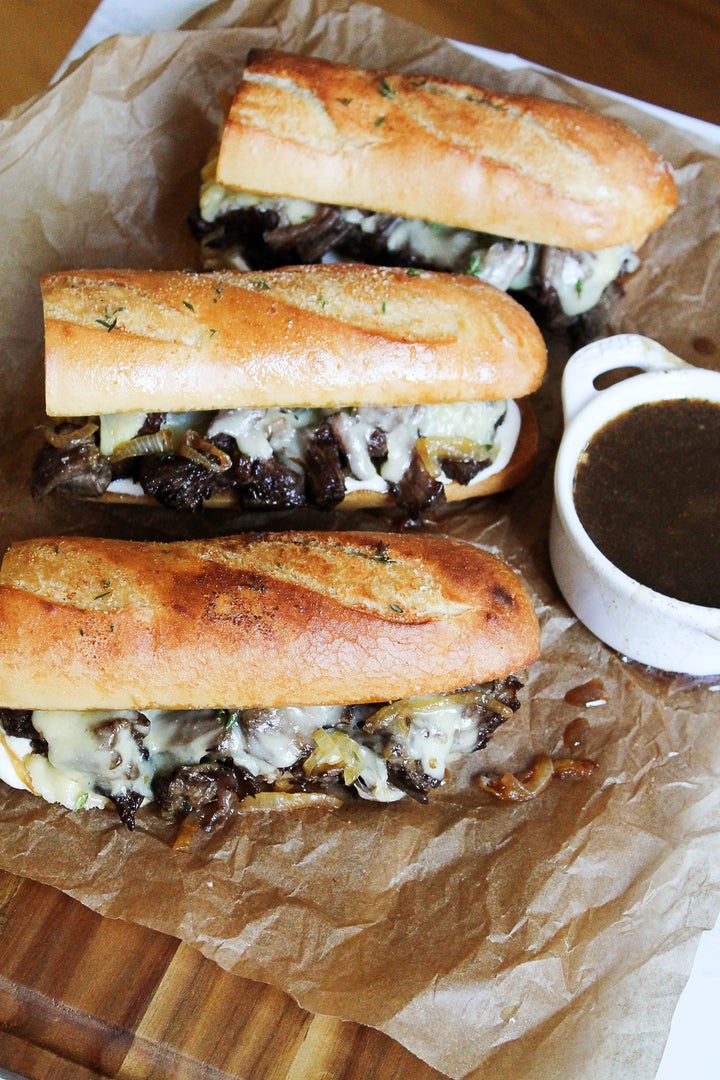 Instant Pot French Dip Sandwiches
3 pounds chuck roast, cut into 1-inch cubes

2 tablespoons olive oil, divided

1 yellow onion, sliced

2 cups beef stock

1 cup dark beer

2 tablespoons Worcestershire sauce

2 tablespoons soy sauce

1 tablespoon dried onion flakes

1/2 teaspoon dried thyme

1 teaspoon garlic powder, divided

1 bay leaf

6 small French baguettes, sliced in half lengthwise

4 tablespoons garlic butter (4 tablespoons melted butter plus 1 teaspoon garlic powder)

1/2 cup horseradish mayo (1/2 cup mayo plus 1 tablespoon prepared horseradish)

5 ounces raclette cheese, sliced thinly

Salt and pepper, to taste
Set your Instant Pot (or multi-cooker) to the high sauté setting. Add 1 tablespoon oil to the pot and let it heat until the oil is shimmering. Generously season beef cubes with salt and pepper – don't skimp here. Working in batches, add beef to pot and cook until it's evenly browned on all sides. Remove to a bowl and repeat with remaining beef and oil.

Add onion slices to the pot and then cook in the beef renderings until translucent, about 5 minutes.

Add beef stock, beer, Worcestershire sauce, soy sauce, onion flakes, dried thyme, garlic powder, bay leaf and 1 1/2 teaspoons salt to the Instant Pot. Add beef and accumulated juices back into the pot and close the top.

Select the manual setting. Set the pressure to high and set the timer for 35 minutes. When finished cooking, use the quick-release pressure option. Let the beef cool slightly and break it into large chunks. Strain the au jus into a bowl.

Meanwhile, preheat the broiler of your oven. Brush garlic butter onto the tops of the baguettes. Place the top halves of the bread cut-side down on a baking sheet and broil until golden, about 2-3 minutes.

Remove bread top halves from the baking sheet. Place the bottom halves on the baking sheet, cut-side up, and slather with horseradish mayo. Add cooked beef and cheese slices. Broil until cheese is melted, about 1 minute.

Add bread tops and serve with warm au jus to dunk the sandwich in.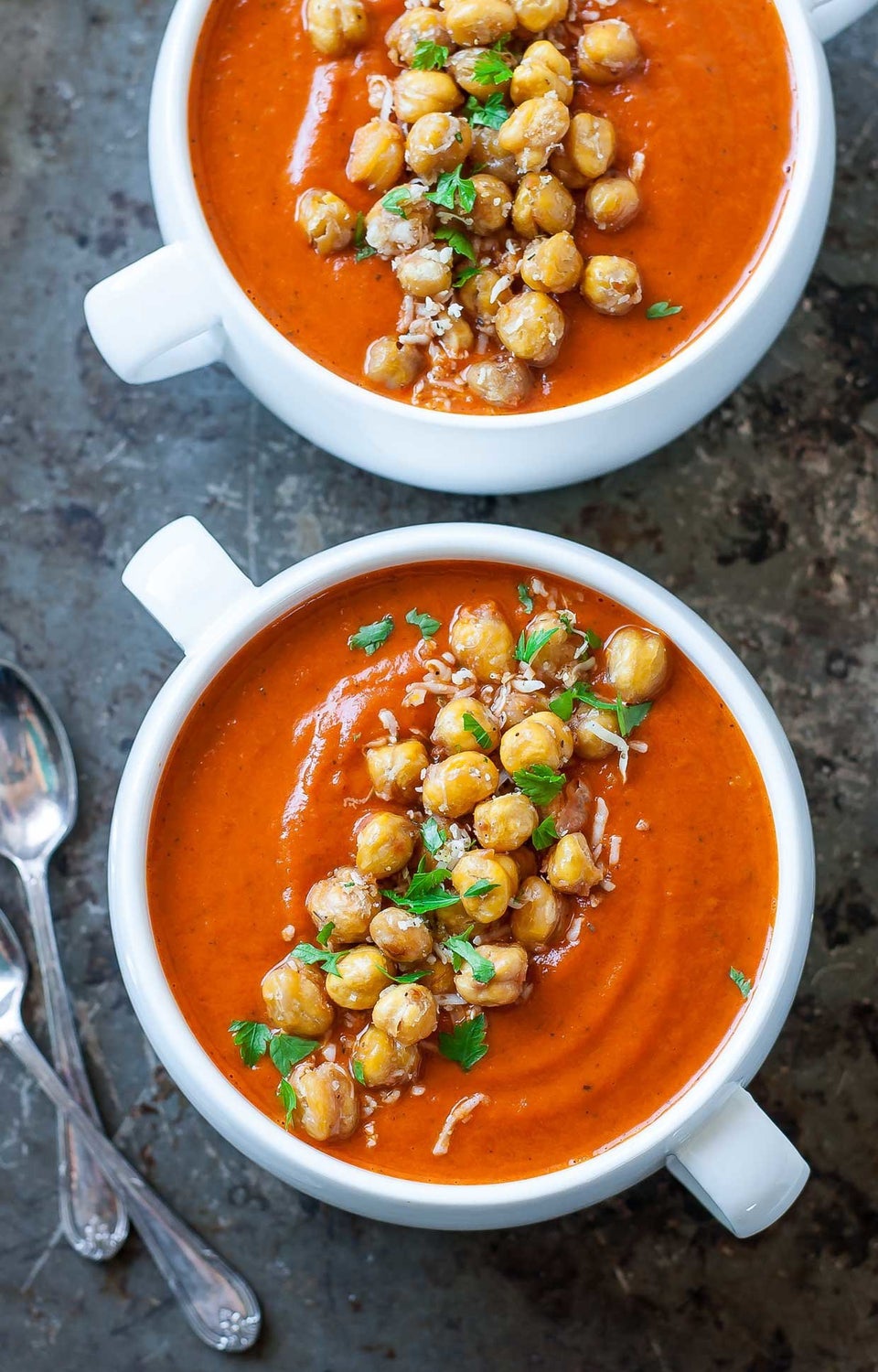 All The Instant Pot Recipes You Still Need To Make