One dad was in for a huge surprise after a cop pulled him over earlier this month. 
LaVonte Dell was driving with his 3-year-old daughter, Lauren, in Westland, Michigan, when Officer Joshua Scaglione pulled him over for having tinted windows, according to Detroit News.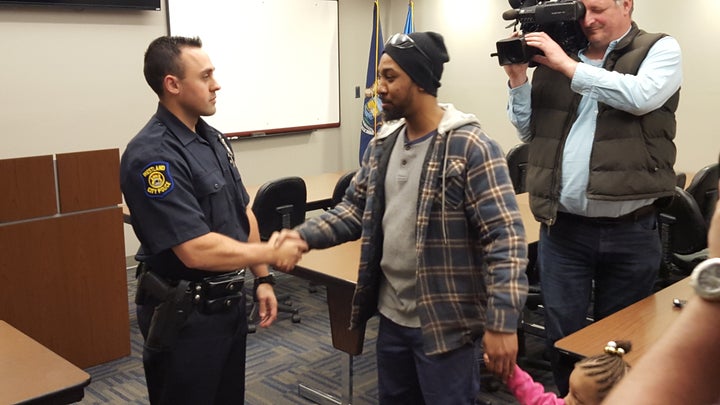 During the incident, Scaglione noticed the child was not in a car seat. Dell explained to the cop that he wasn't able to afford one. So in lieu of writing him a ticket, the officer brought Dell to Walmart and bought the dad a car seat for his 3-year-old out of his own pocket. 
The gesture was so moving that Dell, who's been going through a rough time, took to social media in an effort to track down Scaglione and share the story of the cop's compassion with others.
The officer later told ABC News that in this case, it was simply the right thing to do.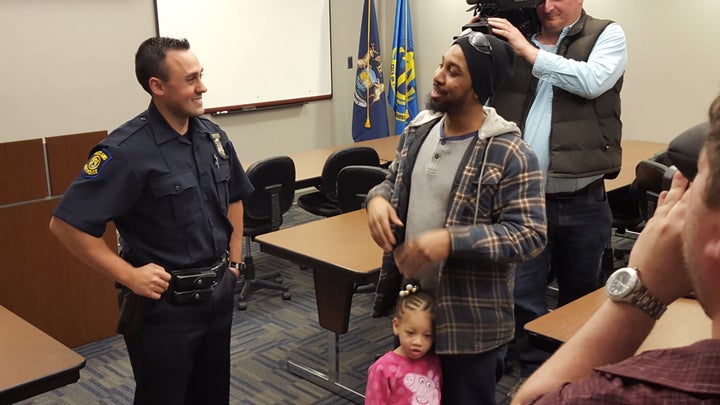 "You know, a ticket doesn't help all the time. I've been in a tough situation like this guy before," the officer told the outlet. "I figured it'd be better to help him out and just raise more awareness about car safety rather than give him a ticket that would dig him deeper in a hole and make things worse for him." 
According to the WXYZ, Dell was nervous when he initially saw the police car. 
"When he hit the lights, I did what probably everybody would do. Heart dropped. Went to my stomach," he said.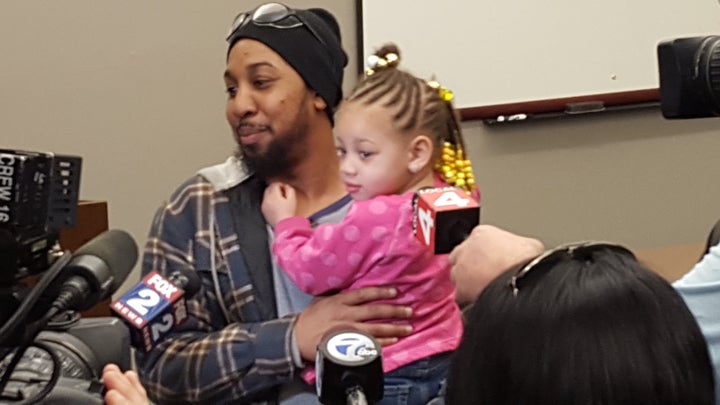 After the cop noticed that the girl wasn't in a car seat, Dell got emotional, WXYZ reported. 
"He teared up a little bit and told me he was going through some tough times," the cop told the outlet. 
What followed was not what Dell had imagined. The cop asked the father to follow him to Walmart and the pair ended up shopping together. They also got to know one another. 
"If you would have seen us in Walmart, you would have thought we were best friends," Dell wrote in a Facebook post. 
Scaglione ended up purchasing a car seat with butterflies on it in pink -- Lauren's favorite color, ABC News reported. 
While the officer kept his good deed quiet and didn't reveal it to anyone, Dell felt the gesture should be rewarded. Since Scaglione's good deed was shared on Facebook, the officer's department got wind of the compassionate man's actions. Needless to say, they are proud of how the officer served his community. 
"It is clear that his sole purpose was to assist the driver, not to receive recognition," the department wrote in a Facebook post of the cop. "The Westland Police Department would like to express how proud we are of the officer responsible, Officer Joshua Scaglione."
Calling all HuffPost superfans!
Sign up for membership to become a founding member and help shape HuffPost's next chapter
BEFORE YOU GO
PHOTO GALLERY
Evenflo SensorSafe Car Seat