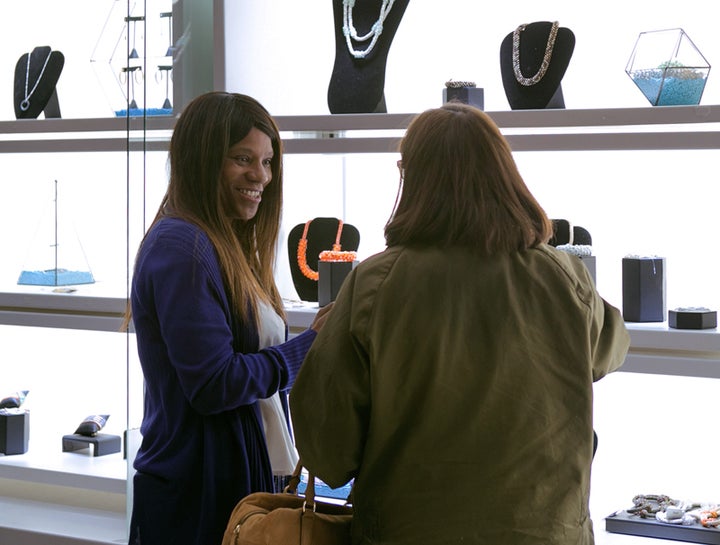 Today in America, it's no secret that our nation's prisons and jails suffer from overcrowding, as well as a lack of job training programs. The number of incarcerated people has increased more than 350 percent over the past 40 years, and sadly, women are the fastest growing segment of today's prison population. But there's a light shining through the gloom: this week, the New York Times published an article about diversion ― a pretrial practice offering alternatives to incarceration for low-risk offenders. Community service and education are typical diversion practices, but this holiday season, my company, Same Sky, has been dabbling in a third diversion practice aimed at helping women: employment.
Thanks to New Jersey's Hudson County Jail and the New York and New Jersey Port Authority, this diversion experiment is occurring all month long at Newark Liberty Airport. The airport is currently home to a Same Sky kiosk in Terminal B, across from Subway sandwiches, where a group of intrepid women can be found selling hand-crafted jewelry. (Same Sky, a fair-trade jewelry initiative, offers second chances to women living in poverty.)
Through a partnership with The Most Excellent Way, a transitional living home in Jersey City, NJ, Same Sky has broken new ground by teaching the art of jewelry making to women recently released from jail. With great focus and passion, Same Sky's ex-offender artisans throw themselves into their work, pinning their hopes and dreams on an incarceration-free future defined by employment. To date, not a single Same Sky artisan has returned to jail.
This December, however, the women aren't just making the jewelry: they're also selling it. The Newark kiosk is managed by a woman I'll call Dorothy, who, when she's not busy charming customers, can be found meticulously arranging a cornucopia of bracelets and necklaces. The most surprising thing about Dorothy? Before she was selling goods, she was stealing them. Dorothy was caught shoplifting over 30 times, and in one encounter, was even arrested for pepper-spraying a security officer.
But Dorothy was given a chance to turn her life around, and she's since mastered the responsibilities that come with being a manager. At the kiosk in Newark, she is joined by a coterie of dedicated women. Some of them are mothers, trying to win back custody of their children. Others are still awaiting trial, and as a result, are required to wear ankle monitors. Imagine what it's been like for the jailers at Hudson County Jail to track those ankle monitors to an international airport! During a day of training with the NJ Port Authority, the women listened with intensity and focus so as not to miss a single word. But when Port Authority management explained that to run a successful kiosk, salespeople were expected to smile, the women looked at one another uneasily. Smiling, sadly, was something they just weren't accustomed to. They all agreed to practice.
I'll admit that since the kiosk's grand opening, sales haven't exactly been off the charts. But the rewards of this diversion experiment have already far outweighed the risks. Not only are these women getting an opportunity to build self-esteem in a public environment, they're gaining important, marketable skills they can add to their resumes for future jobs. Take Samantha, who was incarcerated for nine months and is currently required to wear an ankle monitor. Right now she's thriving as a cashier, engaging with customers, tallying up sales and reporting profits to her managing team. In short, she's honing important people and business skills, and she now has plans to pursue a career as a paralegal.
We're so appreciative of the support shown by Jim McGreevey, Hudson County Jail, Westfield Airports, and the New York and New Jersey Port Authority, which administers Newark Liberty International Airport. I'm also grateful for the Reverend Gloria Walton, who runs The Most Excellent Way. I'm confident that these women will prove themselves to be worthy examples of the value of diversion programs. By giving people economic opportunities, rather than locking them up, we can reduce crime, rid prisons of overcrowding, and transform the lives of individuals and families all across the country.
In fact, this holiday season, I have a challenge for you: can you channel the spirit of generosity into giving someone a second chance for a better life? Everyone deserves a second chance.
REAL LIFE. REAL NEWS. REAL VOICES.
Help us tell more of the stories that matter from voices that too often remain unheard.