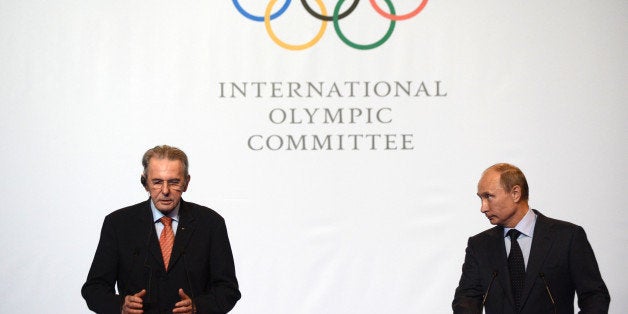 Controversy is swirling around the 2014 Winter Olympics in Sochi, Russia -- scheduled to start six months from today -- due to a shocking and barbaric crackdown against the basic rights and freedoms of that country's LGBT community.
In June, Russian President Vladimir Putin signed a draconian law that labels any public acknowledgement of the LGBT community as "gay propaganda." It is now a crime in Russia to advocate for LGBT equality, publicly say that gay relationships are equal to non-gay ones, organize an LGBT pride parade, or even simply hold a rainbow flag. Violators face jail time or fines of up to 1 million rubles.
To make matters worse, Putin signed a law last month banning the adoption of Russian children by any person living in a country that recognizes the relationships of same-sex couples; he is reportedly also considering a measure that would allow authorities to forcibly remove children from their homes if their parents are gay or lesbian. And Putin's regressive policies are fueling and legitimizing an alarming surge in hate-motivated beatings, torture, and murders of LGBT people across Russia.
The response from LGBT rights activists has been swift and unrelenting. Some have staged demonstrations at Russian embassies and consulates; many others, including activists Dan Savage and Cleve Jones, are boycotting Russian vodka and other exports. A petition on the White House website urges Secretary of State John Kerry to place the Russian politicians responsible for the "gay propaganda" law on the U.S. visa ban list. Pressure is being applied to the Games' corporate sponsors as well as NBC, which holds exclusive Olympic broadcast rights in the U.S.
There are calls for the Games themselves to be boycotted, most notably from Harvey Fierstein, and actor George Takei argued yesterday that they should be moved to another host city entirely. Conversely, gay Olympians Johnny Weir, Blake Skjellerup, and Greg Louganis have come out against a boycott, saying that athletes should instead show up at the Games and express support for LGBT people.
But according to a shocking New York Times report by Jeré Longman, showing up and expressing support may not be a feasible option at all. That's because instead of punishing Russia for its brutal and indefensible assault on LGBT human rights, the International Olympic Committee (IOC) may punish athletes who wear pro-equality pins, patches, or T-shirts.
Longman reports that the Olympic Charter "prohibits athletes from making political gestures during the Winter and Summer Games," and that this prohibition could be used to "banish" Olympians who choose to protest, even silently, against Russian homophobia.
Since when is human rights advocacy a "political statement"? If the persecuted group in question were women, Jews, or a racial or ethnic minority group, would protesting their mistreatment still qualify as "political"? Or do things only become political when it's LGBT people -- a minority group it's still OK to hate in many parts of the world -- who are being terrorized?
Equally outrageous is the utterly impotent position that the IOC has taken on Russia's anti-gay laws from the beginning. According to The New York Times, "All the indignation the I.O.C. could muster about Russia's new antigay law was a statement saying the Olympic Committee would 'oppose in the strongest terms any move that would jeopardize this principle.'"
The United States Olympic Committee could have joined with Olympic committees from other nations and said they would not tolerate such a discriminatory law.

But that did not happen. And American officials decided not to speak out unilaterally. Scott Blackmun, the U.S.O.C.'s chief executive, sent a note to American Olympic officials saying, 'While we strongly support equal rights for all, our mission is sustained competitive excellence' and not political advocacy.
Shame on the IOC for hiding behind political correctness while gay men, lesbians, bisexuals, and trans people in Russia are being harassed, tortured, beaten, and killed in the streets. If the IOC continues to turn a blind eye to Putin's bloody anti-LGBT crackdown -- or, even worse, actually sends home Olympians who have the courage to speak out for equality in Sochi -- they won't just be a group of feckless fools. By silencing pro-LGBT athletes, the IOC will be actively complicit in Russia's egregious human rights violations.
They will have blood on their hands.
REAL LIFE. REAL NEWS. REAL VOICES.
Help us tell more of the stories that matter from voices that too often remain unheard.