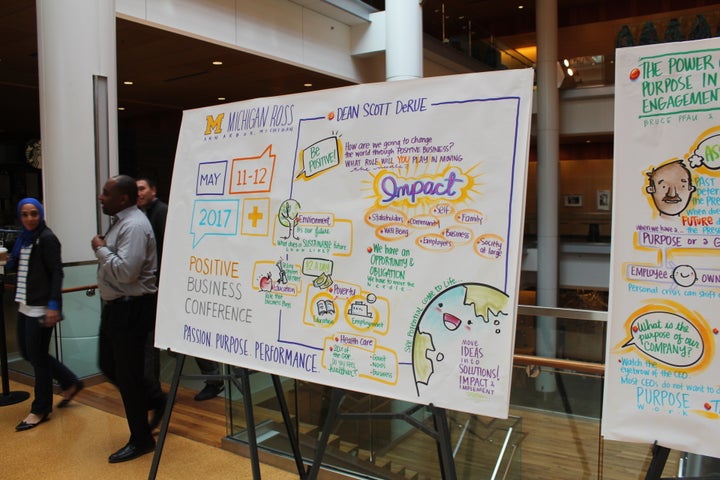 On May 11th and 12th, I attended Michigan Ross' 2017 Positive Business Conference in Ann Arbor, Michigan. In good company, I was one of 400 eager attendees, who hailed from corporations, government, non-profit organizations, academia, and like me, the curious community. For more information about the conference, click here.
The Positive Business Conference (PBC) was a think tank for impact- bringing together the minds of social scientists, industry employees, community leaders, policy makers, and Michigan Ross faculty. Expecting a typical corporate setting, I showed up on the first day in a lady suit and nametag. Major corporations were present, representatives from Microsoft, KPMG, Whole Foods, PepsiCo, DTE Energy, and many more presenting on the mainstage, but to my delight, this was no stereotypical conference. The same industry leaders on the mainstage were sitting next to me in the hands-on workshops and seminars. Idea generation was about increasing social impact, boundless compassion, environmental accountability, and employee empowerment, not profits. Dialogue and discussion engaged every attendee from the top CEO to me, an undergraduate university student. Titles dissolved as 400+ people put their minds together toward the same purpose, using business as a tool for impact in the workplace and the world.
This championing of full-embodied participation is, for me, the takeaway message of the Positive Business Conference. The two-day conference was hands-on, raw, and authentic. A perfectionist, my pursuit of a competitive, corporate career had become riddled with self-criticism and doubt. My emotions bubbled over in the Awakening Compassion at Work seminar, working towards self-compassion and empathy for those around me. The welcoming and joyful man in Gretchen Spreitzer's How Positive Leaders Sustain Their Energy For High Performance workshop, who I joked with about oatmeal and the intimidating difficulty of sitting still long enough to meditate, turned out to be the CEO of imageOne, a winner of the Positive Business Competition and national leader in positive business practices. Where else could this sort of exposure and learning be possible than at Ross' Positive Business Conference?
When I told my fellow 20 year-old friends about the two-day conference, they asked why I wasn't taking more time for myself before starting an internship in New York? I realize now that the tools and insights gained at the PBC will serve me at any internship, and for the rest of my life. My self-induced stress about careers has dissolved by realigning work to be one component of life, not life's purpose, a perspective gained in Robert E. Quinn and Bruce Pfau's presentation on The Power of Work's Higher Purpose and how it transformed KPMG. When I became worn out and tired, instead of beelining to the coffee table, I did an energy audit, a self-check on one's personal energy level taught by Gretchen Spreitzer in her How Positive Leaders Sustain Their Energy For High Performance workshop. Most importantly, for me specifically, I granted myself grace when the first iterations of this article were less than perfect, or forgiving myself when I needed to take a break after a particularly energetic session. These lessons in awakening compassion, in the workplace and for myself, garnered through Jane Dutton and Monica Worline's workshop on Awakening Compassion at Work, will serve me for the rest of my life.
The Positive Business Conference focused dually on the impact we have as individuals in corporations and as the corporations themselves. Positive business is possible when corporations realize their inherent responsibility to create economic value for customers, shareholders, and society, to foster a healthy work environment, and to be a great neighbor in the local community, nation, and world. It is more than adopting corporate social responsibility initiatives or adding a yoga class to the office- it is a shift in the role of business in society at large, a dramatic change that needs sufficient energy, resources, and commitment to be feasible.
Viewing business as one instrument in the call for change makes it necessary for collaboration; corporations must be accompanied by other voices to achieve harmony and impactful volume. Corporate leaders will create the most innovative solutions with diverse representation from all sectors, ages, professional experiences, and educational backgrounds. The ideas generated at the Positive Business Conference will hopefully transcend, going from conference to conversations, perhaps similarly to the way a recorded jam session in a concert can become a hit song worldwide. If the topic of "positive business" can seep into everyday life, the same way your favorite song at a show infiltrates your car ride sing-a-longs and workout playlist, the world can hear its transformative message every day. But, as most songs do, the call for change sounds best with many voices, all giving their best effort.
This hands-on conference, pushing its attendees to speak out and show up at their edge of comfort, is where 400 people began to discover their purpose and joy, raising their voice in new ways. Grateful for the opportunity to be pushed to my own edge, to speak in groups with people far more impressive than myself, I dream of the ideas that would emerge from frequent, engaged discussions about positive business. For it is at this crux of brain power, experience, and passion that tangible solutions for the problems of present society will be generated. It is with positive business that these solutions will be implemented and impact the world far beyond what one voice can do alone.
Thank you Ross Positive Business Conference 2017 for this beautiful manifesto of purpose crafted by the 400 unique voices in attendance. I listen eagerly and anxiously for the calls of change and ripples of impact that this event has created in the past four years and will continue to create in the future. As composers of the future, community members, employees, customers, voters, we must valiantly struggle each day to discuss, investigate, and evolve our current corporations into instruments for social impact, spreading the call for positive business far beyond our own reach.
Support HuffPost
The Stakes Have Never Been Higher
Related
Popular in the Community